Review: Ibeyi Bring Powerful, Spiritual and Empowering Music to the Theatre at Ace Hotel
Ibeyi performed a powerful night of music at the Theatre at Ace Hotel.
Back in February of 2015, I ran across a video and information about a new musical group Ibeyi made up of a young duo of Cuban-French-Venezuelan female twins that had just released their debut self-titled recording. Immediately I looked up what 'ibeyi' meant, and as it turns out, this is the word in the Yoruba language, native to West Africa, for twins. It is also the name of an orisha (deity) in the Santería religion that is also known as Regla de Ochá, La Regla de Ifá or Lucumí, which was developed in Cuba and the Caribbean region during the Spanish Empire, as the African slaves syncretized their native religion with Catholicism.
Since that time, Ibeyi has toured extensively throughout the world to great acclaim, including their first two concerts in Los Angeles, one at the Masonic Lodge at Hollywood Forever and the second at the Mayan Theatre, both in 2015. They returned in 2016 for a high profile gig at the Hollywood Bowl with Sufjan Stevens and Kurt Vile & The Violators as part of KCRW's World Festival 2. This time around, I was able to catch these extremely talented artists on Sunday, Nov. 19 at the gorgeous, ornate and historical United Artists Theater (built in 1927) which is now known as the Theatre at Ace Hotel.
Born in Paris, France, Lisa-Kaindé Diaz and Naomi Diaz (currently 22 years of age), spent the first two years of their lives living in Havana and are the daughters of the renowned Cuban percussionist Miguel "Anga" Díaz, who played with the iconic Cuban bands Irakere and Buena Vista Social Club. Their mother is French-Venezuelan singer Maya Dagnino, who currently acts as their manager and occasional collaborator.
It was the devastating loss of their father in 2006 that pushed Naomi to take up the "cajon" (aka the box drum), which was one of the late Anga's master instrument, giving rise to the twins' interest not only in music but the Yoruba language, chants and rhythms that are a huge part of their sound and style.
Opening the concert was the very talented, 26-year-old Zarif Wilder, an African-American singer/rapper born in Chicago that goes by the name of theMIND. He has collaborated with multiple, more established artists, but given his outstanding, almost one-hour set on Sunday, he is more than ready to be a headliner.
Joined on stage by multi instrumentalist, Benjamin Hixon on guitar, keyboard and digital instruments, together they impressed the audience with a mix of rap, soul, jazz, rhythm and blues fused with electronica. One of the things that I enjoyed about their set was the positive message and variety of theMIND's powerful vocals and lyrics, which had a style that was both modern and old school, fusing genres seamlessly and with great intelligence.
After intermission came Ibeyi, with the Diaz twins as the only singers and instrumentalists of their group. Lisa-Kaindé did most of the vocals and keyboard while Naomi took on backing vocals and percussion instruments like the cajon, a digital drum pad and a modern version of the batás, which are double-sided drums of varying sizes used in religious rituals of Santeria.
The stage was set up with each sister on opposite sides with detached, moveable, louvered rectangular panels in between as background where projections would be displayed, specifically those of the artwork of their new recording titled Ash. In some instances the panels would be moved stage center surrounding the sisters when they also performed adjacent to each other, for acoustic, dimensional and/or aesthetic effect.
Dressed in full-body jumpsuits, Naomi (red) and Lisa-Kaindé (blue), they evoked the colors of the orishas "Chango" (St. Barbara) whose color is red and "Yemaya" (Virgin of Regla) whose sacred color is blue. Maybe because they're twins and/or due to their musical pedigree, the Diaz sisters have an unbelievable connection on stage that shows in their incredible vocal harmonies and timing. Their young, angelic sound filled the large theater, taking the audience sometimes to another, mystical world, especially if one would gaze at the ornate ceiling and decorative elements surrounding the stage.
Selected songs from their self-titled, first recording took the audience from spiritually themed songs like "Elegua," dedicated to the orisha of the same name, to the heart breaking "Mama Says," which ponders on the pain and sorrow their mother Maya and they felt after their father's passing. From their new recording came "I Wanna Be Like You," which was written by Lisa-Kaindé as an ode to her sister and the female-empowering song "No Man Is Big Enough for My Arms," which must have struck a chord with all the ladies present.
It is obvious that family history and ties are a huge inspiration to Ibeyi as they performed two songs written for and titled for family members – "Yadira" for their late, older sister and another for their little niece titled "Valé." Other highlights of the evening included the songs "Oya," dedicated to another orisha, "Transmission/Michaelion," and a powerful rendition of "Deathless," which has become a rallying cry for those of their fans who feel oppressed.
Needless to say, the enthusiastic and diverse audience, most of whom had been on their feet, mashed up against the stage throughout the almost two-hour concert, gave the talented young artists a thunderous, long-held ovation. In return, Ibeyi gifted those in the theater with an electrifying version of "River," followed by a Yoruba chant to the orisha "Oshun" joined onstage by theMIND. A wonderful evening, full of powerful music, by two confident and talented young women of color.
Video Slider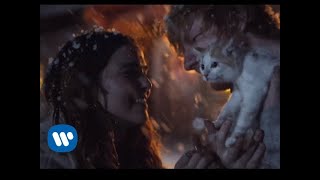 Win Tickets to See Ed Sheeran at the Rose Bowl
Ed Sheeran is back in Los Angeles, and your chance to see him perform is at the Rose Bowl in Pasadena on Saturday, Aug. 18. We are giving away complimentary tickets to the show. For a chance to enter to win, email us at
[email protected]
with "Ed Sheeran" in the subject line and tell us why you would like to go.