Review: Hubbard Street + The Second City: "The Art of Falling" – What a Treat!
Hubbard Street and the Second City came together for a magical show in "The Art of Falling."
This past weekend, I had the pleasure of experiencing something brand new that was both visually and acoustically stunning. The Music Center hosted the Hubbard Street Dance Company of Chicago and The Second City at the Ahmanson Theatre in downtown Los Angeles. It was the West Coast premiere of "The Art of Falling," a unique collaboration of dance and sketch comedy.
Just hearing 'dance' and 'sketch comedy' together may leave you scratching your head. I myself could not figure out for the life of me how these two very different types of performers could come together and create something harmonious. As a lover of both dance and sketch comedy, this had me – along with the sold-out crowd – anxious with anticipation.
Both groups hail from Chicago – the contemporary Hubbard Street Dance and the Second City, a well-known improv group – and they soared together. Hubbard Street Dance Artistic Director Glenn Edgerton and the Second City Director Billy Bugeroth worked together to generate magic.
The theme of "The Art of Falling" was showcased in three different ways throughout the night, which flowed seamlessly. There was a couple falling in love, whose story touched on gender, race and sex. A woman falling for a coworker at the office, and a pair of people who met on a plane that literally fell from the sky.
The dancers infused their movement into the stories the actors were telling. From simply being actual props and furniture in an office space, to later enhancing the theme of falling in dance. There were poignant moments that were juxtaposed right after laughing so hard that you could get a bellyache.
The Second City at one point during the performance used improv by gathering responses form the crowd to tell a story. The dancers then on the spot created movement to the story being told. The dancers wore muted colors and moved together beautifully in unison to music that was both spellbinding and modern.
Overall, it was a very amusing performance to see. There may have been converts in the audience who might initially have gone to just see The Second City, who now have an appreciation for dance and vice-versa. My hope is that more people mash two very opposite types of art together, because sometimes magic happens.
Video Slider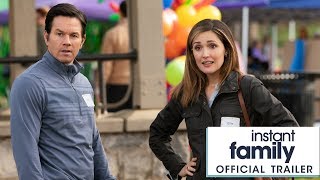 Win a Blu-ray + DVD + Digital Copy of Instant Family
Everyone everywhere can now enjoy Instant Family on Digital and on Blu-ray™ Combo Pack, and DVD on March 5 from Paramount Home Media Distribution. For a chance to enter to win at random, please email us at
[email protected]
with "Instant Family\" in the subject line and let us know why you\'d like to win a copy. This contest ends March 25, 2019.