Review: The Hollywood Bowl Goes Wild for Gladys Knight and Kool & the Gang
The Empress of Soul, Gladys Knight, sang and danced into the hearts of the Hollywood Bowl audience. (Taylor Wong/Living Out Loud LA)
This summer has been a phenomenal three months of amazing concerts, and last night at the Hollywood Bowl was no exception. Friday night, the audience was blessed with a performance by the legendary Kool & the Gang with headliner Gladys Knight.
Kool & the Gang started things off with an incredible set. Their set began with a funky medley and introduction by singer Lavell Evans. This medley led to their first song of the night, "Joanna," followed by "Too Hot."
Then it was time for founding members – bassist Robert "Kool" Bell and his brother Ronald Bell (aka Khalis Bayyan) on tenor sax – and their gang to break out the hits. The first of their hits to be played was "Jungle Boogie." The song started off with a surprise guest on the trumpet wearing a luchador mask. Then, this trumpet-playing luchador did a flip and removed his mask to reveal he was Michael Ray, a longtime member of the Gang.
"Ladies Night" was another hit that was played last night, and it had all the ladies up out of their seats and dancing. Following "Ladies Night" was my favorite song by Kool & the Gang, "Get Down On It." At this point, everyone was up and dancing. As I watched the performance of this song I noticed Bayyan push Dennis "Dee Tee" Thomas, alto saxophone player. Bayyan then proceeded to play a solo, which he seemed to have stolen from Thomas. Halfway through the solo, Bayyan invited Thomas over to join in, and I realized this wasn't some band feud, it was all just part of their act!
For the closing song, the Gang chose to perform "Celebration," which, of course, the whole crowd sang along to.
After a brief intermission, it was finally time for the Empress of Soul. Knight's performance started out with her on the piano, playing an intro that transitioned into "Love Overboard." As she stood up from the piano to sing the song, three male dancers from "Dancing with the Stars" joined her for a dance. After the song ended, she told the audience that it has always been a dream of hers to play the piano and dance on stage, which she accomplished last night.
After a few songs, Knight joked about how she had logged onto the Internet, which she is unfamiliar with, and looked up how many of her songs had actually been used in movies. This little joke led to her performing "Licence to Kill," "Make Yours a Happy Home," "On and On," "Midnight Train to Georgia" and my favorite, "I Heard It Through the Grapevine."
Knight had one last song to perform at this point of the night. For her final song, she brought out her brother Merald "Bubba" Knight, Jr. of the Pips to perform a duet. Can you guess what song they did? Well, it wasn't any of Knight's songs, if that's what you were guessing. She and Merald closed out the night with "Happy" by Pharrell Williams, and let me tell you, it had the crowd going wild.
Video Slider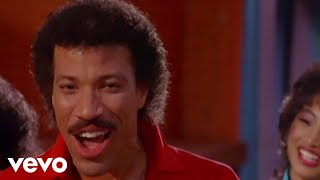 Win Tickets to See Lionel Richie at Hollywood Bowl
Lionel Richie is performing with very special guest Mariah Carey on the All the Hits Tour, and your chance to see them is at the Hollywood Bowl on Monday, July 31.