Review: Himesh Patel Sings His Way Through Drama and Love in Yesterday
Lily James and Himesh Patel star in Yesterday (Universal Pictures)
"http://lol-la.com/wp-content/uploads/2019/05/MTH-190039-Feel-The-Fame-Remarketing-Banner-728X90.jpg">
"http://lol-la.com/wp-content/uploads/2019/07/HB19_DIGITAL_HERBIEHANCOCK_PROMO_728x90.jpg">
"http://lol-la.com/wp-content/uploads/2019/07/JoseLuisRodriguez_728x90.jpg">
"http://lol-la.com/wp-content/uploads/2019/04/7.png" alt="disney on ice banner">
"http://lol-la.com/wp-content/uploads/2019/07/Living-Out-Loud-LA-for-Air-Supply-728x90.jpg">
Yesterday has a fantastic premise in several meanings of the word. The movie has an exceedingly clever setup, positing a world in which only one person has any memory of The Beatles, among a few other pieces of pop culture. If only the movie itself were fantastic in the sense of quality, instead of settling for being pretty good and consistently amusing. There is a sense that this could have far exceeded its promise instead of just living up to it, even if the movie itself is pleasant, funny and agreeable.
The reason why Yesterday feels as if it could be so much more is that it was directed by Danny Boyle, the Oscar winner for Slumdog Millionaire. That film, among others, shows that Boyle can take an unlikely premise and make it great instead of just pretty good. The comparisons to Slumdog Millionaire are easy to make, from its high-concept premise to even having a lead of South Asian descent, which is so uncommon among Hollywood productions that it invites comparison even when it should not. To its credit, there is nothing about the story that demands the character be South Asian – the lead could be played by an actor from any culture – so having the lead character be Jack Malik instead of Jack Smith feels like progress.
Himesh Patel, best known for British television, plays Malik, a struggling singer-songwriter whose aspirations are supported only by his manager Ellie (Lily James). When he is hit by a bus during a mysterious power outage, he wakes up and slowly realizes that no one has any knowledge of The Beatles. Malik decides to pass off the songs as his own and eventually catches the eye of Ed Sheeran, who is not only pretty good playing himself with a little irony, but also looks like he made the effort to comb his hair in at least a few scenes. Malik becomes lauded as the greatest songwriter ever thanks to songs like "Yesterday," "A Hard Day's Night" and the dozens of others that have been burned into the culture's brain for nearly sixty years.
Yesterday overflows with love for the Beatles, and at times that causes the film to avoid areas that might be more interesting than it actually covers. The reason why the band is considered so great is that the Baby Boomers have been promoting that idea for over half a century, and thus they come with a historical memory that is hard to dislodge. What the writers, including British romantic comedy giant Richard Curtis, get wrong is that the power of a song comes not from hearing it the first time, but the hundredth. Songs gain power through association, not through novelty. Moreover, Yesterday doesn't really deal with the fact that the music was made in the sixties for audiences in the sixties. Modern audiences can appreciate this in context, but while so much of the songs have timeless qualities, others really are dated, and except for a joke about "Hey Jude" (played mostly at Sheeran's expense), the movie doesn't have the courage to grapple with that.
Still, that Yesterday raises these questions, along with others regarding the place of art in the world, and sometimes makes some interesting points about how art is less about its creator than its audience. But mostly the film plays out in very expected ways, with a lot of jokes that you'd expect, partially because they are guaranteed to land. Everything about Kate McKinnon's Hollywood big shot manager goes for the predictable, and works solely because of the off-kilter energy McKinnon brings to everything. The script is a gentle one that makes the movie impossible dislike while being so safe in its handling of the premise that it's hard to actually love. That is probably the surest sign that Richard Curtis is the true guiding force on the project instead of Danny Boyle. Boyle takes chances, many of which pay off massively, while Curtis plays it safe to guarantee a safe payout. As a Boyle project, Yesterday might reach a Beatles triumph. As a Curtis one, it has to settle for Ed Sheeran.
—————————————————————————————————-
Yesterday
Universal Pictures
Now in theaters
3 Stars
Films are rated on a scale of 5 stars (must-see), 4 stars (exceptional), 3 stars (solid), 2 stars (average) and 1 star (unworthy).
Video Slider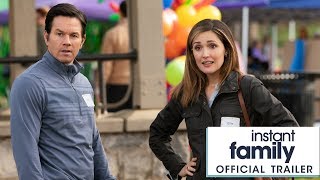 Win a Blu-ray + DVD + Digital Copy of Instant Family
Everyone everywhere can now enjoy Instant Family on Digital and on Blu-ray™ Combo Pack, and DVD on March 5 from Paramount Home Media Distribution. For a chance to enter to win at random, please email us at
[email protected]
with "Instant Family\" in the subject line and let us know why you\'d like to win a copy. This contest ends March 25, 2019.
"http://lol-la.com/wp-content/uploads/2019/04/7.png" alt="disney on ice banner">
"http://lol-la.com/wp-content/uploads/2019/07/Living-Out-Loud-LA-for-Air-Supply-728x90.jpg">
"http://lol-la.com/wp-content/uploads/2019/07/HB19_DIGITAL_HERBIEHANCOCK_PROMO_728x90.jpg">
"http://lol-la.com/wp-content/uploads/2019/07/JoseLuisRodriguez_728x90.jpg">
"http://lol-la.com/wp-content/uploads/2019/05/MTH-190039-Feel-The-Fame-Remarketing-Banner-728X90.jpg">