Review: Grand Performances at California Plaza Continues to Serve Free Concerts After 30 Years
Lea DeLaria performed at the final concert of Grand Performances' 2016 season.
There is a magical place tucked away in the middle of the highrises in downtown Los Angeles, and its name is California Plaza. Located in the nearby art hub center that includes the Music Center, Disney Concert Hall, the Colburn School, the Museum of Contemporary Art (MOCA), the Broad museum and the adjacent historic Angels Flight, this oasis features a manmade pond, dancing water streams, a waterfall and during the summer season, a series of free concerts by Grand Performances.
Over the past three decades this non-profit, headed by executive director Michael Alexander, has delighted Angelenos with an eclectic mix of concerts and performances that have included classical music, opera, zarzuela and even hip hop. To celebrate their 30th anniversary with a yearly fundraising dinner/gala, Living Out Loud – Los Angeles was invited to a special performance by LGBTQ activist, actress, singer and all-around enfant terrible Lea DeLaria.
As the first openly gay comic to appear on television in 1993 on "The Arsenio Hall Show," DeLaria is now known as Big Boo on the Netflix original series "Orange Is the New Black." Backed by a very talented five-piece band, the diminutive but very self-assured DeLaria began what was billed as a tribute to the late, great David Bowie done in a jazz format as part of her House of David recording that was released in 2015.
As a wink to the audience, the first song was "Boys Keep Swinging," an upbeat and appropriate song both in title and format. This was followed by a slow and excellent interpretation of "Fame," which featured some great piano and sax solos by her musicians. As a longtime Bowie fan, one can appreciate even more the power and poetic aspect of his lyrics when they are taken up by another artist.
The first of Bowie's hit "Space Oddity" was interpreted in an almost torch-song manner that really showcased the power and dexterity of DeLaria's voice, interwoven with some virtuoso piano playing by her musical director and pianist. This was followed by the funk-infused "The Jean Genie," which featured generous solos by her band members.
One of the most successful songs of the evening was "Let's Dance," which was done in a very appropriate swing style and included some excellent scat singing by DeLaria with a rocking accompaniment by her band. The percussion-driven "Rebel Rebel" was a showcase for the band members, but it strayed a bit too far from the original song's flavor much like the following "Starman."
To end the set, the audience was treated to a beautiful, blues-inspired rendition of "Life on Mars" as DeLaria's voice built up to showcase its strength and versatility with the guitarist taking up an awesome rock/blues solo. The always popular song "Young Americans," which originally was inspired by African-American soul music, left the evening on a high note as DeLaria asked the appreciative audience to sing along as her backup singers.
Video Slider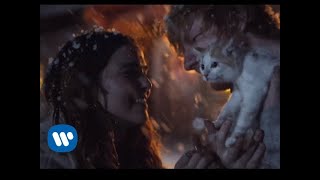 Win Tickets to See Ed Sheeran at the Rose Bowl
Ed Sheeran is back in Los Angeles, and your chance to see him perform is at the Rose Bowl in Pasadena on Saturday, Aug. 18. We are giving away complimentary tickets to the show. For a chance to enter to win, email us at
[email protected]
with "Ed Sheeran" in the subject line and tell us why you would like to go.