Review: Game Night Delivers Nonstop Laughs
Jason Bateman as Max and Rachel McAdams as Annie in Game Night. (Warner Bros. Pictures)
Everyone knows people like Max and Annie, ordinary people like the ones played by Jason Bateman and Rachel McAdams who become insanely competitive once any type of game occurs, whether it is trivia, charades or even Ms. Pac Man. That is the strength of Game Night, which takes a certain type of person that everyone tolerates and places them in the most extreme version of this type of competition imaginable. This is The Game, the 1997 thriller starring Michael Douglas (of course, since half the thrillers of that era had Douglas, and Richard Gere picked up the rest), as envisioned by the people who brought Bateman's comedies Horrible Bosses to the screen, with all that entails.
Bateman and McAdams play a couple who meet over their shared competitive spirit and marry, only to spend their free time hosting game nights with their friends, who include a dim hunk played by Billy Magnussen (essentially reprising his "American Crime Story" role as Kato Kaelin) and a couple played by Lamorne Morris of "New Girl" and Kylie Bunbery of "Under the Dome." Their normal game night is disrupted by the presence of Max's over-achieving older brother (Kyle Chandler), who hosts a night that involves a faked kidnapping that is a bit more realistic than any of the participants realize.
As with the Horrible Bosses movies written by John Francis Daley and Jonathan Goldstein, who also directed this, to much better effect than their misbegotten Vacation sequel, Game Night mixes comedy with a genuine sense of danger. Characters actually get shot and face actual violence, somewhat reminiscent of the Coen brothers farces, only played for more mainstream tastes. And it does have a taste of the Coens' eccentricity, particularly with a police officer played by Jesse Plemons, a former participant in their competitions who mixes sincerity with a genuine creepiness.
All of the actors are genuinely funny, playing variations of comic personas they have mined before. Bateman is always solid as the straight man who is just slightly nuttier than you would expect, and Mean Girls proved that McAdams can play competitive while still remaining appealing. Best of all is Magnussen as the dopey womanizer who can never quite figure out what is happening, but joins the proceedings with aplomb. The dumb blonde is a well-mined comic stereotype for women, but Magnussen puts a nice spin on it for men.
Game Night is at its best when it keeps the plotting simple, since the comic interplay between each of its characters is enough to drive the movie. Realism is not necessarily a requirement for a movie such as this, but character motivations have to seem at least somewhat grounded, and the film achieves that. Where it goes slightly off the rails is an excess of plot twists: just because a film is reminiscent of David Fincher doesn't mean it can pull off his type of plotting, and Game Night has two or three twists too many, while resorting to a finale that is a bit too heavy on action for a movie like this to bear. It makes sense that Bateman's and McAdams's characters could use their wits to get themselves out of a jam. It strains credulity to have them perform Liam Neeson style action moves to save the day.
Even despite this, Game Night has an appealing cast and some genuinely funny moments. It shows that comedies often thrive by letting their actors play their roles with complete sincerity, rather than piling on eccentricities like Melissa McCarthy or Kate McKinnon might have done (both women are great comedians, but their style would have been misused here). The film's overly dense plotting keeps Game Night from being a complete success, but it still consistently earns laugh. This Game Night might not be a completely winner, but as its characters learn, just playing is sometimes good enough.
—————————————————————–
Game Night
Warner Bros. Pictures
Now in theaters

3 Stars
Films are rated on a scale of 5 stars (must-see), 4 stars (exceptional), 3 stars (solid), 2 stars (average) and 1 star (unworthy).
Video Slider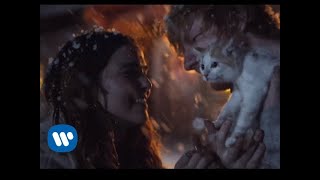 Win Tickets to See Ed Sheeran at the Rose Bowl
Ed Sheeran is back in Los Angeles, and your chance to see him perform is at the Rose Bowl in Pasadena on Saturday, Aug. 18. We are giving away complimentary tickets to the show. For a chance to enter to win, email us at
[email protected]
with "Ed Sheeran" in the subject line and tell us why you would like to go.