Review: Fresh as Ever, Atmosphere Rock Pomona's Fox Theater
Ant and Slug of Atmosphere
The Notorious B.I.G.'s "Going Back to Cali" was an homage to the Golden State by an out-of-state rap legend that turned into one of the state's anthems. It's been exactly 20 years since its release, yet rappers continue to express their love for Cali in their music.
In their latest summer tour, rap duo Atmosphere skipped the rest of the country altogether and came back to Cali for an 11-city jaunt called the Welcome to California Tour that made its penultimate stop at the Fox Theater in Pomona Saturday night. The tour wasn't necessarily in support of any new or upcoming album, but rather as a way to get away from "all [his] fucking kids," as Slug joked on stage, and because of how much he loved California. After 20 years in the rap game, Ant and Slug, the producer-rapper duo that make up Atmosphere, have forged their own legendary careers as one of the most respected rap acts of the 2000s.
Slug, proudly sporting a dad bod, said onstage that as soon as he heard his wife was pregnant with their seventh child, he called his booking agent to set up a tour, not for financial reasons, but to get away from "all my screaming kids." As the audience laughed and cheered, he continued, "I wanted to get away from all the screaming kids, come back to Cali and play in front of all these fucking screaming kids," as he pointed at the sold-out crowd.
That a rapper would sweet-talk his crowd is nothing new, but the 44-year-old Slug talking to some in the crowd in a playfully paternal way highlights perhaps the most remarkable aspects of his transcendent career. Rap, unlike nearly all other genres, is inherently a young man's game. Even the most promising rappers can grow stale over a period of time because of how the genre changes every few years, and frankly, because most young people have no connection to a dude in his mid-40s.
But Atmosphere's career always seemed destined to be different. Because of Slug's lyrical content and his sometimes self-deprecating style, he transcends eras in a way very few rappers have done. Slang words, dressing styles and the proper fit for a pair of jeans always fluctuates, but having the ability to speak to and connect with young minds will always be a constant. This is why, despite the lack of gold albums or a plethora of Top-40 singles, the fact that their act today seems as fresh as it's ever been, you'd be correct in calling the Minnesota duo's career legendary.
Between songs, fully aware of the generational gap among his fans, he often addressed them as two separate groups. "This is for the older cats in the room," before playing a song from his 1997 debut Overcast! He'd then go on to play 2008 hit single "Sunshine" or something off of 2016's Fishing Blues, and the constant was that they never made an attempt to adapt to an era.
Instead, you hear the same Slug and Ant in every song, paying little mind to hip-hop conventions, whose unfettered, raw emotion is transmitted in delightful four-minute intervals, all while laughing in the face of hip-hop's version of Father Time.
Video Slider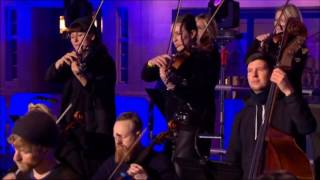 Win Tickets to See Pete Tong at Hollywood Bowl
Pete Tong is back in Los Angeles, and your chance to see him perform is at Hollywood Bowl on Thursday, Nov. 9. We are giving away complimentary tickets to the show. For a chance to enter to win, email us at
[email protected]
with "Pete Tong" in the subject line and tell us why you would like to go.