Review: Four (Million) Stars for the Foo Fighters at the Forum
Dave Grohl led the Foo Fighters onslaught of sound at the Forum from his guitar throne. (David Tobin/LOL-LA)
When a band that calls Los Angeles home decides to do two nights at the Forum and manages to sell both nights out, you know that you're in for a treat.
The stage was dark and huge. A giant banner with the Foo Fighters logo was at the base of the stage connected to a huge runway, which most fans knew was the track for a throne.
The lights went down, and the band started playing behind the logo. Then as the middle of the first verse of "Everlong" kicked in, the curtain flew back and the band appeared. Already playing at full force, the crowd went nuts as soon as they saw their heroes.
Dave Grohl led the onslaught of sound from his "Game of Thrones"-inspired seat. Instead of swords, there were guitars lining this throne as the one-legged Grohl headbanged and belted out lyrics. He fell off a stage a month or so ago and has been laid up, but continues to play shows.
The closest to seeing a frontman that also plays guitar rock out despite injury hasn't happened since James Hetfield of Metallica got set on fire. He didn't give up and kept playing with burned arms, while Grohl is doing the same. This kind of dedication and passion is exactly what makes this band so amazing.
After the first song, the chair moved down the track to the end of the runway where fans could get a great shot of the setup. Grohl played all night sitting down, save for one moment when he got up to incite a riotous reaction from the fans.
The band rolled through a ton of their hits, and drummer Taylor Hawkins did a nice little tribute to Freddie Mercury. Grohl called out, "Here's your Live Aid moment," then Hawkins stood up and did Mercury's infamous call and response. He got through half of it, and the crowd helped along the way.
As if things weren't amazing enough, the band of course had to bring out a special guest to top the night before, and in my eyes they did. Sure it's cool to sing with Stevie Nicks, but having Perry Farrell from Jane's Addiction take the stage was by far much more inspiring. Grohl even yelled out, "How many Lollapalooza's have you been to," and the crowd went nuts.
Farrell banged out two songs and then left the wild crowd for the finale. The Foos played the last songs as hard as the first, and every single person in that venue sang along with whatever oxygen was left in their lungs.
This is a band that you have to go see. They have a couple big SoCal shows left – Oct. 17 at the Honda Center and with Social Distortion at Castaic Lake Oct. 18 – then they head to Europe before taking a break. Catch it before Grohl breaks something else!
Video Slider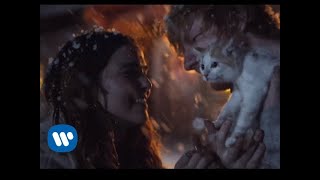 Win Tickets to See Ed Sheeran at the Rose Bowl
Ed Sheeran is back in Los Angeles, and your chance to see him perform is at the Rose Bowl in Pasadena on Saturday, Aug. 18. We are giving away complimentary tickets to the show. For a chance to enter to win, email us at
[email protected]
with "Ed Sheeran" in the subject line and tell us why you would like to go.