Review: Five Stars for Dunkirk
Dunkirk is one of Christopher Nolan's best films. (Melinda Sue Gordon/Warner Bros.)
There are virtually no major directors in Hollywood who would not benefit from hearing the word 'no' more often, and their failures are often those of excess. Tim Burton might make better films again if studios slashed his budget for sets and costumes, and Michael Bay might do the same if studios took a red pen to every line in his budget. Christopher Nolan, as he proves once again with Dunkirk, is the grand exception to that rule.
Unlike most directors who join the ranks of Hollywood's elite thanks to a low-budget independent success, as he did with Memento, Nolan never left behind the intellectual playfulness and drive to innovate associated with small-budget auteurs once the budgets became exponentially bigger. While this was relatively standard among the great directors of decades past, from Francis Ford Coppola to David Lean, this ability to maintain a distinct directorial character with wit and imagination for a movie that needs to gross half a billion dollars in order to make a profit is one that currently only Nolan displays, as he does again with Dunkirk, which ranks with The Dark Knight and Inception as the rare summer tentpole that is also a great film.
Dunkirk takes place during the early years of the Second World War, when German soldiers have occupied France and driven the British army to the French coast. The British military must devise an evacuation plan for the soldiers, using shipments from civilian boats that cross the English Channel.
The film approaches it from the perspectives of three different groups: the pilots defending the soldiers on the ground (Tom Hardy and Jack Lowden), the soldiers awaiting escape (Fionn Whitehead and Harry Styles, among others) and the British civilians sailing toward France (Academy Award-winner Mark Rylance). Nolan alternates these three storylines even though they do not run concurrently, and thus, in one remarkable instance, a single character appears in two different story arcs in very different circumstances.
For a mainstream summer release, Dunkirk is surprisingly demanding of its audience and approaches the material more like an art film than a standard World War II picture. The dialogue is sparse, and there are only rare instances in which characters engage in exposition (mostly the high-ranking officers, represented by Kenneth Branagh).
The opening scene recalls the long, wordless beginning of There Will Be Blood as much as it does Saving Private Ryan, the film to which Dunkirk will inevitably be compared. Nolan should welcome the comparison, though, because Dunkirk does precisely what Steven Spielberg's film did so well and then fixes the massive problems in that film.
People who remember Saving Private Ryan fondly think only of the first 45 minutes and forget the long slog that follows, with didactic speechifying and soppy sentiment. What Nolan does with Dunkirk is make the film people are thinking of when reminiscing about Saving Private Ryan, a spectacularly choreographed battle sequence spun out as long as it can be sustained (and Nolan's film is refreshingly short for a war film, not even reaching the two-hour mark).
As one would expect, Dunkirk is a technical marvel, with sound design that seems a virtual lock for at least one if not both of those categories at next year's Oscars and impressive cinematography and editing. The film is remarkable for its use of space; despite the possibility for panoramic views and sweeping camerawork, Nolan builds tension through claustrophobia, particularly in the nautical scenes, which should deter people from boating as much as Jaws.
While this is not a movie that features ostentatious performances, nor should it, the entire cast does a workmanlike job appropriate to the characters. Rylance, Hardy, Branagh and Styles (as a musician) have all done flashy work elsewhere, but these men all rein in their typically boisterous personas. It is a remarkable achievement for Nolan that he could take one of the world's biggest teen idols and make him blend in.
The one performance that does stand out is by Nolan regular Cillian Murphy as a shellshocked pilot that Rylance saves. Murphy has never seemed more haunted or ethereal than he does here, and those are the very qualities that have made him so distinct. He evokes the broken beauty displayed in later performances of Montgomery Clift, particularly Judgment at Nuremberg, here.
Nolan has always approached his material with a certain chilliness and clinical perspective, and that approach suits the material well. There have been enough films approaching World War II with a sentimental eye that it is refreshing to see one stripped down to the essence of human behavior: Each soldier wants first and foremost to survive. One can only shudder at what Spielberg would have done with this material, which might involve a teary-eyed Styles giving speeches about dear Mum back home in Liverpool. Nolan may go for a bit of rah-rah patriotism in the end, but this is entirely appropriate for the material and far more restrained than it would be in anyone else's hands.
After both Interstellar and The Dark Knight Rises felt like slight letdowns, Christopher Nolan is back with one of his best films and greatest technical achievements. He has more than earned a blank check for whatever he does next.
———————————————————-
Dunkirk
Warner Bros.
In theaters July 21
5 Stars
Films are rated on a scale of 5 stars (must-see), 4 stars (exceptional), 3 stars (solid), 2 stars (average) and 1 star (unworthy).
Video Slider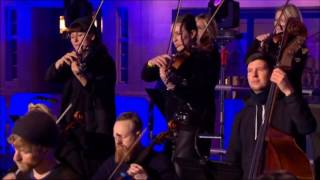 Win Tickets to See Pete Tong at Hollywood Bowl
Pete Tong is back in Los Angeles, and your chance to see him perform is at Hollywood Bowl on Thursday, Nov. 9. We are giving away complimentary tickets to the show. For a chance to enter to win, email us at
[email protected]
with "Pete Tong" in the subject line and tell us why you would like to go.