Review: Emily Blunt Gets Her Hands Dirty in One of the Best Movies of the Year, Sicario
Emily Blunt stars as Kate Macer in Sicario. (Lionsgate)
If you are suffering from superhero/sequel/reboot fatigue at your local multiplex, this is a great weekend to catch a movie on the big screen. Three of my favorite movies of the year are either debuting or expanding in theaters this weekend. The Martian is playing nationwide. 99 Homes just opened in L.A. before its nationwide expansion next Friday. Sicario has been playing in a handful of theaters the past couple of weeks and has expanded its number of screens this weekend. All are great, and all are different. Sicario is not only one of the most violent movies of the year, but it's one of the best of the year as well.
The film immediately tells us that the word 'sicario' means 'hitman' in Mexico. The official website for the film is also quick to point this out. By the time Denis Villeneuve's (Prisoners) film ends, you'll know what the title truly means. This isn't a movie for the faint of heart. It's relentlessly dark and ultra-violent, but the violence isn't exploitative. Drug cartels aren't exactly known for their subtlety, and the movie doesn't hold back in showing the violence they inflict. We've heard the news reports of the ongoing drug war in Mexico, and Sicario makes you feel as if you're in the middle of the action.
In Sicario, successful FBI agent Kate Macer (Emily Blunt) is recruited for a task force by Matt Graver (Josh Brolin) to fight the drug war on the Mexican border. A task force operative from Mexico, Alejandro (Benicio del Toro), tells her that "nothing will make sense to your American ears" when she crosses the border with them from El Paso into Juarez on her first day with them.
I could almost hear the pitch to the studio as I watched the film: Sicario is Steven Soderbergh's Traffic meets Jennifer Lopez's Bordertown. For those of you who don't know, which will probably be most of you, Bordertown is a very underrated, straight-to-DVD film also starring a female protagonist fighting the horrors happening in Juarez.
Speaking of female protagonists, is Blunt the new go-to action heroine à la Angelina Jolie? From The Adjustment Bureau to Edge of Tomorrow and now Sicario, Blunt is among the growing ranks of female action stars who are sexy without being hypersexualized in the process, which in turn, makes them even sexier in my opinion. And it's fun, in a dark funny way, to see Blunt literally get her hands dirty amidst the grime of fighting Mexico's notoriously violent drug cartels.
Life is messy sometimes, and Sicario doesn't hold back in showing us the messiness that drug wars can cause. You might need to watch a comedy or pop a pill after, but it's an unforgettable thrill ride that will haunt you like the best films do.
At one moment in the film, del Toro tells Blunt, "In the end, you will understand."
She does by the film's end – and so do we.
———————————————————-
Sicario

Lionsgate
Now in theaters
4.5 Stars
Films are rated on a scale of 5 stars (must-see), 4 stars (exceptional), 3 stars (solid), 2 stars (average) and 1 star (unworthy).
Video Slider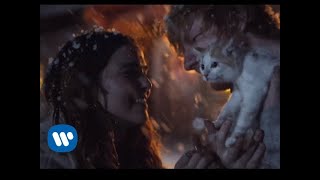 Win Tickets to See Ed Sheeran at the Rose Bowl
Ed Sheeran is back in Los Angeles, and your chance to see him perform is at the Rose Bowl in Pasadena on Saturday, Aug. 18. We are giving away complimentary tickets to the show. For a chance to enter to win, email us at
[email protected]
with "Ed Sheeran" in the subject line and tell us why you would like to go.