Review: Eifman Ballet's Tchaikovsky Reveals the Composer's Life Through Dance
Eifman Ballet's Tchaikovsky was a great opportunity to enjoy, and be educated about, ballet.
My first conscious contact with classical music and the work of Russian composer Pyotr Ilyich Tchaikovsky (1840-1893) came through the world of ballet. During the golden age of American Ballet Theater (ABT) spanning the 1970s and 1980s, my cousins and I would buy a pair of season tickets for their performances at the historic Shrine Auditorium, then we would distribute them among us. You can say that Tchaikovsky's music has been a big part of the soundtrack of my life.
On Saturday, June 24, at the Dorothy Chandler Pavilion as part of Glorya Kaufman Presents Dance at The Music Center, the Eifman Ballet of St. Petersburg, headed by Russian choreographer Boris Eifman, brought their acclaimed Tchaikovsky program to Los Angeles. Part biography, part dance, it attempts to show both the composer's music and tormented life.
Though I'm familiar with the music and ballets of Tchaikovsky I must admit that my knowledge of his personal life was more of a blur. Born in the small town of Votkinsk in Vyatka Governorate (present-day Udmurtia), he was not destined to be a musician but a civil servant. Luckily he was able to enroll in the fledgling Saint Petersburg Conservatory where he graduated in 1865, and the rest is ballet and classical music history.
As part of the late-Romantic period in classical music, his ballet scores, which include Swan Lake, The Nutcracker and Sleeping Beauty, are some of the most important and beloved of all times. Even though millions of people have heard his music, seen his iconic ballets, many (myself included) might not have been aware of his tumultuous personal life that included his closeted homosexuality.
The Eifman Ballet's program began at the end of Tchaikovsky's life as the composer lay in his deathbed. Played by dancer Oleg Gabyshev in a tour de force performance, he layered impressive acting over impeccable dancing skills. In this scene, the audience was also introduced to another male dancer, Sergey Volobuev, who represented a sort of alter-ego that appeared in other segments of the piece as a kind of "evil twin." Volobuev, who possesses elegant physical traits and huge stage presence, battled Gabyshev in some outstanding male dance pas de deux where at times it seemed if they were fused as one.
Subsequent scenes attempted to chronicle the life of Tchaikovsky through some of his most famous ballets, segments of Swan Lake and The Nutcracker, as well as operas Eugene Onegin and The Queen of Spades. Eifman's choreography is a fusion of classical and modern, which gave the dancers freedom to interpret their roles, acting wise. Dancer Maria Abashova's portrayal of the real-life Nadezhda Filaretovna von Meck, who was Tchaikovsky's financial patroness, was done with great finesse, lovely body lines and passion.
As Antonina Ivanovna Miliukova, Tchaikovsky's wife and widow, Lyubov Andreyeva was a revelation. Her beauty and finesse complemented astounding leg extensions, delicate arm movements and overall character portrayal.
One of the highlights of the evening came towards the end of the performance during the segment based on The Queen of Spades. Centered around a gambling table, exciting, athletic and complex choreography was executed by a mostly male dance ensemble, featuring an outstanding performance by Dmitry Krylov as the Joker.
To round out the production's vision were beautifully executed, abstract period costumes and versatile, bold scenic designs that had a steampunk look to them.
Even though the Eifman Ballet's Tchaikovsky was created in 1993, its fusion of theater, biography, modern dance and ballet seems very fresh almost 25 years later. This type of performance is not just enjoyable for those who grew up with classical ballet like myself, it provides an opportunity for education as well.
Video Slider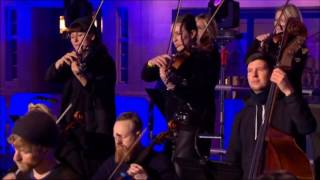 Win Tickets to See Pete Tong at Hollywood Bowl
Pete Tong is back in Los Angeles, and your chance to see him perform is at Hollywood Bowl on Thursday, Nov. 9. We are giving away complimentary tickets to the show. For a chance to enter to win, email us at
[email protected]
with "Pete Tong" in the subject line and tell us why you would like to go.