Review: Early Man is a Lovely Throwback to the Best of Early Animation
Early Man takes place in Neo-Pleistocene Britain. (Aardman Animations)
For the better part of three decades, Nick Park has inspired and delighted audiences of all ages with his utterly charming stop motion creations. Titles such as Chicken Run, Creature Comforts, and the legendary Wallace & Gromit series are timeless reminders of a bygone, analog style of animation which has long since been supplanted in the public imagination by a far more soulless brand of computer-rendered imagery. Now, Park and his crew of collaborators at Aardman Animations return with Early Man, another boldly old-school romp that retains a humanistic spirit unseen in the majority of contemporary children's films.
Living up to its title, Early Man takes place in Neo-Pleistocene Britain, where a cadre of primitive caveman manage to weather a cataclysmic asteroid collision, inventing the game of soccer in the process. Generations later, only a small band of these prehistoric fellows are left, led by Chief Bobnar (Timothy Spall), and those that do remain soon find themselves oppressed by a Bronze Age army, fronted by the officious Lord Nooth (Tom Hiddleston). These more advanced humans inform the rag-tag bunch that the age of Stone is over, and force them from their homes and into a desolate stretch of volcanic turf. There, unctuous upstart Dug (Eddie Redmayne) comes to realize his ancestors' proclivity for soccer, and decides that their only chance for gaining a public victory over the stuck-up Bronze Agers is to challenge them to a public game of "footie", with the stipulation that a victory will force Lord Nooth to return their valley homeland.
What follows is a fairly by-the-book sports underdog story, spruced up with the added primitive hominid conceit. With proto-feminist sparkplug Goona (Maisie Williams) joining the team as coach, after being banished from the Bronzie team for the sin of being a sports-inclined woman. As per usual, Park populates the film with brilliantly silly, visually eye-popping creations, such as a tusked, orange pig named Hobnob, a huge, fanged duck monster, and a hilariously droll talking bird (voiced by Rob Brydon) who continuously disses Lord Nooth and co. But what stands out the most is Park's willful unwillingness to embrace modern technology and trends in crafting this endearingly lo-fi project. Though it's been 12 long years since his last feature film (the underrated Wallace & Gromit: The Curse of the Were-Rabbit), park hasn't lost a beat— or let the world pass him by, despite its best efforts.
Overall, Early Man is a more-than-worthy entry into the lengthy pantheon of Aardman gems, combining heart, humor, and a boundless, child-like sense of whimsy and imagination, avoiding all the scatological low-blows and pop-music infused dance numbers of your average animated feature circa 2018. Whether one views this as a strength or a weakness is dependent on personal preference (I have a feeling adult cineastes will enjoy this picture more than suger-high children might), but no matter how one feels, it's impossible to ignore the impeccable level of craftsmanship and care put into creating these stop-motion sequences. Though the medium may be constantly pushing forward, this reviewer, for one, sincerely hopes Nick Park and his team never change. Happily, they seem to be onboard.
—————————————————————–
Early Man
Aardman Animations
Now in theaters
4.5 Stars
Films are rated on a scale of 5 stars (must-see), 4 stars (exceptional), 3 stars (solid), 2 stars (average) and 1 star (unworthy).
Video Slider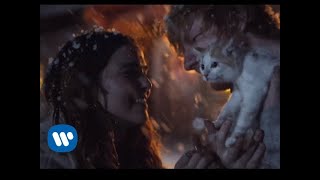 Win Tickets to See Ed Sheeran at the Rose Bowl
Ed Sheeran is back in Los Angeles, and your chance to see him perform is at the Rose Bowl in Pasadena on Saturday, Aug. 18. We are giving away complimentary tickets to the show. For a chance to enter to win, email us at
[email protected]
with "Ed Sheeran" in the subject line and tell us why you would like to go.