Review: Dog Days Beats the Heat With Canine Comedy
Tone Bell and Nina Dobrev in Dog Days (LD Entertainment)
Once an anti-comedy rabble rouser for MTV's forward thinking sketch show "The State", actor-turned-director Ken Marino has, as the adage goes, "learned new tricks" in crafting his latest film, the almost cloyingly cute rover romp Dog Days. The family friendly picture is appropriately named, opening in a mid-August spot as apparent counter-programming to the typical late summer genre fare, and using our culture's evergreen love of wacky pooches wacky to solid commercial effect. Starring alongside the coterie of cute dogs is a varied ensemble of dependable performers (both dramatic and comedic) stretched out over layered, intersecting plot lines that come together like some sort of canine Crash.
Kate (Nina Dobrev) is a buttoned-down newscaster who's in the midst of recovering from a bad break up when her world is rocked by the arrival of handsome former football star Jimmy (Tone Bell) when their dogs fall in love, as dogs are wont to do. Meanwhile, stoner wanna be rockstar Dax (Adam Pally) is tasked with taking care of his sister's woofer after she finds herself overwhelmed in taking care of her newborn twins. Across town, newly adoptive parents Grace and Kurt (Eva Longoria and Rob Corddry) vie to get their distant daughter's attention upon finding a lost pug wandering the streets— but little do they know the pup actually belongs to aging English professor Walter (Ron Cephas Jones), who has teamed up with precocious local pizza boy Tyler (Finn Wolfhard) to find it. Meanwhile, disaffected barista Tara (Vanessa Hudgens) finds herself in the midst of a live triangle with ultra-handsome vet Dr. Mike (Michael Cassidy) and Garrett (Jon Bass), the sweet yet schlubby owner of the animal shelter where she volunteers.
If this sounds like a lot of plot lines, that's because it is, but Marino and screenwriters Elissa Matsueda and Erica Oyama manage to juggle it all with admirable alacrity, buoyed, of course, by the antics of their ceaselessly adorable four-legged muses. But that's not to say their human counterparts are phoning it in. Dobrev and Bell have some cracking chemistry, while Pally brings an endearingly rumpled physicality to what might have been a stale role in lesser hands. Faring a tad poorer are Cephas Jones and Wolfhard, who never quite manage to inject enough tartness into the maudlin storyline of a widower finding his purpose in a precocious whippersnapper (here literally dubbed "wise guy"). Indeed, much of the material on display is shopworn; the dogs are the butt of numerous poop and fart gags, all the heartwarming moments are underscored by corny GarageBand synth strings, and the characters generally do fall into the stock rom-com archetypes (nerd with a heart of gold, manic pixie dream girl, et, al).
Nevertheless, the material is treated with earnest heart rather than post-millennial cynicism, giving the entire movie a sense of lived-in warmth that contrasts with its glossy, fluff-coated exterior. And even though the plot threads intervene In laughably convenient ways (Dax and Tara are randomly revealed to be next door neighbors, Kurt happens to Tyler's teacher in school), it's hard not to empathize with a group of doe-eyed dogs helping their utterly benign owners through the relatable morays of 21st century dating and blended family life. Did I roll my eyes a bit when the entire plot came down to a "fundraiser" to save the dog shelter from a heartless landlord? Sure I did, but you can damn sure bet that I was rooting for the group to rake in that money just the same. And the end of the day, I think what Marino and co. were trying to say here is that, by taking care of another creature, no matter how smelly or humping-prone they may be, we add something magical into our otherwise banal lives. And that message sure rings true in Dog Days, a by-the-numbers little film that swings above its weight class due to the wise inclusion of man's best friend.
—————————————————————–
Dog Days
LD Entertainment
Now in theaters
3.5 Stars
Films are rated on a scale of 5 stars(must-see), 4 stars (exceptional), 3 stars (solid), 2 stars (average) and 1 star (unworthy).
Video Slider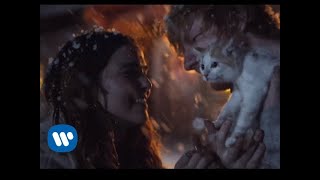 Win Tickets to See Ed Sheeran at the Rose Bowl
Ed Sheeran is back in Los Angeles, and your chance to see him perform is at the Rose Bowl in Pasadena on Saturday, Aug. 18. We are giving away complimentary tickets to the show. For a chance to enter to win, email us at
[email protected]
with "Ed Sheeran" in the subject line and tell us why you would like to go.