Review: Den of Thieves Excels In Entertainment
Gerard Butler is Big Nick in Den of Thieves. (STXfilms)
Sometimes, when looking at a film, one must consider two things side-by-side: one being what the film itself wants to be, and the other what the audience wants said film to be. In the case of the ribald new police thriller Den of Thieves, the creative goal appears to be something in the realm of neo-classic cop/heist thrillers such as Training Day or Heat, whereas what this writer (and any self-respecting cineaste) went in expecting was a meat-and-potatoes crime tale along the lines of, say, Street Kings or Dark Blue. Indeed, the customer is always right, and that is exactly what this testosterone-laden, badge-wearing B-picture turned out to be.
Directed by relative unknown Christian Gudegast, Den of Thieves dresses up a well-worn premise in some slick new duds by ramping up the action and toning down the characterization on what might otherwise pass as a '70s wheel-spinner (Dog Day Afternoon) or even a '50s palooka yarn (The Concrete Jungle). The plot concerns ex-Marine-turned-con Ray Merriman (Pablo Schreiber), leader of a crew of ace bank robbers who use their military training to pull off sophisticated, tech-savvy capers. Their ranks include the swaggering Levi (Curtis "50 Cent" Jackson), the unhinged Bosco (Evan Jones) and the green, baby-faced getaway driver Donnie (O'Shea Jackson Jr.). On the flip side of the coin of justice, there's the cops – in this case, cops of the seriously hard-ass variety, led by Big Nick (Gerard Butler), a hulking, persistently hungover brute who has a fluid sense of morality to match his violent temper.
After a brazen armored-truck job ends in the death of four cops, Merriman and Co. find themselves in Big Nick's crosshairs. Plucking poor Donnie out of the back alley behind the bar he works at, Big Nick and his growling compatriots give the kid a beating and a stern warning – rat out your compadres or face the wrong end of a gun. Meanwhile, Merriman's planning his most audacious gig yet – a heist involving breaking into the L.A. branch of the federal reserve in order to steal a massive sum of "unfit" currency that is being taken out of circulation. Needless to say, the bad boys in blue don't plan on making it easy for the crew, and before long, the two cliques are engaged in a cat-and-mouse tet-a-tet which soon morphs into (you guessed it) a prolonged and elaborate gun battle on the streets of downtown Los Angeles.
Indeed, it is at its most frenetic and blustery that Den of Thieves succeeds, delivering on some squarely above-average action sequences as well as a masterfully blocked and orchestrated final heist. In addition, the performances on display here are (for the most part) better than they have any right to be, with particular kudos owed to Butler, who injects Big Nick with far and away the most personality and gristly charm that I've ever seen him inject into any character. Jackson (son of the legendary Ice Cube) also believably portrays Donny's neurotic angsty as he's put under the so-called "big squeeze" by the corrupt lawmen. Faring less well is Schreiber, whose turn as Ray Merrimen amounts to little more than a generic cypher. The same goes for Curtis Jackson, who peaked as an actor in his first, semiautobiographical role in 2005's Get Rich Or Die Trying and has been phoning it in ever since.
It's also worth nothing that, save for a few hollow scenes revolving around Big Nick's family life, the overall level of the writing (in particular, the dialogue) does manage to punch above its weight class in regards to originality and quippiness. With these factors in mind, Den Of Thieves is still reliably gripping popcorn entertainment if not taken on its own terms — that is to say, don't go in expecting the next The Town, and you won't leave disappointed.
—————————————————————–
Den of Thieves
STXfilms
Now in theaters
3 Stars
Films are rated on a scale of 5 stars (must-see), 4 stars (exceptional), 3 stars (solid), 2 stars (average) and 1 star (unworthy).
Video Slider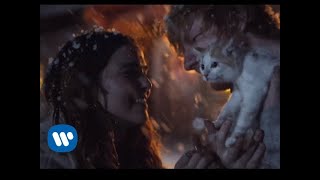 Win Tickets to See Ed Sheeran at the Rose Bowl
Ed Sheeran is back in Los Angeles, and your chance to see him perform is at the Rose Bowl in Pasadena on Saturday, Aug. 18. We are giving away complimentary tickets to the show. For a chance to enter to win, email us at
[email protected]
with "Ed Sheeran" in the subject line and tell us why you would like to go.