Review: Against Me!, the Definition of Grace at the Glass House
Against Me! performing at the Glass House on Sept. 15 (Evan Solano/LOL-LA)
Every generation has at least one musician who is the rabble rousing voice of dissent. In the 1930's there was Woodie Guthrie and his Americana protest songs, the 60's had Bob Dylan advocating for social change, and the 1980's saw Joe Strummer and The Clash challenge the status quo of the punk scene. Friday night in Pomona, Laura Jane Grace claimed her title as the voice of the disenfranchised in 2017.
She did it armed with the protest spirit of Guthrie, the social awareness of Dylan, along with the emboldened, in your-face songwriting style of early Bruce Springsteen, and all while donning a black halter top and a "fuck you" sneer that has come from being the powerhouse frontwoman who has kept Against Me! the boisterous punk storytellers for nearly 20 years in a scene that has chewed up up, spat out and eroded the essence of countless bands before it.
Grace has been pushing the boundaries of the punk since Against Me!'s humble origins as an acoustic two-piece in Florida. Whether is was taking on topics as diverse as capitalism, drug addiction, politics, or sexual identity, she and Against Me! have consistently released a slew of well-thought, poignant punk anthems that juxtapose dark, abrasive lyrics with catchy pop-laden hooks through walls of crushing distortion in a way not seen since the The Ramones first decimated eardrums in the late 70's.
For a style of music that is often imitated to the point of ad nauseum, Against Me! have proven themselves, time after time, to be the band unafraid to the be the unwavering middle finger to both mainstream music and the very punk scene that influenced them, when critics denounced the band of losing their "punk cred" when they signed with major label, Sire Records prior to the release of their breakout album "New Wave" in 2007.
Now seven records deep with the release of Shape Shift With Me, on the band's own label, Grace and the group commanded the stage at the Glass House in Pomona on Friday bringing with them The Dirty Nil and L.A.'s female-fronted Bleached.
Hailing from Canada, The Dirty Nil, who recently signed with Fat Wreck Chords impressed the early arrivals who were kicking back, drinking up and watching the trio power through their hybrid style poppy punk songs that comes off like Pinkerton-era Weezer covering early Nirvana. The band played songs from their cleverly-titled new album Minimum R&B, that was released earlier this year.
On paper, Bleached have all the appearances of a cliche L.A. indie band, but once they begin playing they immediately distance themselves from any band most people would assume they sound like. Fronted by sisters Jennifer and Jessica Clavin, Bleached take the infectious melodies of the Go-Go's and meld it with the Riot grrrl stylings of bands like Veruca Salt and L7.
Working their way through songs off their 2016 LP Welcome The Worms, singer Jessica Clavin would seamlessly switch from dancing and bobbing around the stage behind the mic to picking up a guitar and backing up her sister while playing standout tracks like "Chemical Air" and "Wednesday Night Melody" that were reminiscent of early Best Coast's airy surf-pop but with more a rough edge punk ethos.
Under total darkness and behind a giant backdrop with a heavily painted up set of lips, Grace, joined by long-time guitarist and backing vocalist James Bowman took the stage along with their new rhythm section of drummer Atom Willard and bassist Inge Johansson.
There was a sense of calm before the Florida natives ripped into their vivacious hour and half long set. While back in their home state, they are dealing with Hurricane Irma and Maria, when the lights flashed on and the band ripped into the brash opening riffs of "True Trans Soul Rebel" from the 2014 concept album Transgender Dysphoria Blues, the Pomona crowd was about to feel the full wrath of Hurricane Laura.
The song's earnest lyrics and album themes are autobiographical, based around Grace's coming out and gender transition in May 2012. The crowd, a mixed bag of old school punks, transgender men and women and hipster music snobs were all united as one, chanting along to Grace's raw and powerful words about her long struggle with gender dysmorphia as she was belting every word to the audience, strumming her beat up Fender guitar and stamping her foot like a woman possessed. The band kept the intensity rolling as they quickly shifted gears into "I Was A Teenage Anarchist" from 2010's White Crosses.
What is remarkable about a band like Against Me! is not only the number songs they have written in their twenty year span, but the consistency of catchy hooks and ingenious use of melody, harmony and structure that stand as a true testament to Grace's talent and ability as a true songwriter.
Almost every era of the band's storied career was touched upon during the 90-minute marathon of folk punk hits. From pit-starters like "ProVision L-3" from their most recent offering to deeper cuts like "From Her Lips to God's Ears (The Energizer)" and the caustic sing-along groove of "Miami" from their 2005 LP, Searching For A Former Clarity. Grace and Bowman unleashed riff after hook-laden riff of anarcho-punk nihilism wrapped in sweet melodies and delivered with intoxicating showmanship.
Celebrating its 10-year milestone, the band played a few tracks from New Wave, starting with the album's titular opener followed by "Up The Cuts," the band made no excuses or made any effort to shy away from the polarizing album that had some of their long-time fans crying "sell out!" almost a decade ago.
The band took things back to their first two albums playing long-time set staples like "Those Anarcho Punks Are Mysterious…" and "Jordan's First Choice" from their highly-touted 2002 debut album, Reinventing Axl Rose.
They closed their set with their biggest hit, "Trash Unreal," the poppy sing-along single from New Wave that introduced the band to a new legion of fans. The song is as incredibly catchy as it is soul crushing with its heart wrenching lyrics of a lonely, aging drug addict party girl who can't get out of the scene.
After a short-but-sweet five song encore of the band's earliest work such as "Pints Of Guinness Make You Strong" and "Sink, Florida, Sink" the band finally wished their fans a good night as the crowd began rushing to the merch table to stock up on all the records, shirts and copies of Grace's 2016 autobiography "Tranny," that would have no doubt been strewn all across the Glass House floor had they tried to hold on to them during the incendiary set.
Since its inception with Grace as their enigmatic and ambiguous leader, Against Me! has defied expectations of what a punk band should look and sound like. Her life's work of songs are by and large, a shining reflection of the engaging and alluring songwriter she has proven herself to be. Her music, much like Grace herself, challenge the norms of the punk community while presenting a radical and promising face to the future of punk rock.
Video Slider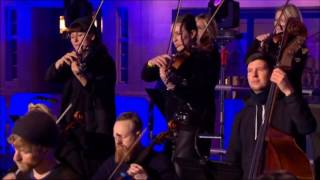 Win Tickets to See Pete Tong at Hollywood Bowl
Pete Tong is back in Los Angeles, and your chance to see him perform is at Hollywood Bowl on Thursday, Nov. 9. We are giving away complimentary tickets to the show. For a chance to enter to win, email us at
[email protected]
with "Pete Tong" in the subject line and tell us why you would like to go.