Review: "Ded!"– A Drop-Dead Funny and Original Multimedia Play
"Ded!" runs through Oct. 25 at the Matrix Theatre.
"Ded!" may be a live theatrical production at the Matrix Theatre that features puppetry, Mexican folk tradition and an orchestra, but the show is really a silent film brought to life on stage. The production features sound effects, music but no dialogue and even features an appearance by the Man in the Moon, played here in filmed footage by Tony-winning actor Bill Irwin of the 2005 production of "Who's Afraid of Virginia Woolf?" in an obvious nod to the famous George Méliès silent pictures that were among the first movies ever produced. Like a silent film created at the advent of cinema, "Ded!" operates as if there are no set rules and uses any technique that it think might entertain.
The production stars Carlos Lopez Estrada as Ded, a young man who is killed in a motorcycle accident and learns that he has joined the ranks of the dead. Made up in the skeleton costume and makeup associated with Mexican Dia de los Muertos festivities, he first must realize what happened to him and deal with the realization that life will go on without him. Cristina Bercovitz, who co-created and co-directed the show alongside Estrada, appears on stage with him as an unnamed dead person who assists the title character, particularly when he learns that he can look back on the life of his still-living girlfriend and see how she moves on after his death. Completing the cast are the various members of the orchestra, who perform the music throughout the show yet still get a chance to join the action.
Without any spoken dialogue, "Ded!" does feel like a silent film, and the white makeup on Estrada makes the show seem even more like pantomime. This is not meant as an insult, even though it refers to perhaps the most hated of all the performing art forms. After all, has anyone in the past 50 years genuinely enjoyed a mime? The answer is likely no.
Estrada has a good face for the material, with a pout that could be seen even in the worst seats of a far larger theater, instead of an intimate space such as the Matrix. His skeleton costume seems like a child's pajamas, lending to his air of innocence.
Even despite the contributions of Bercovitz and the orchestra, "Ded!" is essentially a one-man show, and Estrada is charming as he bounces through the show. It is as much a gymnastic performance as an acting one, and the breakneck pace during the earlier comedic moments is reminiscent of old Looney Tunes cartoons. It is surely no coincidence that the sticks of dynamite used as a prop are from the Acme Corporation. Wile E. Coyote would certainly approve of the show.
The best thing about a show like "Ded!" is that such a small production allows it a loose tone and the ability to experiment. Again, this is no insult, considering that experimental theater is as much a deterrent to audiences as mime. This is a stage show that uses filmed footage, puppetry and even audience participation to great effect. It is difficult to categorize it as anything but an enjoyable diversion appropriate for all ages; despite the adult themes of moving on from the loss of a loved one, the comic tone makes "Ded!" appropriate for all ages, and it features no material more offensive than drinking beer and a single fart joke.
Despite featuring a cast playing characters who are essentially dead, "Ded!" is a funny, mostly light-hearted romp that consistently entertains. It draws from so many varied inspirations that nearly every audience member, whether young or old, will find something charming about the production. It may be the happiest show ever to take on the pain of losing a loved one.
"Ded!" runs at 8 p.m. (Thursday, Friday, Saturday) and 3 p.m. (Sunday) through Oct. 25 at the Matrix Theatre (7657 Melrose Ave., Los Angeles). For tickets and more information, visit dayoftheded.com.
Video Slider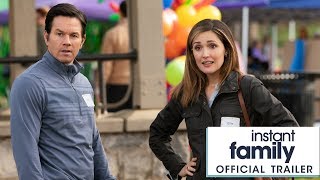 Win a Blu-ray + DVD + Digital Copy of Instant Family
Everyone everywhere can now enjoy Instant Family on Digital and on Blu-ray™ Combo Pack, and DVD on March 5 from Paramount Home Media Distribution. For a chance to enter to win at random, please email us at
[email protected]
with "Instant Family\" in the subject line and let us know why you\'d like to win a copy. This contest ends March 25, 2019.