Review: Conor Oberst Takes Angelenos to Church
Conor Oberst gave an intimate performance on Dec. 9 and 10 at Immanuel Presbyterian Church.
People chatted throughout the pews or snapped photos of the stunning stained-glass window and giant pipe organ framing the altar, but once the light of the ornate chandeliers suspended above head was dialed down to a dim glow, all focus was given to the night's sermon. The congregation sat in rapt attention to tales of love, loss, sickness and death. The words were so moving that they elicited sporadic shouts from the depths of the crowd and several of its members to stand up and violently shake their bodies in emotional response.
The pastor wasn't adorned in flowing vestments, but rather a leather jacket and pair of jeans. Instead of a bible, his arms cradled an acoustic guitar. This was no ordinary church service on the evening of Dec. 10 at Cathedral Sanctuary at Immanuel Presbyterian Church in Los Angeles' Koreatown. It was the second of two sold-out shows from singer-songwriter Conor Oberst.
That said, the concert was just as moving and inspirational as any mass I've ever attended (and as a former Catholic schoolgirl I've sat through my fair share of them). Both shows at the cathedral were anything but ordinary for Oberst as well. They were divided into two sections: the first dedicated to the entirety of his latest full-length, Ruminations, and the second to his vast catalog of songs from his solo and Bright Eyes albums that span almost two decades.
The new effort was certainly aptly named, as it was written as he pondered life and death during the course of a bleak winter in his hometown of Omaha, Neb. He returned home after living in New York City for over 10 years and experiencing a health scare (cyst on his brain). You can hear raw emotions like anger, depression and loneliness in every song on Ruminations.
They are such personal songs that it was fitting his live performance of them be intimate to match. So, throughout the show, it was just Oberst singing at the piano, strumming his guitar or blowing into his harmonica, accompanied by one other musician, bassist Miwi La Lupa. Because the arrangement of the songs was so stripped down, you could really focus on what Oberst does best: write intelligent yet relatable lyrics accentuated by catchy melodies.
It was hard not to become choked up as Oberst sang, "Tried to lose myself in the primitive in Yosemite like John Muir did. But his eyes were blue, and mine are red and raw," ("Barbary Coast") or "I'm just trying to be easy, agreeable. I don't want to seem needy to anyone, including you," ("Counting Sheep"). Not that the Ruminations half of the evening was full of darkness. Oberst injected funny and snarky comments into his between-song banter, like sarcastically saying "Mamah Borthwick (A Sketch)" was for the many architectural buffs in the audience or laughingly warning the audience to use that time during intermission wisely before the final song from the new album, "Till St. Dymphna Kicks Us Out," which is about spending time drinking at his favorite old bar in NYC.
Oberst began the "old favorites" portion of the evening with works from three of his solo efforts: "Lenders in the Temple" off his 2008 self-titled album, "White Shoes" from 2009's Outer South and
"Double Life" from 2014's Upside Down Mountain. He pushed deeper into his history with the remainder of the songs consisting of Bright Eyes material and one cover.
Opening act Phoebe Bridgers lent ethereal vocals to a duet of one of Oberst's most recognizable tracks, "Lua," before he led into "Ladder Song." Then, Oberst took the crowd back to 2002 with "The Big Picture," which he wrote at age 21 for his Lifted or The Story Is in the Soil, Keep Your Ear to the Ground album. He lovingly dedicated a cover of the Replacements' "Here Comes a Regular" to his brother Matt, who taught him how to play the song and who also tragically passed away suddenly last month.
Oberst closed out the night in the incredibly beautiful unorthodox concert venue with a customary song from his shows, "At the Bottom of Everything," from Bright Eyes' I'm Wide Awake, It's Morning (2005). Any "Westworld" fans might want to check out the song's music video that stars Evan Rachel Wood. The tune is about a plane going down, the thoughts and emotions one might have in the face of certain peril. There's sadness but ultimately acceptance and joy. It was the perfect end to a remarkable evening.
Video Slider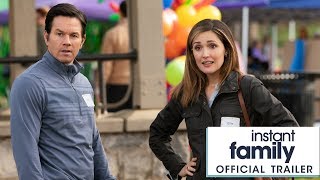 Win a Blu-ray + DVD + Digital Copy of Instant Family
Everyone everywhere can now enjoy Instant Family on Digital and on Blu-ray™ Combo Pack, and DVD on March 5 from Paramount Home Media Distribution. For a chance to enter to win at random, please email us at
[email protected]
with "Instant Family\" in the subject line and let us know why you\'d like to win a copy. This contest ends March 25, 2019.