Review: The Commuter Stays on the Right Track
Liam Neeson stars in The Commuter (Jay Maidment)
Following the success of last winter's lavish Murder on the Orient Express remake, the arrival of Jaume Collet-Serra's The Commuter marks what appears to be a round-trip return of the long-lost Train Mystery genre. Despite sporting a slick plot with echoes of both the '90s "wrong-man" pot-boiler (The Fugitive) as well as the urban conspiracy weave of the '70s (The Parallax View), the film still manages some contemporary immediacy — the unshakable feeling that it couldn't possibly exist with anyone at its core save for Liam Neeson-circa-2018. Rebounding after a somewhat sluggish turn in 2015's Run All Night, Neeson is back in Taken form here, delivering the kind of simmering, clear-eyed performance which (re)made him into an iconic action hero at the dawn of this decade.
The titular commuter is Michael McCauley, a character who checks most of the contemporary Neeson-role boxes: a doting family man with a past career in law enforcement and, thereby, a particular set of skills. In this case, McCauley is an ex-cop turned insurance salesman who, day after day, commutes into New York City via the Metro North Train in an effort to make ends meet for his wife Karen (Elizabeth McGovern) and his college-bound son Danny (Dean-Charles Chapman). That is, until one fateful afternoon, Michael is fired without a severance package, only to be approached on the train back home by a mysterious woman (Vera Farmiga), who makes him the kind of offer only seen in productions like these. She claims there's someone aboard the Metro who "doesn't belong," and that her mysterious benefactors will pay Michael $100,000 to find the perp and plant a small tracking device on his/her bag for purposes unknown. As you might imagine, moralistic Michael refuses to go along with their plan, thus leading him into a web of corruption, intrigue, and lots and lots of fistfights.
Said twists and brawls may not break the mold, but they are doled out with crisp succinctness by long-time studio hand — and Neeson collaborator — Collet Sera (House of Wax, Non-Stop), who has an inventive eye for blocking and a handful of interesting trick-shots up his sleeve. Similarly, the screenplay by Byron Willinger, Philip de Blasi and Ryan Engle serves up just enough cleverly placed surprises and payoffs to keep the whole enterprise fleet of foot, even if it never quite manages to transcend the limitations of the form. Faring less well are the actors, who, save for Neeson deliver performances ranging from hammy (Roland Moller as brutish lug Jackson) and bored (Patrick Wilson as Michael's cop friend Alex), to outright non-existent (the great Farmiga, who sadly disappears from the story after five minutes of screen time).
Blemishes aside, this is a movie that knows both what it is and what its audience demands of it. That is to say, Neeson has played this role before, but that's only because we love him in it. Because no one is asking for a psychologically probing character piece from a picture like this — just a tightly packaged slice of mid-octane entertainment to occupy a date night or a Sunday afternoon. And by these not entirely low standards, The Commuter pulls into the station well ahead of schedule.
———————————————————-
The Commuter
Lionsgate
Now in theaters
3 Stars
Films are rated on a scale of 5 stars (must-see), 4 stars (exceptional), 3 stars (solid), 2 stars (average) and 1 star (unworthy).
Video Slider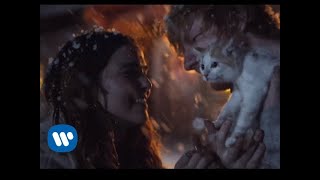 Win Tickets to See Ed Sheeran at the Rose Bowl
Ed Sheeran is back in Los Angeles, and your chance to see him perform is at the Rose Bowl in Pasadena on Saturday, Aug. 18. We are giving away complimentary tickets to the show. For a chance to enter to win, email us at
[email protected]
with "Ed Sheeran" in the subject line and tell us why you would like to go.