Review: Clap Your Hands for the Gipsy Kings at the Greek Theatre
The Gipsy Kings brought the house down at the Greek Theatre on Saturday.
The dance and music genre of Flamenco is native to the southern Spanish areas of Andalusia, Extremadura and Mucia. It usually involves a singer, guitarist/s, dance and jaleo, which refers to the vocalization and hand clapping that are associated with this art form. The first known reference of flamenco was in 1774, and it was thought to have stemmed from Andalusian music and dance traditions as well as the influences of Muslims, Castilian settlers, Gypsies and Jews.
Even though they are not native to Spain but the south of France, the legendary Gipsy Kings are associated with Flamenco and have helped grow its popularity in the last 30 years like no other world artist since the late maestro Paco de Lucía.
I was very lucky to be at the right place, or should I say listening to the right radio station, in the late 1980s when tuning to radio station KCRW 89.9 FM out of Santa Monica College. There I heard about the first concert by the Gipsy Kings in 1988 at the Palace (now the Avalon) while listening to the program "Morning Becomes Eclectic" hosted by the legendary DJ, author, musicologist, expert on world music and now my now friend of 20 years, Tom Schnabel.
Making another anticipated appearance to a sold-out crowd at the Greek Theatre on Sept. 5, the Kings' show began with the young band Arc Iris as opening act. Headed by the enigmatic Jocie Adams (lead vocals, guitar, composer), Zach Tenorio Miller (piano), Ray Belli (drums), Max Johnson (bass), Charlie Rose (steel banjo and trombone), Mike Irwin (trumpet) and Robin Ryczek (cello), the group really perked up my ears with their wonderful fusion of classical music, country, blues and indie with Björk-like vocals by Adams and Ryczek.
Arc Iris' self-titled debut album was released in 2014 to great acclaim, much like their live performances that showcase Adams' compositions, multi-instrumental talent and lead vocals. Backed by Tenorio Miller's excellent piano/keyboard, Belli's impeccable timing on drums with the sweet sounds of the cello and vocals by the classically trained Ryczek, their music is a creative fusion of multiple genres that leaves you wanting more.
After intermission, the Kings walked onto the stage to an Afro-Cuban beat introduction and soon broke into "Quiero Saber" from their breakthrough self-titled album (1987). On lead vocals was Nicolas Reyes, and Tonino Baliardo played lead classical guitar. These are the only two remaining members of the original lineup, with the rest of the musicians being from a younger generation.
Even though it has been over 27 years since they burst onto the music scene, Reyes' vocals still hold the strength, authenticity and identity of the group while Baliardo's masterful guitar solos are its soul. Their music is a fusion of multiple genres such as Cuban and Arabic, reggae, jazz, rock 'n' roll – but all under the umbrella of the flamenco with a gypsy soul. It is because of this hybrid style that their popularity has soared all these years and continues to do so.
Throughout the evening, the younger generation of musicians was able to alternate with the old masters and take the lead, starting with "Bem, Bem, María," followed by Reyes and Baliardo fronting for the song "Por El Amor de Una Mujer."
Needless to say that within a short time from the beginning of the set the audience, including myself, were up on their feet singing and dancing to "Vamos A Bailar" and "Baila Me," which have quite the appropriate titles.
Not all the songs were high energy dance tunes, such as the haunting "Montana" and "Sueño de Noche," which showcased Reyes' outstanding and weathered voice in its most pure form as he accompanied himself on acoustic guitar. A gorgeous and romantic song, it had a couple next to me locked in sweet embrace, swaying to the music.
Not to be left out of the evening's playlist was their early hit "Djobi Djoba" and "Samba Samba" from their 2013 recording Savor Flamenco, which won a Grammy Award for Best World Music Album. They have been nominated multiple times for a Grammy and have also won a Latin Grammy Award for Best Pop Album of the Year for Love and Liberté (1993).
To cap off a memorable evening, the audience finally got to enjoy what is the King's most famous and early hit "Bamboleo," and it literally brought down the house as many got out of their seats, into to the aisles and hallways to enjoy one of the most infections songs of the evening. This was followed by an encore, "Volare," which was such an appropriate song to end an evening where your body and soul flew on the wings of a group of gypsies whose name, the Gipsy Kings, seems to be so appropriate.
Video Slider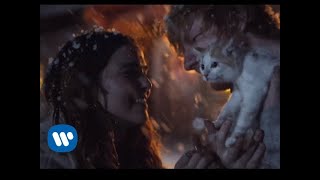 Win Tickets to See Ed Sheeran at the Rose Bowl
Ed Sheeran is back in Los Angeles, and your chance to see him perform is at the Rose Bowl in Pasadena on Saturday, Aug. 18. We are giving away complimentary tickets to the show. For a chance to enter to win, email us at
[email protected]
with "Ed Sheeran" in the subject line and tell us why you would like to go.