Review: Cheyenne Jackson Charms the Walt Disney Concert Hall
Cheyenne Jackson performing on Saturday, April 26 at Walt Disney Concert Hall. (Craig T. Mathew/Mathew Imaging)
The thing about the standards is that not just anybody can perform them. It takes someone who can don an old soul and become a vessel to the music of an era gone by.
Cheyenne Jackson, known from hit shows like "Glee" and "30 Rock," is a gifted performer who can do just that. On Saturday, April 26 at the Walt Disney Concert Hall, Jackson performed a medley of tunes from the Mad Men era and even some original work that showcased his gift of song. He filled the room with love, as he had hoped.
Starting with a few numbers such as "Besame Mucho" and "That Old Devil Moon," he charmed his audience into transporting to a time where the emotion in music could be communicated through heartfelt simplicity – a big band and a voice.
In between his numbers, he even shared personal anecdotes of his childhood about the moments he fell in love with the beauties of the jazz age. Not only with their music, but also just being inspired to perform some of the most beloved music his audience was regaled like old friends as he explained how a mixtape of some of the biggest names would change his life and bond him to his family who accepted him no matter what.
Some of the original songs he performed even were inspired by his family. "Red Wine" is an original track that had an origin with his grandmother's relationship with his grandfather. The devotion between the two inspired Jackson to create an emotional tribute to his family.
Speaking of tributes, Jackson also surprised attendees with a wonderful rendition of Amy Winehouse's "You Know I'm No good" that kept the late singer's spirit alive and her catalogue not gone to waste. It certainly achieved the timelessness of the classic standards despite its creator's untimely demise. The cover suited the night and truly captured Winehouse's soulful lyrics.
The night was also not without surprises. Jackson shared the stage with not one but two tall blonde bombshells. He performed "Me and My Shadow" with Jane Lynch; it was a duet that was playful and fun. Then wowed the crowd when he welcomed Rebecca Romijn to perform the delightful duet "Something Stupid" with him. The crowd was utterly enthralled with these two performances and both ladies complimented the crooner quite well.
The celebration of music and love went by in a blink. Jackson stole the hearts of everyone in their seats but made it rain love. He closed the night with a stirring cover of "What A Wonderful World" that no doubt would follow everyone present home.
Video Slider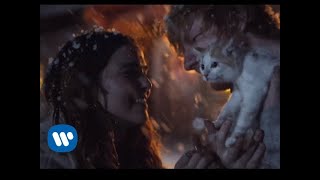 Win Tickets to See Ed Sheeran at the Rose Bowl
Ed Sheeran is back in Los Angeles, and your chance to see him perform is at the Rose Bowl in Pasadena on Saturday, Aug. 18. We are giving away complimentary tickets to the show. For a chance to enter to win, email us at
[email protected]
with "Ed Sheeran" in the subject line and tell us why you would like to go.