Review: Chayanne Pours It All Out at Staples Center
Latin pop music singer Chayanne at Staples Center in L.A. (Photo Courtesy of Aaron Poole / Staples Center)
Chayanne knows how to entertain.
During his 90-minute long En Todo Estaré Tour (put together by AEG Live and Cárdenas Marketing Network) concert Saturday night at Staples Center in downtown Los Angeles, Puerto Rican Latin pop music singer Chayanne poured it all out to a near sold-out audience. The 47-year-old delivered a little bit of everything from his unique, yet diverse solo musical catalog that dates back to 1984. At 8:37 p.m., while his nine-piece band began playing sounds of "Quiero Bailar Contigo," a smiling, enthusiastic and well-dressed (metallic silver blazer, black dressy shirt, black pants and black boots) Chayanne hit the stage en route to providing nonstop romantic Latin pop music ballads and rhythmic tropical tunes.
Right from the start, the electric performer brought a party within the party with "Salomé." It was here that we immediately noticed that the show's choreography would be most entertaining. After all, Chayanne does know how to maneuver his body in all types of tempos – and he does so passionately and to perfection.
What appeared to be the enthralling string sounds of a cuatro (small-shaped guitar out of Puerto Rico) ignited the start of "Humanos a Marte," from his 15th studio album and most recent release, dubbed En Todo Estaré (2014).
The fun didn't stop there, as Chayanne continued with the edgy electronic bachata "Bailando Dos Corazones." With "bailando apretados, bailando pegados, bailando dos corazones en esta canción de amor," Chayanne's incomparable vocals led the way to serenading the fans as he himself moved to the beats of the sensual open and closed position routines of the melody. Chayanne, along with the eight dancers (half female, half male), moved faster in pace, and the footwork looked incredible – to say the least.
"Cuidarte El Alma," "Y Tú Te Vas," and "Dejaría Todo" all romanticized the crowd, while "Tu Boca," "Baila Baila" and "Fiesta En América" all thrilled.
What makes Chayanne a fine performer is his ability to both dance and sing simultaneously, and also his humble way of interacting with his followers – whom adore and love him, hands down. For that, the tracks "Tu Pirata Soy Yo," "Completamente Enamorados" and ""Provócame" (part of his encore) are ones Chayanne enjoys playing live the most simply because his fans love seeing him do so.
At the end of the day, it's all about the fans, and Chayanne knows that. He cares; that's why he pours it all out live whenever he showcases his endearing repertoire.
"Quiero Bailar Contigo"
"Salomé"
"Un Siglo Sin Ti"
"Guajira"
"Humanos A Marte"
"Volver A Nacer"
"Atado A Tu Amor"
"Bailando Dos Corazones"
"Cuidarte El Alma"
"Y Tu Te Vas"
"Lola"
"Dejaría Todo"
"Tu Boca"
"Baila Baila"
"Fiesta En América"
"Tu Pirata Soy Yo"
"Completamente Enamorados"
"Tu Respiración"
"Madre Tierra (Oye)"
"Torero"
"Provócame"
Video Slider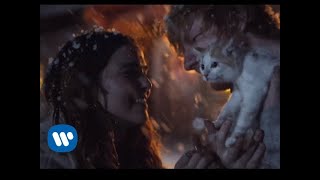 Win Tickets to See Ed Sheeran at the Rose Bowl
Ed Sheeran is back in Los Angeles, and your chance to see him perform is at the Rose Bowl in Pasadena on Saturday, Aug. 18. We are giving away complimentary tickets to the show. For a chance to enter to win, email us at
[email protected]
with "Ed Sheeran" in the subject line and tell us why you would like to go.