Review: The Brian Setzer Orchestra Brings Rock 'n' Roll to the Hollywood Bowl
The Brian Setzer Orchestra rocked the Hollywood Bowl. (Suzie Kaplan)
The Hollywood Bowl was overrun by pomps, poodle skirts and rolled-up jeans last night. I had never seen so many Rockabillies in one place! The Brian Setzer Orchestra really brought rock 'n' roll to the Hollywood Bowl.
The night started with an opening act from JD McPherson. I was unfamiliar with his work, but once he started playing I was thoroughly impressed. With a vintage rock 'n' roll sound, McPherson really got the Bowl warmed up. The thing I appreciated most from this opening act was their use of multiple pianos and a standing bass.
The band played for about 45 minutes to a partially moving crowd. I was even surprised to see some people in the crowd even knew the words to the songs. This was well demonstrated when McPherson's voice started giving out on him. He called out to the crowd to help him out and sing along, and to my surprise, the crowd started singing.
After the usual, brief 30-minute intermission, the Brian Setzer Orchestra started walking out in a single-file line. It almost felt like a cartoon where the flow of people would never end. The band started playing, and the two voluptuous back-up singers greeted Brian Setzer as he came out in his pinstriped suit.
This was the moment I've been waiting for, a chance to see Brian Setzer blow me away on his guitar. As soon as he started playing "Stray Cat Strut" two songs in, I was on the edge of my seat tapping my feet and bobbing my head. Ideally I wanted to see a Stray Cats reunion, but the 25th anniversary of the Brian Setzer Orchestra would be the next best thing.
The set was a mixture of big band songs, rock 'n' roll and, of course, rockabilly. Some of the more notable songs consisted of "Jump Jive an' Wail," "Folsom Prison Blues" and "Sleep Walk." As soon as he started playing "Sleep Walk," I had a fond memory of an old Disney movie by the name of Susie Q, a movie about a girl who died on prom night in a car accident with a rock n roll soundtrack. I snapped out of that daydream only to notice people swing dancing up and down the aisles. It was a beautiful sight to see.
The concert neared an end, and Setzer had cut down the orchestra to a four-piece rockabilly band. With any rockabilly band comes a lot of standing bass surfing and on-your-knee guitar playing.
The orchestra came out and joined for one last song. Setzer left the stage to change into some jeans and a T-shirt. As he did this, the orchestra called for an encore chant. Setzer graced the stage once again to take a picture of the crowd on his phone and rock the Bowl with Stray Cats hit song "Rock This Town."
Video Slider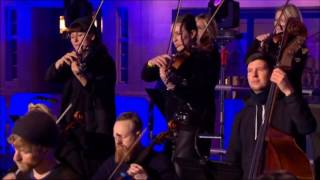 Win Tickets to See Pete Tong at Hollywood Bowl
Pete Tong is back in Los Angeles, and your chance to see him perform is at Hollywood Bowl on Thursday, Nov. 9. We are giving away complimentary tickets to the show. For a chance to enter to win, email us at
[email protected]
with "Pete Tong" in the subject line and tell us why you would like to go.