Review: Blondie Headlines a Night of Amazing Woman-Fronted Acts at Hollywood Bowl
Blondie's Debby Harry began the night wearing a bee mask. (Taylor Wong/LOL-LA)
A few of the most amazing women took over the Hollywood Bowl last night, and it was glorious! We were graced with the presence of Sky Ferreira, Garbage and, my personal favorite, Blondie. This was the next edition of the KCRW summer series after Seu Jorge two weeks ago.
Ferreira kicked off the evening with a short seven-song set to get everybody moving a bit. I am personally not familiar with Ferreira's newer work; I do remember her early years as being more electronic influenced. I was quite surprised to hear her playing some very grunge/rock 'n' roll sounding songs last night.
Ferreira opened up with "24 Hours" going into "Ain't Your Right" and "Guardian." Since this was just an opening set, Ferreira only had 7 songs. Although it was a short set, she managed to close out with her hit song "Everything Is Embarrassing." There was quite a large turn out for Ferreira's opening set, and I could see why.
Garbage took the stage quickly after Ferreira. Here was one act that I was definitely excited for. Shirley Manson is a freaking legend. Not to mention, she is absolutely stunning with her bright red hair.
Garbage brought the '90s to the Hollywood Bowl stage. Their set was jam packed with hit after hit, from "No Horses" to "I Think I'm Paranoid" and "Special." The Bowl got a bit intimate when Garbage brought out their 1999 James Bond film theme song. "The World Is Not Enough." The set started to close out with hit song "Stupid Girl" and ended with "Vow." Garbage definitely satisfied my '90s needs this summer.
There was a brief intermission before Blondie took the stage, probably so people could get that smoke in after being seduced by Garbage's performance. Blondie's stage was set with monitors that were producing television static – very fitting. Blondie took the stage, and immediately I noticed Debbie Harry wearing a bee mask.
Blondie kicked off the show with hit after freaking hit. "One Way Or Another," followed by "Hanging on the Telephone," followed by "Fun." It was insane! After the first few songs, she took her mask off and graced us with her gorgeous face. It blows my mind that Debbie Harry is still such a fox.
Blondie's set was filled with mostly old hits and a few songs off their new album, Pollinator, that included "Fragments." Blondie closed out with "Heart of Glass." Well, at least she thought she was closing out. Instead of coming out for an encore, Harry came out saying, "I thought we were out of time!" And that is why we all love Blondie.
Video Slider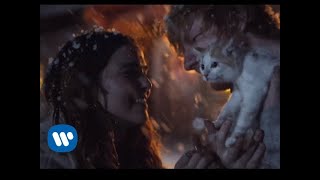 Win Tickets to See Ed Sheeran at the Rose Bowl
Ed Sheeran is back in Los Angeles, and your chance to see him perform is at the Rose Bowl in Pasadena on Saturday, Aug. 18. We are giving away complimentary tickets to the show. For a chance to enter to win, email us at
[email protected]
with "Ed Sheeran" in the subject line and tell us why you would like to go.