Review: Bernadette Lafont Shines in Her Final Screen Performance in Paulette
Bernadette Lafont in Paulette (Cohen Media Group)
Bernadette Lafont, the star of Paulette, died more than two years ago of a stroke at age 74, and although she did not live long enough to see her final starring role receive a U.S. release, she did get to witness its release in her home country of France, where she had a long career as both a character actress and a leading lady. American audiences may not recognize her as readily as the French, but even those unfamiliar with Lafont could watch Paulette and tell that it is the type of role that any esteemed actress would want as a swan song for her career.
Lafont starred in several films that were part of the French New Wave of the late '50s and early '60s, had her most famous role in François Truffaut's A Gorgeous Girl Like Me and worked with other titans of French cinema like Louis Malle and Claude Chabrol, but no one will mistake Paulette for a film that will revolutionize cinema. Directed by Jérôme Enrico, the film is the type of warm-hearted comedy that the Weinstein Brothers often shape for Judi Dench, and one could easily imagine them refashioning an English-language version for either Dame Judi or the other tart-tongued Dames Maggie or Helen, and releasing it to popular acclaim among sophisticated elderly audiences and a guaranteed Lead Actress nomination.
Paulette might be the type of slightly-above middlebrow film that appeals to the audiences who made Philomena and The Best Exotic Marigold Hotel into surprise hits, but like those films, what it lacks in novelty it makes up for through the strength of its leading role. Lafont plays Paulette, an elderly woman living in poverty who decides to make extra money by dealing hashish. It's a sitcom-level plot, but still effective even to those familiar with a similar setup after over one hundred episodes of "Weeds."
The role allows Lafont the opportunity to play the type of irascible woman who tells her multiracial grandchild that she hates him because he's black, then melt into the type of grandmother that any person would adore. Considering that nearly every single joke or setup treads on familiar territory, Paulette is the type of film that succeeds solely by its lead's force of will. Nothing here is unexpected, but Lafont does such rich work that it's clear that the plot is merely a device to allow a veteran actress her last opportunity to shine.
As Paulette herself learns throughout the film, any good dealer knows what is special about her product. The filmmakers behind Paulette had to know that it wasn't the plot, it was the opportunity to see a key figure in New Wave cinema give one final au revoir.
———————————————————-


Paulette

Cohen Media Group

In theaters Sept. 11
3 Stars
Films are rated on a scale of 5 stars (must-see), 4 stars (exceptional), 3 stars (solid), 2 stars (average) and 1 star (unworthy).
Video Slider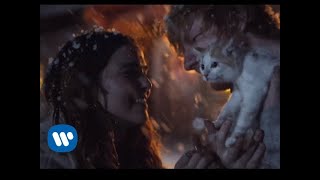 Win Tickets to See Ed Sheeran at the Rose Bowl
Ed Sheeran is back in Los Angeles, and your chance to see him perform is at the Rose Bowl in Pasadena on Saturday, Aug. 18. We are giving away complimentary tickets to the show. For a chance to enter to win, email us at
[email protected]
with "Ed Sheeran" in the subject line and tell us why you would like to go.