Review: Banda MS Sells Out Microsoft Theater
Banda MS showed Los Angeles why they're the most popular banda music act.
Regional Mexican music ensemble Banda MS of Sergio Lizarraga completely sold out downtown Los Angeles' Microsoft Theater on Saturday, July 18. The concert, put together by AEG Live Latino, easily saw 7,000 fans in attendance during Banda MS' summer spectacle that lasted two hours.
Banda MS, founded in 2013 with former lead singer Julión Álvarez, is of Mazatlán and performs banda sinaloense music – better known as traditional and popular folk music that's truly holy (for lack of a better word) to them. And that's precisely what they delivered at the show.
The 16-member band, with lead singers Oswaldo Sílvas Carreón and Alan Manuel Ramírez Salcido, took the stage by storm with their black and purple wardrobe, which actually looked rather fashionable. It's a common thing nowadays to see such performers wear similar attire, which oftentimes can be classified as colorful and/or extravagant (in a good way).
"No Me Pidas Perdón" (first released in 2014) and "Háblame De Ti" are two of their most known and enjoyable tracks. They both delighted the crowd with the romantic lyrics and amazing sounds from the band playing clarinets, trumpets, tubas, trombones, snare drums and harmony.
"Piénsalo", their most recent single, was also portrayed on stage; it was darn good. That tune is atop of all the charts as of now.
While passionately singing a repertoire dating back 12 years, Banda MS also performed "El Mechón." This song is fast in tempo and carries somewhat of a comical theme. The crowd danced and sang along with it from beginning to end, and the band, at this time, displayed their dancing skills, too. "Cahuates Pistaches" was another danceable track that saw many people dance throughout.
"Mi Olvido", "Mi Razón De Ser", "A Lo Mejor" and "Hermosa Experiencia" were also crowd favorites.
To date, Banda MS is by far the most popular banda music act and they proved it with their sold-out show in Los Angeles.
Video Slider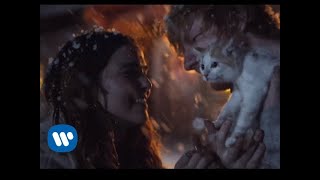 Win Tickets to See Ed Sheeran at the Rose Bowl
Ed Sheeran is back in Los Angeles, and your chance to see him perform is at the Rose Bowl in Pasadena on Saturday, Aug. 18. We are giving away complimentary tickets to the show. For a chance to enter to win, email us at
[email protected]
with "Ed Sheeran" in the subject line and tell us why you would like to go.