Review: "Ay, Carmela!" Touches on the Pain, Absurdity of War and the Price of Freedom
Alejandro Furth and Eloisa Maturén star in the West Cost Premiere of "Ay, Carmela!" (Jessica Sherman Photography)
When most people think of the Spanish Civil War, one of the first images that comes to mind is the famous mural-size painting Guernica by Pablo Picasso who was born in Malaga, a southern city of Spain. This painting, completed in 1937, is thought to be the artist's response to the bombing by German and Italian planes of the town of Guernica at the request of the fascist Spanish National party. The war was a clash between the leftists/communist Republicans and the fascist Nationalists led by General Francisco Franco, who after winning, ruled the country with an iron fist until his death in 1975.
A more recent work of art dealing with this subject is the play "Ay, Carmela!" written by Spanish writer José Sanchis Sinisterra in 1986, which tells the story of a group of traveling actors sympathetic to the Republicans that end up by mistake in an area occupied by the Nationalists at the beginning of the war. There is also a 1990 film version by Spanish director Carlos Saura.
At the intimate Hudson Mainstage Theatre located in Hollywood, a new production of this play had its premier on Saturday, Nov. 14, starring Venezuelan actors Eloisa Maturén as Carmela and Alejandro Furth as her husband, Paulino, all under the direction of another Venezuelan, director Alberto Arvelo. A very special production, it also boasts set design by famous architect Frank Gehry, the adaptation to English by Cuban-American Pulitzer-winning playwright Nilo Cruz and Catalina Botello as well as music by one of the most famous musicians of our time, Venezuelan wunderkind Gustavo Dudamel, conductor of the Los Angeles Philharmonic.
A tragic, drama-comedy "Ay, Carmela!" develops through a series of flashbacks as Paulino remembers the events that led to the execution of his beloved Carmela while he sweeps the old Goya Theater. The sets by Gehry are reminiscent of his work at L.A. Phil's semi-staged production of Don Giovanni in 2012, as he uses similar twisted white columns in a row as a screen on one side of the stage while on the opposite side a simple set of stairs as an exit-entrance. The music by Dudamel is in a simple minimalist style, sprinkled in certain moments in the play, unlike his dramatic and eclectic score for the film Libertador (The Liberator), which was released in 2014.
Carmela and Paulino are a married couple of actors who, while touring through the Spanish countryside, end up by mistake in the area controlled by the fascist Nationalists. Caught by one of their lieutenants, the two make a deal with their captor to perform a vaudevillian style show for the prisoners of war where they will ridicule the ideals of the Second Spanish Republic. Otherwise, they will be killed.
Maturén as Carmela is the conscience of the story as well as the ghost of this tragic time in modern-day Spanish history. A trained ballet dancer, all of her acting body language is pure magic as she and Paulino reminisce about their life together and the events leading to her death. One of the obstacles facing her portrayal from becoming more three dimensional is her command of the English language, which is still not fully developed. I would have loved for Cruz and Botello to have infused some lines in Spanish in the dialogue, which would not only have given the production more context but would have balanced out some of Maturén's language shortcomings.
As Paulino, Furth is terrific as the meek, cynical survivor willing to do anything to save his own skin, which is opposite to his valiant wife who ends up paying the ultimate price for her valor and convictions. The story is literally told from two different worlds, the one of the living for Paulino and, from Carmela's perspective, the one of the dead. It is through this context that writer Sinisterra gets to show the absurdity of war and the price some pay for artistic and political freedom. Gehry's sets in multiple shades of grey convey a ghostly context, while the lighting is effective in heightening this netherworld. The direction by Arvelo keeps the actors fluid, especially on the part of Maturén who has some excellent flamenco dance interludes.
Even though this sad period of Spanish history was almost 80 years ago, the themes in "Ay, Carmela!" still reverberate today as the world still faces political and religious fascism. It reminds us how we must stand up for political, artistic and religious freedom and not become complacent in order to have the internet and an iPhone.
"Ay, Carmela" is performed at 8 p.m. (Friday and Saturday); 3 p.m. (Sunday) through Dec. 13 at Hudson Mainstage Theatre (6539 Santa Monica Blvd., Hollywood). For tickets and more information, visit plays411.net/newsite/show/play_info.asp?show_id=4361&skin_show_id=12.4361.
Video Slider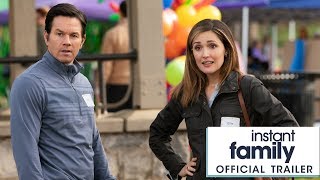 Win a Blu-ray + DVD + Digital Copy of Instant Family
Everyone everywhere can now enjoy Instant Family on Digital and on Blu-ray™ Combo Pack, and DVD on March 5 from Paramount Home Media Distribution. For a chance to enter to win at random, please email us at
[email protected]
with "Instant Family\" in the subject line and let us know why you\'d like to win a copy. This contest ends March 25, 2019.