Review: "Awake & Sing!" Is Well Worth a Watch
David Agranov and Allan Miller in "Awake & Sing!" (Ron Sossi)
How do people change? What makes a person gather the courage to leave someone (or something), oppose longstanding traditions or drive them to do the unthinkable? The answer is rather simple. Every person has a boiling point, and when that threshold is surpassed any type of change is possible.
In the Odyssey Theatre Ensemble's "Awake & Sing!," every character comes from a lower-middle class Jewish family from the Bronx in 1933 and is faced with the same dilemma: change or continue to live in a restrained manner for the rest of their lives.
Written in 1935 by Clifford Odets and directed by Elina de Santos, "Awake & Sing!" is a gripping journey in which the characters find a reason to reinvent themselves. Despite the fact that it was written 80 years ago, many of the play's subjects (politics, family traditions and immigration) are still hot-button topics today.
"So many people in 2015 are in the same position as this family, struggling daily with social and economic pressures just be able to get by," says de Santos. "Everything is still skewed to the one percent. Odets talks about the 'system' in this play – it's the same conversation we're having today."
Same as in present-day real life, the small, tidy apartment shifts from loving family home to an animated political debate forum throughout the play. Allan Miller, playing a nearly identical role as he did in last year's Odyssey Theatre production "Broadway Bound," is endearing in the role of Grandpa Jacob, whose Marxist books and Enrico Caruso records are seemingly his lone possessions.
He is often at odds with his daughter, Bessie (Marilyn Fox), the family matriarch, and businessman son, Morty (Richard Fancy). Nothing gets by the watchful eye of Bessie, who looms over her son, Ralph (James Morosini), and daughter, Hennie (Melissa Paladino), as they make life-changing decisions to change the trajectory of this working-class family.
The interesting thing about this play is that the characters often change from likable to unlikeable, and vice-versa, leaving the audience with no clear-cut hero. Sometimes you're repulsed by Hennie or Bessie, only to find yourself rooting for them moments later. Overall, this serves the play well because it makes the characters' flaws authentic and makes them nuanced.
David Agranov's performance as Moe Axelrod, a sharp-dressed (which, by the way, hats off to costume design for all the characters), streetwise World War I veteran eternally in love with Hennie, is the most outstanding of the show. His character and performance are right out of "Boardwalk Empire."
"Awake & Sing!" is both intense and charming, and well worth a watch.
"Awake & Sing" runs at 8 p.m. Fridays and Saturdays, 2 p.m. Sundays and 8 p.m. select Wednesdays and Thursdays through Nov. 29. For tickets and more information, visit odysseytheatre.com.
Video Slider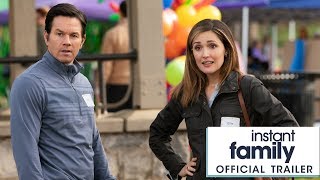 Win a Blu-ray + DVD + Digital Copy of Instant Family
Everyone everywhere can now enjoy Instant Family on Digital and on Blu-ray™ Combo Pack, and DVD on March 5 from Paramount Home Media Distribution. For a chance to enter to win at random, please email us at
[email protected]
with "Instant Family\" in the subject line and let us know why you\'d like to win a copy. This contest ends March 25, 2019.