Review: At The Gates 'Unleash Purgatory' at The Wiltern
Tomas Lindberg, lead singer of death metal band At The Gates, on Friday, March 27, 2015, at The Wiltern in Los Angeles. (Evan Solano/Living Out Loud LA)
"Man, I hate traffic in L.A." I kept repeating that like a mantra in my head as I was running late to one of the biggest metal shows of the year on Friday, March 27, 2015 at The Wiltern in Los Angeles.
At The Gates and Converge, two incredibly influential bands with a resounding legacy and die-hard fan base on the same bill and I decided to have a little fun with the evening.
I brought along my friend Megan who had never even heard of either band, much less any kind of serious metal or hardcore. My experiment was to see the effect that these two bands would have on someone who was never heard them, in the midst of this experiment I rediscovered my love of heavy music.
Thanks to the seemingly endless traffic on Highway 101, we had arrived a bit late and missed Vallenfyre, but from what I heard from others in attendance was that I definitely missed out. It's unfortunate I did since this was their first U.S. tour, but I'm sure not their last. Hoping to catch them again soon, as their latest album, Splinters is a powerhouse of old school death metal that I am sure would have been rad to see live.
Arkansas' Pallbearer were as crushing live as they are on record. The doom metal trio powered through a monster set of monolithic sludge riffs from their breakthrough album Foundations Of Burden.
Overall, it was a spellbinding exhibition of heavy and melody driven doom. Any opportunity to catch them live is not to be missed. Although the band commanded the crowd from the massive stage at The Wiltern, it would have been exciting to see Pallbearer in a more intimate atmosphere, but I'll take what I can get.
Getting prepped for Converge, I was trying to explain the importance of this band to my friend who had no idea about hardcore and there is no way to describe the Boston hardcore act as anything less than legendary.
Having redefined the hardcore scene with their game-changing album Jane Doe in 2001, Converge have established themselves as the fore fathers in the current hardcore scene over their 25-year career.
For a band that has been in the scene for so long, they looked and sounded razor sharp and fresh as ever. Singer Jacob Bannon and bassist Nate Newton thrashed about on stage as guitarist Kurt Ballou crafted bursts of signature riffage that have made Converge the poster child of all things heavy.
The best way I described Ballou's playing to my friend was jazz like, especially the interplay between drummer Ben Koller and Ballou. Watching the way Ballou uses dissonant notes and spastic off-tempo patterns in his playing I can imagine was like watching Miles Davis in his element or like watching Coltrane rip through a tremendous solo. While it's so easy to dismiss them as "just noise" once you see first hand the level of talent every member of Converge brings to the table, it becomes apparent that this band is masterful in their execution of groundbreaking heavy music.
To say they were loud would be an understatement. Converge play with a level of energy and volume that can only be matched by standing by a jet engine taking off in your face.
The band played cuts from their latest album, 2012's All We Love We Leave Behind, with the crowd feeding off blistering performance of tracks like "Aimless Arrow" and "Trespasses" and the title track from the album.
They also made an effort to play some older tracks from their extensive discography, playing tracks "Axe To Fall" and capping their set off with "Concubine" from "Jane Doe."
Converge is a band that has transcended the run-of-the-mill hardcore scene they helped create so long ago and last night showed just how powerful and relevant they still are to a genre that can tend to remain stagnant.
After getting her ears blown out from Converge, Megan was only too anxious to see what the headlining act would bring and she wasn't the only one.
As the lights began to dim and the opening ambient noise and Spanish prayers of At The Gate's opening track from the crushing new album, At War With Reality, began to play over the sound system, the pit was already a swarming mass of anxious and fevered bodies, ready to welcome their Swedish heroes home. Right out of the gate (see what I did there?) the band brought an unbridled level of aggression and uncanny precision to their nearly 90-minute set.
Taking the stage and tearing into the song "Death And The Labyrinth," the melodeath band proved why they are still one of the most revered acts in the game.
I've never heard a room of people yell the word "GO!" with such passion but as soon they did the band ripped into the title track from their celebrated album Slaughter of the Soul, followed by "Cold".
Vocalist Tomas Lindberg and the rest of the band played to prove a point: this is not a novelty act or cash grab reunion. The celebrated group, who put Gothenburg Sweden on the map more than 20 years ago, were back to reclaim their place in the annals of heavy metal.
Lindberg moved around the stage with as much velocity and vigor as the crowd he was performing for. Each line was delivered the enthusiasm, honesty and shrieking style he has been known for. This was still the same group who brought us amazing albums like Slaughter Of The Soul and With Fear I Kiss The Burning Darkness. They looked a little older, but played with a passion and respect for their craft that was as youthful as their early incarnation.
Brothers, Jonas and Anders Björler, who have been respectively keeping their bass and guitar chops sharp in the Swedish thrash group, The Haunted, showcased their trademark straight-faced concentration and musical precision through songs like "Terminal Spirit Disease", "Under A Serpent Sun" and "Suicide Nation."
While the newer tracks from the group's latest album worked well with the crowd, they were not met with the same fanboy reaction as the old stuff. But Lindberg and crew still captivated the audience with their blistering set that covered the gamut of the band's career.
The band ended their set with machine gun like assault of "Blinded By Fear," giving the audience one last chance to get their money's worth in the pit.
By the end of the night, I didn't even need to explain to my friend that what she witnessed wasn't a normal metal show, it was an experience.
From the most loyal fan, to the first time listener, the energy and power that these two widely respected bands reminded us all why they're the most revered bands in their scenes, it was a night that will be long remembered by metal and hardcore purist for years.
My night ended with a great text from her, "I like At The Gates!"
Mission accomplished.
Video Slider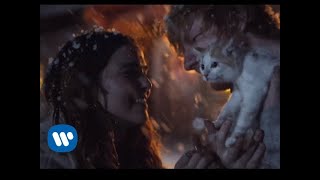 Win Tickets to See Ed Sheeran at the Rose Bowl
Ed Sheeran is back in Los Angeles, and your chance to see him perform is at the Rose Bowl in Pasadena on Saturday, Aug. 18. We are giving away complimentary tickets to the show. For a chance to enter to win, email us at
[email protected]
with "Ed Sheeran" in the subject line and tell us why you would like to go.