Review: Arturo O'Farrill Continues to Build a Jazz Bridge Between Cuba and the States
Arturo O'Farrill and his Afro Latin Jazz Orchestra (John Abbott)
The art of jazz began in the southern region of the United States in the late 19th and early 20th century among African-American communities, in particular those in the city of New Orleans, La. Considered to be one of America's original art forms, jazz began as a combination of brass band marching music, French quadrilles, biguine, ragtime and blues. During the 1930s it emerged as a dance-oriented version, later morphing into the bebop style that was faster and more "musician centered," allowing for improvisation. Later, in the 1940s cool jazz emerged as a smoother, calmer and more melodic version.
Also during the early 20th century in the NYC and New Jersey area, a new wave of Cuban immigrants began to arrive, including established musicians and artists such as Cuban music pioneers Mario Bauzá, his brother-in-law Frank Grillo "Machito" with his band, Machito and his Afro-Cubans, as well as master percussionist Chano Pozo and pianist/composer Arturo "Chico" O'Farrill. These masters joined established American jazz composers and musicians like Charlie Parker, Dizzy Gillespie and Stan Kenton to develop a bridge/fusion between jazz and Afro-Cuban rhythms, which they called Cubop, the earliest form of Latin jazz.
On Saturday, Nov. 7, at the beautiful Royce Hall located on the UCLA campus, the Center for the Art of Performance at UCLA (CAP UCLA) presented the son of one of one these legendary Latin Jazz musicians, Arturo O'Farrill, and his Afro Latin Jazz Orchestra (ALJO).
Prior to the ALJO performance, those with or without tickets were invited to an excellent pre-concert performance by the band La Chamba on the Royce Hall Terrace adjacent to the bar area of the venue. Made up of local Latino musicians – Alejandro Araujo (electric guitar/back-up vocals), Adrian Garcia (keyboards), Carlos Zaragoza (bass), Mario Gonzalez (guiro/back-up vocals), Jimmy Cisneros (timbalero/back-up vocals) and Jason Zepeda (congas/lead vocals) – these young men label their music as "working-class cumbia chicha." Their set began around 6:45 p.m. with the audience trickling onto the dance floor as these talented musicians played some excellent cumbias, salsa numbers and an awesome version of the funk classic "Love Rollercoaster" made famous by the Ohio Players that later transitioned into a fun salsa version.
Later at Royce Hall, the audience was greeted with a stage filled to capacity by Arturo O'Farrill and his Afro Latin Jazz Orchestra which included Seneca Black, Jim Seeley, John Bailey and Jonathan Powell on trumpet; Kajiwara Tokunori, Rafi Malkiel and Frank Cohen on trombone; Earl McIntyre on bass trombone; Bobby Porcelli and David DeJesus on alto saxophone; Ivan Renta and Chad Lefkowitz-Brown on tenor saxophone; Larry Bustamante on baritone saxophone; Carly Maldonado on bongos and percussion; Tony Rosa on congas; Gregg August on bass; and Vince Cherico on drums – all under the direction of O'Farrill on piano.
The set began with "Caravan" with O'Farrill using a repetitive, low range of beats on the piano keys that, along with the rhythm section, set up an Afro-Cuban percussion base as a platform for some outstanding solos from the sax, trombone and trumpet sections. In "On the Corner of Malecon & Bourbon," the audience enjoyed an abstract, big band piece with layers of thunderous sax and trombone solos having roots in Dixieland jazz. Paying homage to his late father "Chico," O'Farrill led one of his dad's compositions, "Variations on a Well-Known Theme," which happens to take its cues from the popular song "La Cucaracha" but re-imagined with a big band sound.
With two Grammy Awards and four nominations for contemporary jazz under his belt, O'Farrill and ALJO brought to the stage three interesting pieces from contemporary Latin American composers. From Peru, the percussion-driven "El Sur" by Gabriel Alegría had a wonderful, lyrical and melodic sound featuring some great bongo and conga solos from Maldonado and Rosa with Seeley on trumpet. This was followed by "Mercado En Domingo" by Pablo Mayor, an infectious, cumbia-flavored composition that was abstract with some fun sax solos and New Orleans, Dixieland flavoring. Representing Argentina was a non-tango piece titled "Llegará, Llegará, Llegará" by Emilio Solla, which began with a soothing piano solo and had a romantic, mellow vibe.
One of the most memorable pieces of the evening was a version of the iconic bolero "La Puerta" by Mexican composer Luis Demetrio with classical orchestration and featuring maestro Porcelli on the alto sax. A New York native, Porcelli is one of the most accomplished flautists and alto saxophonists in jazz and has played with the late Frank Grillo "Machito" and Tito Puentes among other legendary band leaders, and his solo certainly showed his well-earned reputation.
This tour by ALJO is in support of their latest album Cuba: The Conversation Continues, which was recorded in Havana, Cuba late last year just as the Obama administration was announcing that it would push to restore the diplomatic relations with the island that were cut in 1961. From this recording came "Guajira Simple" by Cuban composer Alexis Bosch, which had a dissonant, complex, experimental sound but was still rooted in the traditional sounds of Cuba. This was followed by the final piece of the evening, an Afro-Cuban percussion-infused version of the classic bolero composition "Obsesión" by Puerto Rican songwriter Pedro Flores.
Judging from the long standing ovation, it can be said that the talented musicians of the Afro Latin Jazz Orchestra and their leader, Arturo O'Farrill, were able to build a beautiful Latin jazz bridge between them and their audience.
Video Slider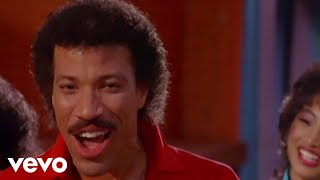 Win Tickets to See Lionel Richie at Hollywood Bowl
Lionel Richie is performing with very special guest Mariah Carey on the All the Hits Tour, and your chance to see them is at the Hollywood Bowl on Monday, July 31.