Review: Ant-Man and the Wasp is Funny and Charming
Paul Rudd as Ant-Man in Ant-Man and the Wasp. (Marvel / Disney)
One might be forgiven if, before the release of Ant-Man a few years ago, those unfamiliar with the comic book that inspired it thought that it was a joke on the part of Marvel Studios. The MCU does not lack for superheroes as inspiration, but the name Ant-Man just announces its own insignificance. Sure, there is a Spider-Man, but at least spiders are venomous and have a certain amount of danger; what's an Ant Man going to do, ruin picnics? But Ant-Man was light, funny, charming and made a lot of money, and the sequel Ant-Man and the Wasp is more of the same. Among the Avengers, the titular pair might be the least essential Marvel superhero and the film utterly dissipates once the credits end, but it earns its laughs and allows its cast to charm in a mostly low-stakes adventure.
Paul Rudd returns to the role of Scott Lang, now under house arrest because he took part in the German airfield Avengers fight of Captain America: Civil War and estranged from the creator of the ant suit Hank van Dym (Michael Douglas) and his daughter Hope (Evangeline Lilly), who is now herself a superhero based on a Wasp suit that her father designed for her. Lang and the van Dyms reluctantly team up together in order to rescue Hope's mother (Michelle Pfeiffer), the original Wasp who has been stuck in the quantum realm for decades after sacrificing herself to stop a missile. Their missions are complicated by the appearance of Ghost (Hannah John-Kamen), who has been rendered partially non-material after an accident involving van Dym technologies brought her in contact with the quantum realm.
When people think of Marvel movie set pieces, these are usually action sequences like the aforementioned airfield battle in Civil War, but Ant-Man and the Wasp is different. Director Peyton Reed and Rudd, who does double duty as a co-writer, do include the requisite action sequences like a chase down the streets of San Francisco that plays like Bullitt in miniature, but the film's true passion is in the comedy bits, like an extended gag where Rudd and Lilly have to play out scenes in the way that Michael Pena is describing them, mouthing his words like a ventriloquist's dummy. This is not the first Marvel film to be funny — they started out that way with Iron Man's patented smart-aleck quips, and have gotten progressively more zany — but it takes it further, and the Ant-Man movies are the only Marvel films that can be described as comedies first and action movies second.
But like many comedies, even very good ones, Ant-Man and the Wasp feels — befitting the frequent size of its protagonists — somewhat insubstantial. Since it is difficult to extricate the film from those that lead up to it, the tonal shift between this and Avengers: Infinity War feels more jarring than had it been released in the wake of Spider-Man: Homecoming and Thor: Ragnarok just last year. This is just about as good as a mainstream movie can be while remaining insubstantial. Rudd is as likable as ever and far more relatable than the typical Marvel hero, while Evangeline Lilly, liberated from a terrible haircut from the previous film, clearly relishes getting to play Marvel's first titular female superhero. The greatest disappointment about the film is that Michelle Pfeiffer, in her first comic book role since her iconic Catwoman in Batman Returns, doesn't get enough to do. Pfeiffer doesn't work nearly as much as she should, so any film blessed with her presence really needs to use her, whether it's a comic book lark like this one or the gonzo horror film mother!.
It seems like hardly anyone could leave Ant-Man and the Wasp disappointed, since it moves briskly, earns its laughs and presents a host of likable actors relishing the opportunity to play (knowing they're starring in a movie that will make a fortune can't hurt, either). What Ant-Man and the Wasp lacks in heft or significance, it makes up for by its charm and good humor.
—————————————————————–
Ant-Man and the Wasp
Marvel / Disney
Now in theaters
3 Stars
Films are rated on a scale of 5 stars (must-see), 4 stars (exceptional), 3 stars (solid), 2 stars (average) and 1 star (unworthy).
Video Slider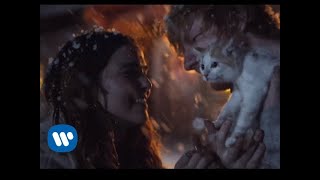 Win Tickets to See Ed Sheeran at the Rose Bowl
Ed Sheeran is back in Los Angeles, and your chance to see him perform is at the Rose Bowl in Pasadena on Saturday, Aug. 18. We are giving away complimentary tickets to the show. For a chance to enter to win, email us at
[email protected]
with "Ed Sheeran" in the subject line and tell us why you would like to go.