Review: Annihilation Recalls Both Arrival and Alien
Natalie Portman as Lena in Annihilation (Paramount Pictures)
The most important thing to know about Annihilation is that it is adapted from the first of the series of the Southern Reach trilogy by author Jeff VanderMeer. Unlike most film adaptations of book series from the Harry Potter series to the Hunger Games franchise, this film from Ex Machina director Alex Garland has not been promoted as the beginning of a series, but as a stand-alone film that would presumably decisively conclude the story. This movie thus ends not with answers but with more questions, and audiences who are unprepared for that would naturally feel a massive sense of frustration that the story is not giving the tidy ending that one would expect. Unexpected ambiguity might be welcome in Oscar season independents, but not big-budget science fiction that star the former Padme Amidala, Natalie Portman.
Portman stars as Lena, a former soldier and current biologist at Johns Hopkins whose lover Kane (Oscar Isaac, an actor far better served by Star Wars films than Portman) disappeared during a secret military mission. He returns a year later after being presumed dead, but seems radically changed and must be hospitalized. Lena and Kane are brought to the government facility outside a slowly-expanding portion of swampland that is covered by the mysterious Shimmer, inside which both plant and animal creatures are mutating rapidly in wondrous and horrifying ways. After several teams of soldiers have entered the Shimmer with only Kane returning, Lena agrees to join a group of women to travel inside it and attempt to discover its secrets, and in doing so they face the dangers and the horrors inside. These women include Jennifer Jason Leigh, Tuva Novotny, Gina Rodriguez and Tessa Thompson, and it takes little effort to figure out the order in which they fall victim, based simply on the strength of the actresses' previous credits. That might be the one aspect of the film that doesn't frustrate expectations. Everything else about Annihilation suggests that Garland might kill off Natalie Portman like Hitchcock did to Janet Leigh in Psycho style and shift the focus elsewhere just to disorient.
At its best, Annihilation recalls both Arrival and Alien, both high-quality productions by directors who excel at making genre work respectable. It has the confidence to not condescend to its audience like Arrival did, this time substituting biology for linguistics, and it also works taking an old-fashioned scary movie and placing it into a sci-fi setting like Ridley Scott did in Alien. There are moments of genuine wonder as Portman and company explore the Shimmer, and also moments of sheer terror as they face off against mutated animals that seem the stuff of nightmares. Further, Portman, Isaac and Leigh are each compelling in roles that often require massive amounts of ambiguity.
And yet, even knowing that not every question in Annihilation will be answered, the film is often frustratingly opaque. This movie tests audiences, often in the same way as "mother!" did, even though if no babies are eaten during the course of this film. Garland makes the film into an intense experience, and part of that requires that so much of what happens goes unexplained, at least until the sequels that the studio and production team might expect. Unlike Arrival, which balanced the science with the emotionalism of Amy Adams's character, Annihilation keeps its characters at a distance to maintain their ambiguity, and that has its drawbacks. This is a colder film than the one Denis Villenueve made, and it's not as if Villenueve was ever Ron Howard to begin with.
Annihilation is well-crafted, intelligent and crafts a fascinating world of visual splendor in its moments inside the Shimmer, but this is by no means an easy film. To appreciate the film at its fullest, audiences must know that questions will remain unanswered and motives will remain ambiguous even toward the end. Garland made a film that challenges rather than spoon-feeds filmgoers, and that will naturally frustrate those who want simple solutions.
—————————————————————–
Annihilation
Paramount Pictures
Now in theaters

3 Stars
Films are rated on a scale of 5 stars (must-see), 4 stars (exceptional), 3 stars (solid), 2 stars (average) and 1 star (unworthy).
Video Slider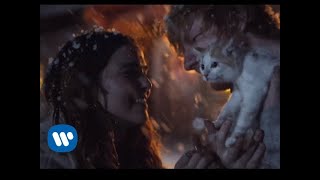 Win Tickets to See Ed Sheeran at the Rose Bowl
Ed Sheeran is back in Los Angeles, and your chance to see him perform is at the Rose Bowl in Pasadena on Saturday, Aug. 18. We are giving away complimentary tickets to the show. For a chance to enter to win, email us at
[email protected]
with "Ed Sheeran" in the subject line and tell us why you would like to go.