Review: An Opera Feast Is Served by Soprano Angela Gheorghiu at the Broad Stage
The warm and charming Angela Gheorghiu treated the audience to night full of passionate songs. (Nigel Norrington)
In 2007 I had the great pleasure of being at the Dorothy Chandler Pavilion to see and hear the Romanian soprano Angela Gheorghiu for the first time. It was her Los Angeles Opera recital debut and an unforgettable night for me. That program consisted of well-known works by Massenet, Gounod, Bizet and Puccini among other great composers. Although Gheorghiu has a reputation of being a difficult diva, my experience after the concert was quite the opposite. She signed my CD and briefly responded to my comments in broken Italian with a lovely smile and encouraging words.
Born in Born in Adjud, Moldavia, in 1965 to a train-driver father and seamstress mother, Gheorghiu began singing at an early age and debuted at the Cluj-Napoca Romanian National Opera as Mimì in La bohème in 1990. Ever since then she has enjoyed a meteoric rise in the world of opera, taking her to the most important opera houses in the world and working with all the great conductors, singers and directors.
On Saturday, Sept. 19, at the Broad Stage in Santa Monica the capacity crowd enjoyed another outstanding presentation by Gheorghiu, who had also performed there in 2013. Accompanied on the piano by the very talented Jeff Cohen, the evening resembled an elegant, opera and musical feast in that it contained over 20 pieces from a variety of composers.
Dressed in an elegant, pink chiffon dress and signature flowing jet black hair, Gheorghiu began the first part of the program with "O cessate di piagarmi" by the Italian baroque composer Alessandro Scarlatti. A delicate, short piece, it highlighted her command of the pianissimo vocal range. This was followed by "O del mio dolce ardor," a much faster and longer piece by the German composer Christoph Willibald Gluck, who hails from the early classical period. Here we got a taste of the talent and vocal range of Gheorghiu as she hit and sustained high and soft notes while Cohen backed her with light, perfect timing.
This first part of the program was one of short, lovely pieces done in chronological order from the baroque to the verismo opera style, which peaked in the early 20th century. It included works by Giovanni Battista Pergolesi, Giovanni Paisiello, Ottorino Respighi, more familiar pieces by composers such as Vincenzo Bellini, Gaetano Donizetti of the bel canto opera style and with works by Giuseppe Verdi and Giacomo Puccini coming towards the end.
Known for her specialty in the Italian composers, Gheorghiu showed off her coloratura skills in Bellini's "Malinconia" and Donizetti's "Me voglio fa na casa," which left the audience in awe and wanting more because of their brevity.
A highlight of the evening came with her passionate rendition of Respighi's "Nebbie" that showcased her acting skills accompanied by some gorgeous, warm tones. This was followed by a solo piano piece "Foglie d'album" composed by Puccini in the very capable hands of Cohen.
Rounding out the end of the first part of the program, Gheorghiu treated the audience to several pieces by Puccini, including "Morire?," "Sole e amore" and the gorgeous "In Quelle Trine Morbide" from the opera Manon Lescaut where she hit and sustained some very high and difficult notes.
The second part of the program, much like the first, presented the musical selections in chronological order, but this time they were longer in length. Sporting a beautiful floral gown and a flower in her updo, Gheorghiu began with "Come Again, sweet love doth now invite" by the English Renaissance composer John Dowland. This was followed by works by composers Friedrich von Flotow, Michael William Balfe and Licinio Refice, among others.
A highlight of the second part was the four pieces by Italian composer Paolo Tosti, including "Ideale," "La Serenata," "Chanson de l'adieu" and "A vucchella" with some very high notes by Gheorghiu and a fantastic accompaniment by Cohen, who sounded like two pianos in one.
After a lengthy standing ovation, the audience was rewarded by an exceptional rendition of "O mio babbino caro" from the opera Gianni Schicchi by Puccini. Here Gheorghiu was in her element, and it showed in her soaring high notes and tender moments of acting. The final encore was a traditional Romanian folk song that had her singing and dancing in a very flirtatious manner to the delight of the audience, which included many of her fellow compatriots. A fitting end to an opera and musical feast presented by one of the divas of our time, the very warm and charming soprano Angela Gheorghiu.
Video Slider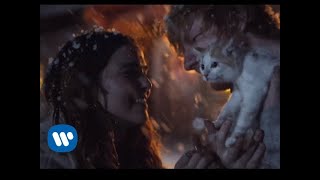 Win Tickets to See Ed Sheeran at the Rose Bowl
Ed Sheeran is back in Los Angeles, and your chance to see him perform is at the Rose Bowl in Pasadena on Saturday, Aug. 18. We are giving away complimentary tickets to the show. For a chance to enter to win, email us at
[email protected]
with "Ed Sheeran" in the subject line and tell us why you would like to go.