Review: American Soprano Renée Fleming Performs a Spectacular Concert at Dorothy Chandler Pavilion
Soprano Renée Fleming "the people's diva," returns to LA Opera for the first time since 2016 in a one-night-only recital with her longtime collaborator, the distinguished German pianist Hartmut Höll, in a special program of beloved arias and songs at the Dorothy Chandler Pavilion.(Lawrence K. Ho)
With so many talented opera singers in the world today it is a high accolade to be labeled as "The People's Diva", an honorary title given to American soprano Renée Fleming, which fits her like an elegant, ladies' evening gloves aka opera gloves!
A versatile singer, Fleming was born on February 14, 1959 to two music teachers in Indiana, Pennsylvania and grew up in Rochester, New York. Possessing a full lyric soprano voice, she has performed coloratura, lyric and light spinto roles in multiple languages including German & French which she is fluent in. She has also expanded her repertoire into musical theater, pop and even jazz, which was one of the first music genres she studied and performed beginning in the 1980's. You can catch her most recent jazz performance of the song "You'll Never Know" by Oscar winning composer Alexandre Desplat on a Youtube video which is part of the soundtrack of the film The Shape of Water, directed by award winning Mexican director Guillermo del Toro.
On Tuesday, February 6, this "American Treasure" managed to fit into her tight schedule an unforgettable concert recital at the Dorothy Chandler Pavilion, home of Los Angeles Opera, who produced the program.
Entering the stage in a spectacular light gray print dress accented by a long shawl made up of dark grey, wide ribbons, Ms. Fleming began the evening with fine renditions of the baroque pieces "Ombra mai fu" and "Bel piacere e godere" by German composer George Frideric Händel. She was accompanied masterfully for the evening by German pianist Hartmut Höll who has worked with her for many years, as well as other word class opera singers.
One of the highlights of the evening came next, in a series of songs by German composer and pianist of the Romantic period, Johannes Brahms. They included "Mondnacht", "Ständchen" and "Wiegenlied" from Five Songs, "Die Mainacht" from Four Songs, "Da unten im Tale" from 49 German Folksongs, "Meine Liebe ist grün" from Nine Songs and "Vergebliches Ständchen" from Five Romances and Songs. Although each short in duration, these beautiful songs stood out in interpretation and theme, like a delicious sample of musical hors d'oeuvres thanks to Fleming's performance. Her pianissimos were soft, gentle but projected well into the audience, with interpretations that were full of passion and expression and connected in an intimate level with the audience.
Closing the first half of the program were two beautiful songs, "Aurora Borealis" and "Bed of Letters" by the contemporary female composer Caroline Shaw, who is one of the few women to win the Pulitzer Prize in music (2013) and has collaborated with a diverse group of artists, including Hip-Hop superstar Kanye West. With an almost a capella format these two compositions accented Fleming's powerful, versatile voice and her impeccable acting abilities, especially in "Bed of Letters" which alludes to the pain of a divorce or end of a romantic relationship.
After intermission, our "People's Diva" made another stellar entrance in a stunning gray, blue, stripped, shimmering evening gown with a sheer, dark blue kimono-like coat with long elegant sleeves. She began the second part of the program with two pieces by French composer and pianist Gabriel Fauré, the beautifully lyrical and melodic ""Clair de lune" and "Mandoline from Cinq mélodies "de Venise," which was more upbeat.
Giving some background of several of the pieces is a tool Ms. Fleming uses to great effect so her audience can more fully enjoy the evening's selections. Prior to performing singer/pianist Rufus Wainwright's aria "Les feux d'artifice t'appellent" from his first opera Prima Donna (2009), she explained how Mr. Wainwright who is French-Canadian was commission by The Metropolitan Opera in NYC for this work, but later deferred from producing it because it was in French. It was subsequently performed in England, Canada and in the USA by NY City Opera in 2012. A beautiful aria full of colors and layers, for both the pianist and the singer, it was another highlight of the evening, thanks to the outstanding performance by both artists. This was followed by a playful and very danceable rendition of Austrian composer Oscar Straus "Je t'aime quand meme" from Trois Valses.
As a very personal tribute to her dear friend and neighbor, the late singer/actress Barbara Cook, who passed in 2017, Ms. Fleming performed two of Cook's classic Broadway songs, "Till there Was you" from The Music Man and "I Whistle a Happy tune" from The King, in the latter asking the audience to pucker up and accompany her in whistling segments of the song.
To end the evening's program on a stellar note, Ms. Fleming chose two compositions by Czech composer Antonín Dvořák, "Když mne stará matka zpívat, zpívat učívala (songs My Mother taught Me)" from Cigánské melodie and the iconic aria "Měsíčku na nebi hlubokém (song to the Moon)" from opera Rusalka which is one of the highlights in her repertoire. Needless to say, her rendition of the Rusalka aria was a tour de force performance with outrageously high and crisp notes while pulling out all the stops in her acting skills.
One of the things that made this concert so enjoyable is the rapport that Ms. Fleming has with her audience, how generous and genuine she is with them and how they love her back in return. After a thunderous, standing ovation and three curtain calls, "The People's Diva" gifted the adoring crowd with three spectacular numbers which included the iconic aria "O Mio Babbino Caro" from one-act opera Gianni Schicchi by Italian composer Giacomo Puccini, a sing-along version of "I Could've Danced All Night" from musical My Fair Lady and American composer Leonard Bernstein's song "Somewhere" from West Side Story which she dedicated to the DREAMERS political movement.
Video Slider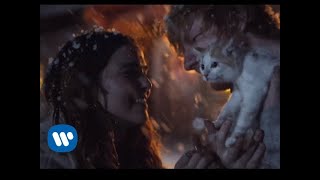 Win Tickets to See Ed Sheeran at the Rose Bowl
Ed Sheeran is back in Los Angeles, and your chance to see him perform is at the Rose Bowl in Pasadena on Saturday, Aug. 18. We are giving away complimentary tickets to the show. For a chance to enter to win, email us at
[email protected]
with "Ed Sheeran" in the subject line and tell us why you would like to go.