Review: The Ageless Tony Bennett Dazzles a Capacity Hollywood Bowl
Tony Bennett proved true artistry is ageless at the Hollywood Bowl.
How can one begin to describe an artist who is 10 years short of living a full century that includes a successful professional singing and art career spanning over 80 years? How can one put into words the life of a man who grew up in poverty, lost his father at age 10 and went through the Great Depression of the 1920s eventually to be drafted into the US Army to fight in WWII? Just one of these experiences in anyone's life would bring respect and awe from the general public, but for music legend Tony Bennett, this is just the tip of the iceberg of a remarkable and long life.
Born Anthony Dominick Benedetto on Aug. 3, 1926 in Queens, NY to Italian parents, Tony Bennett has been a staple in the music and entertainment scene on an off for almost 80 years. His first singing gig was in 1936 for the opening of the Triborough Bridge, and the rest is history.
On Friday, July 14, before a packed crowd at the Hollywood Bowl, the ageless Bennett and his four-piece jazz band were joined by "The Dude" Gustavo Dudamel along with the Los Angeles Philharmonic for a delightful program that included opera, orchestral and film score pieces by Henry Mancini, as well as jazz and American standards.
The first part of the program was handled by Dudamel and the L.A. Phil with selections from two other legendary artists of Italian descent, composers Giuseppe Verdi and Henry Mancini. First on the program was Verdi's overture to opera "La forza del destino" with exquisite, forceful sounds emanating from the string section along with gorgeous work by some of the woodwind musicians and masterful conducting by Dudamel.
This was followed by Mancini's orchestral piece "Strings on Fire" and then the first of two of his songs for films, both of which were nominated for Best Original Song at the Oscars. The beautiful, lyrical arrangements in "Charade" for the movie of the same name had some hints of the "James Bond Theme," which is credited to composer Monty Norman, while the iconic song "Moon River" from Breakfast at Tiffany's (which actually won the Oscar in that category) had everyone singing along.
Under Dudamel's direction. both pieces shined like the stars in the sky above the Hollywood Bowl that evening, but it was "Moon River" with its soft, tender and emotional interpretation by the LA Phil that stole my heart. To close the first music set, the audience was treated to a regal rendition of Verdi's overture for opera "Nabucco" as we all waited anxiously for the arrival of the man of the hour after intermission.
The introduction to the second part of the program was left to radio and TV personality Tavis Smiley. who was surprised to have received a call from Bennett asking if he would do the honor to present him. Needless to say, Smiley had a huge smile on his face as he bestowed much deserved accolades on Bennett, who was escorted to the stage by Dudamel and received thunderous applause by the now-standing Hollywood Bowl audience, 55 years after his first appearance there.
Accompanied by his masterful four-piece jazz band made up of Lee Musiker, Music Director/piano; Paul Langosch, bass; Clayton Cameron, drums; and Gray Sargent, guitar, Bennett began with the upbeat "Watch What Happens" joined by the L.A. Phil and Dudamel in a classic big-band interpretation. This was followed by "They All Laughed," with excellent highlights from Musiker and Sargent.
During his remarkable 90-minute set and encores, Bennett touched on his best-known repertoire while celebrating the release of his most recent recording Tony Celebrates 90, which released late last year. Some of the featured songs were "This Is All I Ask" and "It Amazes Me," which were done with impeccable phrasing and timing, as well as "Boulevard of Broken Dreams" (the first song he recorded in 1950) and many others. During "I Got Rhythm" and "I'm Old Fashioned," he let his band shine in solos, showing generosity, while his "Love Is Here to Stay" had a tongue-in-cheek humor regarding the current political climate.
Following a prolonged standing ovation by the enthusiastic audience, Bennett piled onto an already generous program a potpourri of songs that did not make it to the main program. His most famous recorded song, "I Left My Heart in San Francisco," was one of these parting gifts that left the capacity crowd at the Hollywood Bowl with full hearts and unforgettable memories.
Video Slider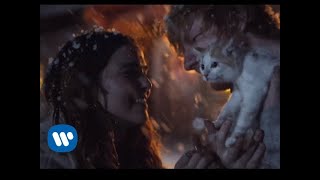 Win Tickets to See Ed Sheeran at the Rose Bowl
Ed Sheeran is back in Los Angeles, and your chance to see him perform is at the Rose Bowl in Pasadena on Saturday, Aug. 18. We are giving away complimentary tickets to the show. For a chance to enter to win, email us at
[email protected]
with "Ed Sheeran" in the subject line and tell us why you would like to go.