Review: A Star is Born is A Classic Hollywood Story Reinvented, Reimagined and Reborn
Lady Gaga and Bradley Cooper in A Star is Born (Warner Bros. Pictures)
There is a moment in A Star is Born when Lady Gaga joins Bradley Cooper for the first time on stage for a duet, and unleashes a massive wail that fulfills the title of the movie. She has, at last, been lifted from the shackles of her humdrum life as a server and occasional performer at a dive bar drag show, and has been born again, almost by herself like a creature out of mythology. And A Star is Born certainly functions as an enduring myth in American cinema that evolves and can be refashioned from generation to generation for whichever musical talent of the moment wishes to continue the tradition. It is too early to say whether this is the best version of the story first told by William Wellman over eighty years ago, but that it even raises the possibility that it could endure the way that the George Cukor version from 1954 did is an achievement in itself.
The story of A Star is Born remains roughly the same as it did when Fredric March and Janet Gaynor first stepped into the roles during the Great Depression. An established star suffering from alcoholism (Cooper, who produced, co-wrote and directed) discovers a talented ingenue (Lady Gaga), falls in love with her and watches her become a massive star whose fame eclipses his own, in part because his addictions hasten his decline. It is and has always been a cautionary tale about the perils of fame with notions about how people's capacities for self-sacrifice and self-destruction are intertwined. The fashions may change, the music may change or be excised altogether (the original duo were actors, not singers), but the message remains consistent and durable.
A Star is Born could have been a disaster because of two major questions raised by its principal talent. But, rest assured, Lady Gaga can act and Bradley Cooper can direct. There was little question that the "Bad Romance" pop icon could satisfy the musical demands placed upon her, but considering her only major experience as an actress is her time on "American Horror Story: Hotel", where Ryan Murphy required her to pose instead of act, it was always a question whether she could meet those demands. She can, and even though the film has moments that Gaga herself had to experience as a pop star, one of the remarkable aspects of the film is that it uses some of the Lady Gaga mystique while allowing her to fully seem her character, Ally. As a pop star, Lady Gaga has always maintained a distance from her audience. She presents herself as an object of art instead of a person, but Cooper strips that down and allows an actual human to emerge.
Despite the alcoholic tragedy of the character, the male lead of A Star is Born is often considered secondary to the female star who emerges. The 1954 and 1976 versions are never mentioned as the James Mason or Kris Kristofferson versions. They're the Judy Garland and Barbra Streisand. Cooper, though, is not overshadowed by Lady Gaga, except of course on stage. His Jackson Maine seems like a figure from a different era, thanks to the style of music and the Sam Elliott drawl he affects (Elliott shows up as Cooper's brother, and both their relationship and Elliott's distinctive voice are key plot points). That Cooper is the driving creative force behind the film gives the relationship between the two characters weight, and creates an interesting dynamic. Lady Gaga is the star who will emerge, but Bradley Cooper is the one who can craft how it happens.
A Star is Born is not just attentive to the pair of stars at its center, as is often the case with these movies. Sam Elliott brings heft to his role as the brother who knows his brother's secrets and must be a constant witness to his self-destruction, and Andrew Dice Clay is warm and ingratiating as Ally's father. Few who witnessed Clay's early career could have ever predicted that he would be such a welcome presence on screen, but between this and Blue Jasmine, the man has had a reinvention worthy of his on-screen daughter.
Because A Star is Born has not been remade in forty years, the way the story culminates now has the power to shock once again for those unfamiliar with the story, but for even those who know what has to occur, Cooper is able to find nuances and digressions that keep the film fresh. This is a classic Hollywood story reinvented, reimagined and reborn, and will certain be one of the best films of 2018.
—————————————————————–
A Star is Born
Warner Bros. Pictures
Now in theaters
5 Stars
Films are rated on a scale of 5 stars(must-see), 4 stars (exceptional), 3 stars (solid), 2 stars (average) and 1 star (unworthy).
Video Slider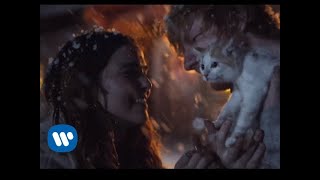 Win Tickets to See Ed Sheeran at the Rose Bowl
Ed Sheeran is back in Los Angeles, and your chance to see him perform is at the Rose Bowl in Pasadena on Saturday, Aug. 18. We are giving away complimentary tickets to the show. For a chance to enter to win, email us at
[email protected]
with "Ed Sheeran" in the subject line and tell us why you would like to go.