Review: A Rise to Fame Fairy Tale in Teen Spirit
Elle Fanning in Teen Spirit (Lionsgate/LD Entertainment/Bleeker Street)
"http://lol-la.com/wp-content/uploads/2019/04/728.jpg">
"http://lol-la.com/wp-content/uploads/2019/04/728.jpg">
"http://lol-la.com/wp-content/uploads/2019/04/disney-on-ice-banner.jpg" alt="disney on ice banner">
"http://lol-la.com/wp-content/uploads/2019/04/7.png" alt="disney on ice banner">
"http://lol-la.com/wp-content/uploads/2019/04/Mermaid-Marquee-728x90.jpg">
There are certain things one would expect from a movie like Teen Spirit, which tells the story of a shy young girl who enters an "American Idol" type of singing competition, but an alcoholic disgraced opera singer is not one of them. But this movie stars Elle Fanning, and the superior Fanning sister does not do conventional crowd-pleasers. She has a taste for auteurs like Sofia Coppola and Nicolas Winding Refn, directors who are almost allergic to the mainstream. Even a film like Live by Night by Ben Affleck uses her for her willowy, almost haunted quality, not as a typical starlet. That's what to expect from Teen Spirit, not a simple teen pop rags to riches story.
Fanning plays Violet, the daughter of a Polish emigre living in a small town in rural England who enters a singing competition despite a personality that is far from the boisterous quality of most pop idols. Violet can sing, though, and when she advances in the competition, she has to enlist Vlad (Zladko Buric), an alcoholic patron of the bar where she performs, to act as her guardian because her mother doesn't approve. Vlad agreed to not only accompany her but mentor her as a singer since he was once an acclaimed Eastern European opera singer who fell into hard times because of age and alcoholism.
This character is the surest sign that Teen Spirit has more on its mind than just letting Fanning perform pop hits, which she does quite well. This is an immigrant story more than anything and etched with a specific that it feels almost personal. The film was written by Max Minghella, the actor from "The Handmaid's Tale" and son of the late prestige director Anthony Minghella. This movie is about as far from The English Patient as one could imagine, but the younger Minghella was surely thinking of his father when he wrote it. His father's family emigrated to the remote Isle of Wight from Italy, and the film captures that dual displacement: Violet is not only displaced from her heritage, but she's also displaced from everywhere else at the same time.
Minghella the younger delivers a movie that is more willing to indulge in artistic flourishes than expected, which makes the more predictable beats of the movie go down easier. This is a take on "American Idol" after all, so the basic structure is unavoidable, even as Teen Spirit tries its hardest to subvert it. And while the backbone of the movie is the relationship between Violet and Vlad (and Fanning and Buric play off each other superbly), the eventual conflict between them feels too predictable.
Without spoiling too much about the film, the resolution of the competition itself occurs at a point that is definitely not predictable, and rightfully so. The film is structured around a singing contest, but the movie is smart enough to know that it's not about who won, it's about Violet's and Vlad's experiences together. And in Fanning, the film has a star who is capable of shading in areas that the script often does not. The role is particularly complex, given that she has to find the right accent (Polish by way of British doesn't really have many easy examples from which to draw), she has to convince sing using that voice. The result is a performance that isn't quite a showstopper but always feels credible.
Teen Spirit never aspires to greatness — the movie never has any ambitions to that — but it is far better than its premise indicates, thanks to a handful of well-drawn characters. Even Rebecca Hall has a nice few scenes as the most reasonable representation of corporate greed imaginable. But the slightness works in its favor, given it allows Max Minghella and Elle Fanning to take a traditional story and shape it with specific details.
————————————————————————————————–
Teen Spirit
Lionsgate/LD Entertainment/Bleeker Street
Now in theaters
4 Stars
Films are rated on a scale of 5 stars (must-see), 4 stars (exceptional), 3 stars (solid), 2 stars (average) and 1 star (unworthy).
Video Slider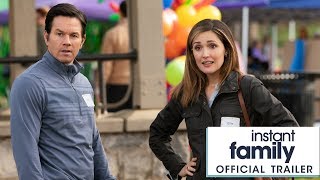 Win a Blu-ray + DVD + Digital Copy of Instant Family
Everyone everywhere can now enjoy Instant Family on Digital and on Blu-ray™ Combo Pack, and DVD on March 5 from Paramount Home Media Distribution. For a chance to enter to win at random, please email us at
[email protected]
with "Instant Family\" in the subject line and let us know why you\'d like to win a copy. This contest ends March 25, 2019.
"http://lol-la.com/wp-content/uploads/2019/04/728.jpg">
"http://lol-la.com/wp-content/uploads/2019/04/728.jpg">
"http://lol-la.com/wp-content/uploads/2019/04/7.png" alt="disney on ice banner">
"http://lol-la.com/wp-content/uploads/2019/04/disney-on-ice-banner.jpg" alt="disney on ice banner">
"http://lol-la.com/wp-content/uploads/2019/04/Mermaid-Marquee-728x90.jpg">