Review: A Noise Within's "Endgame" Portrays Distinctive View of Human Condition
L to R: Mitchell Edmonds (Nagg), Geoff Elliott (Hamm) and Jeremy Rabb (Clov) in "Endgame" at A Noise Within in Pasadena, Calif. (Courtesy of Craig Schwartz)
The play "Endgame" touches strongly on the idea of isolation and, ultimately, death.
"Endgame," now playing at A Noise Within in Pasadena, consists of four characters. Hamm (Geoff Elliott), the protagonist, is blind and can't walk. Clov (Jeremy Rabb), Hamm's servant, cannot sit and is inexplicably enslaved to Hamm's every order. Then there is Hamm's father, Nagg (Mitchell Edmonds), and mother, Nell (Jill Hill), both of whom do not have legs and live in barrels.
A Noise Within is a theatre that chooses to educate and inspire the public through programs that foster an understanding and appreciation of history's great plays and playwrights, and to train the next generation of classical theatre artists. And "Endgame" fits right in.
In "Endgame," the stage highlights the entire cast in there own spotlight when they are speaking, giving them all an equal voice. However, the head of the play is Hamm and he is the one who fears the end most of all.
Hamm is scared to be alone and spends the entire play challenging Clov to leave him alone but then reels him back into staying through a continuing dialogue.
Clov isn't the sharpest tool in the box, but he has accepted the fate of humanity in a situation of some sort of world disaster that has taken all the hope away from them. This acceptance is what Hamm cannot come to terms with. And he does not show signs of acceptance until the very end when he is forced to look straight in the eyes in isolation.
Both Hill and Edmonds deliver memorable performances, while Rabb plays the perfect Clov. But Elliott (as Hamm) steals the show; his theatrical display is impeccable.
"Endgame," by Samuel Beckett, presents a very miserable life and mentality through a rustic scene display and shabby costumes and props. The opening scene remains through the entirety and embodies a life of old and worn down civilization, contaminating the air in the theatre with gloom and impending death.
The heavy heartfelt perseverance that comes to an end in "Endgame" sends viewers home with a seed of inevitable termination that alters the way they see their own functioning realities.
——————————————–
"Endgame"
By Samuel Beckett
Directed by Geoff Elliott
Now – November 23, 2013
A Noise Within
3352 E. Foothill Blvd.
Pasadena, CA 91107
(626) 356-3100
www.anoisewithin.org
Video Slider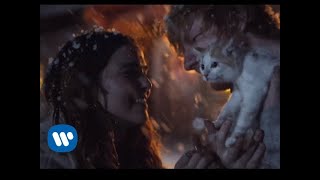 Win Tickets to See Ed Sheeran at the Rose Bowl
Ed Sheeran is back in Los Angeles, and your chance to see him perform is at the Rose Bowl in Pasadena on Saturday, Aug. 18. We are giving away complimentary tickets to the show. For a chance to enter to win, email us at
[email protected]
with "Ed Sheeran" in the subject line and tell us why you would like to go.