Review: A Little Can Go a Long Way
Marsai Martin in Little(Universal Pictures)
"http://lol-la.com/wp-content/uploads/2019/04/Mermaid-Marquee-728x90.jpg">
"http://lol-la.com/wp-content/uploads/2019/04/disney-on-ice-banner.jpg" alt="disney on ice banner">
"http://lol-la.com/wp-content/uploads/2019/04/728.jpg">
"http://lol-la.com/wp-content/uploads/2019/04/7.png" alt="disney on ice banner">
"http://lol-la.com/wp-content/uploads/2019/04/728.jpg">
There have been plenty of body swap movies featuring a familiar blueprint that is tried and true.
Some lesson needs to be learned in order for the child and/or adult to revert back to who they previously were. This formula has pretty much become the norm, and Director Tina Gordon's new film Little doesn't stray too far, but what makes this one unique is that the films leads are Black. At one point this is even mentioned within the film itself as a joke.
Regina Hall plays Jordan Sanders, a tech-savvy success, who owns her own company and rocks the latest fashions. She is, however, a bully. Everyone knows the saying that those who were once bullied become the bully. Well, this rings true for Sanders's character. She was once a young 13-year-old girl in middle school excited about her talent show performance that she was sure would win the crowd. Of course, the joke was on her and she ultimately became the laughing stock of the school. It was at that pivotal and disheartening moment she declared that when she was grown, she would become a boss since no one bullies the boss!
Adult Sanders is a terror in the office to all employees, especially her assistant April (Issa Rae), who is hanging on by a thin thread. Hall can do no wrong in this role with her impeccable comedic timing, making even being nasty palatable and hilarious.
Sanders isn't even nice to children, and throws so much shade towards one that she whips out her little toy wand and proclaims "I wish you were little." Sometimes wishes do come true. After Sanders heads to sleep for the night, she wakes in the morning to the sheer horror that she has become her younger 13-year-old self once again, played by Marsai Martin.
She must endure going back to the exact same middle school that was the beginning of the end of her sweet-natured self. All the while still trying to run her business with the now much-needed help of April. This is a chance for April to assert herself, knowing full well that Sanders has to oblige since the world now sees her as a young girl. Will young Sanders get a do-over to redirect her future self?
This is Rae's big breakout as a lead in a feature film and she doesn't disappoint. Her chemistry with both Hall and Martin is smooth and organic. Martin is a star in the making who is already shining brightly. People may be familiar with her character Diane Johnson on "Black-ish," but here she has an opportunity to lead on her own.
There are some really funny moments in this film with modern references that make it relatable. Martin plays the grown-up version of Hall seamlessly in her small petite frame while demanding respect and flirting with grown men which surprisingly works. You actually feel as if you are watching a grown adult, even when Martin is only 14 years old herself in real life.
This is a cute little film that brings up nostalgic adolescent moments both good and bad at a time in life where the world really was your oyster. Marsai Martin, the star of the film was just 10 years old when she originally pitched this film with the hopes of it getting made. Fast forward four years later and it hits theaters this coming weekend. At the ripe old age of 14, Martin has even started her own production company called Genius Productions, putting her on the map and inspiring some real #BlackGirlMagic! Little does the body swap genre justice leaving the viewer with smiles.
---
Little
Universal Pictures
Now in theaters
4 Stars
Films are rated on a scale of 5 stars (must-see), 4 stars (exceptional), 3 stars (solid), 2 stars (average) and 1 star (unworthy).
Video Slider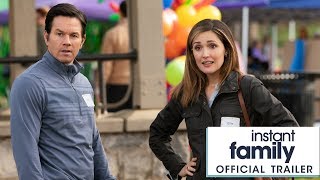 Win a Blu-ray + DVD + Digital Copy of Instant Family
Everyone everywhere can now enjoy Instant Family on Digital and on Blu-ray™ Combo Pack, and DVD on March 5 from Paramount Home Media Distribution. For a chance to enter to win at random, please email us at
[email protected]
with "Instant Family\" in the subject line and let us know why you\'d like to win a copy. This contest ends March 25, 2019.
"http://lol-la.com/wp-content/uploads/2019/04/728.jpg">
"http://lol-la.com/wp-content/uploads/2019/04/Mermaid-Marquee-728x90.jpg">
"http://lol-la.com/wp-content/uploads/2019/04/disney-on-ice-banner.jpg" alt="disney on ice banner">
"http://lol-la.com/wp-content/uploads/2019/04/7.png" alt="disney on ice banner">
"http://lol-la.com/wp-content/uploads/2019/04/728.jpg">