Review: A High-Tech Opera Version of Moby-Dick Sails at Dorothy Chandler Pavilion
A scene from LA Opera's enthralling production of Moby-Dick (Craig T. Mathew/LA Opera)
The first live opera I attended was an LA Opera production of Tristan und Isolde by legendary German composer Richard Wagner back in 1987, with set and costume design by British artist and L.A. resident David Hockney. The beginning of the story takes place in a ship, so in his design Hockney abstracted this image so it could be transformed into a castle with gardens in subsequent acts.
Another nautical-themed production that I enjoyed at LA Opera was The Flying Dutchman, also by Wagner, which was presented in 2013 with some interesting but rather static set design by Raimund Bauer and costumes by Andrea Schmidt-Futterer.
On Saturday, Nov. 1, before a sold-out crowd at the Dorothy Chandler Pavilion, LA Opera's version of the iconic novel Moby-Dick – which takes place on a whaling ship – by American writer Herman Melville made its Los Angeles debut with music by probably the most successful living American composer, Jake Heggie, and a libretto by Gene Scheer.
Earlier this year, I was lucky to review Heggie's first opera, Dead Man Walking, at the Broad Stage for Living Out Loud – Los Angeles and was impressed by how accessible and melodic this work was compared to other modern operas. In contrast to the simple, stark sets of that production, Moby-Dick relied on a jaw-dropping, abstract, kinetic and very effective set design by Robert Brill, exceptional video projections by Elaine J. McCarthy and lighting by Gavan Swift (based on an original design by Donald Holder) all under the direction of Leonard Foglia.
The opera began with a projection of a celestial view of the stars onto the scrim curtain which morphed into an animated, linear drawing of the whaling ship Pequod that has sailed from Nantucket Island in Massachusetts. As the scrim was partially lifted, we met the first two characters: the tattoo-faced Polynesian harpooner Queequeg (South African bass-baritone Musa Ngqungwana) and the young loner Greenhorn (tenor Joshua Guerrero).
As the ship's main deck set was subsequently revealed, other characters begian to appear on stage, such as second mate Stubb (baritone Malcolm MacKenzie), third mate Flask (tenor Matthew O'Neill) and first mate Starbuck (baritone Morgan Smith) – the last two of which were part of the original San Francisco production – and were joined by an outstanding all-male chorus under the direction of Grant Gershon.
Apparently no one on board had yet to see the legendary and ominous Captain Ahab (tenor Jay Hunter Morris), as the men belted out a song about the riches to be gained on this whaling expedition. Suddenly he appeared and began to tell the crew about the legend of the white whale Moby Dick who had become not only his nemesis but his obsession since an encounter that left him with a wooden leg. Finding and destroying his foe was the real reason for the expedition, as he called out loud, "Death to Moby Dick," in order to pump up the crew.
Morris portrayed Ahab with intensity and complexity from the first moment while adding dramatic and powerful vocals from beginning to end. He was the anchor to this story and willing to drag anyone and anything to its catastrophic conclusion. Countering this fatalistic vision was first mate Starbuck, a Quaker eager to return to his wife and son who was also metaphorically the conscience of the story.
Smith was outstanding as Starbuck, both in his acting and singing, delivering emotion with a strong projection to his voice, especially during his duet with Greenhorn (and later with Ahab), as he yearned to see his family back home. Guerrero possessed a pure, strong voice and youthful quality that allowed him to keep up with his older and more experienced main cast members. He also added excellent acting skills as the naïve and confused Greenhorn who was new to the whaling way of life.
One of the most salient aspects of this production was how the sets, lighting, projections and direction – in addition to the haunting music – pulled the audience into this world at sea. Several layers of white scrim curtains were dropped and raised to mimic the sails of a real ship, while heavy, abstracted black masts with crisscrossing cordage completed the full illusion of being aboard the vessel. The lighting, projections of videos and images of the sea in different aspects, as well as the moving lines of the digital ship, added to this perception, which in turn puts the audience front and center from any seat in the theater.
As the only female singer in the cast, soprano Jacqueline Echols played the young cabin boy Pip with innocent charm and a lovely, high voice that helped balance somewhat all that testosterone on stage. Adding an exotic, spiritual element to the opera was the rich, textured voice of Ngqungwana as Queequeg, who in the story hails from a royal lineage of his island nation.
Unlike many operas, the role of the chorus in Moby-Dick played out as another "character" in the story, both visually and acoustically. The exceptional all-male ensemble layered wave upon wave of testosterone-filled vocal resonance while filling the stage with action and at times some homoerotic subtext undertones, such as in the scene where the open-shirted, muscled sailors butchered an enormous whale for its oil under the red glow of a fiery cauldron.
Following faithfully the intent of the original novel's narrative, librettist Scheer's text was easily understood and his characters well defined, so most of the time reading the subtitles was not necessary. Heggie's score was complex, brooding and resonated with elements of the sea as it built up to its tragic climax. There were influences in his music of old master composers, but he also infused it with a touch of Broadway that made this three-hour spectacle enthralling as well as entertaining.
Moby-Dick is performed Nov. 7 & 28 at 7:30 p.m.; Nov. 15 & 22 at 2 p.m.; Nov. 17 at 7:30 p.m. For tickets and more information, visit laopera.org/season/1516-Season-at-a-Glance/Moby-Dick/.
Video Slider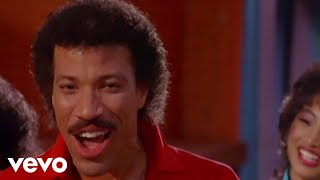 Win Tickets to See Lionel Richie at Hollywood Bowl
Lionel Richie is performing with very special guest Mariah Carey on the All the Hits Tour, and your chance to see them is at the Hollywood Bowl on Monday, July 31.