Review: A Big Latin Music Party at the Hollywood Bowl with Gustavo Dudamel, the L.A. Phil and Salsa Legend Oscar D'Leon
Back in the early 1990's the now defunct RMM Records (Ralph Mercado Management) which specialized in the Latin music genre of "salsa", would bring for several years an array of its signed artist to the Hollywood Bowl for a spectacular evening of high energy Afro-Cuban dance music. They included legends like Celia Cruz, Johnny Pacheco, Tito Puente, Tito Nieves, Oscar D'Leon, Eddie Palmieri, Cheo Feliciano, Ismael Miranda and so many more. It was a giant party that had people dancing everywhere at The Bowl.
Fast forward 25 years and one of these legends, Venezuela-born Oscar D'Leon once again graced the Hollywood Bowl stage, this time with his "paisano/countryman" Gustavo Dudamel and the L.A. Philharmonic. The original program for that Thursday, August 16th and the previous Tuesday was to be an evening of classical music and dance titled "The Nutcracker with Dudamel" which included The National Ballet of Cuba. Because of problems getting visas to the USA, the Cuban troupe had to withdraw from the two programs and they were substituted by Cuba's legendary vocalist Omara Portuondo on the first night and Oscar D'Leon on the second.
The first part of the evening was devoted to mostly classical music composers from Latin America which include Obertura para el "Fausto" criollo (Alberto Gianastera/Argentina), "Mediodia en el Llano" (Antonio Estévez/Venezuela), Tres Versiones Sinfónicas: Xilófono (Julián Orbón/Cuba/Spain) and Tritsch-Tratsch Polka, "Triqui Traqui" (Johann Strauss II/Austria). An additional piece "Conga del Fuego" by contemporary Mexican composer Arturo Márquez was not performed, possibly due to time constraints.
Ginastera's piece was grand in its scope and sound while Estévez work was serene and contemplative. Orbón's composition was rather eclectic in style and Johann Strauss II polka inspired piece was given a very creative Latin reinterpretation arrangement by Venezuelan cellist and composer Paul Desenne.
After intermission it was time for "The Lion of Salsa", the legendary Oscar D'Leon who at the age of 75 and having suffered several heart attacks, looked, sounded and acted just like in his heyday! Looking svelte and sporting an elegant white tuxedo jacket and black slacks, the shaved head, mustached icon belted out most of his greatest hits. They included "Calculadora", "Detalles", "Taboga" "Llorarás" and many others that had the enthusiastic crown dancing in their seats and aisles. Backed by a talented set of seasoned musicians placed just to the right of the stage it was one giant Latin, salsa party.
A humorous moment came when he sang the iconic song "Rebelión (No Le Pegue a la Negra)" while encouraging the members of the L.A. Philharmonic to get up and dance. One of the male members of the string section took him on his word invited a female member of the woodwind section to dance as they showed some very impressive salsa dance moves, needless to say the audience went wild.
Video Slider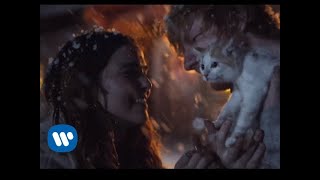 Win Tickets to See Ed Sheeran at the Rose Bowl
Ed Sheeran is back in Los Angeles, and your chance to see him perform is at the Rose Bowl in Pasadena on Saturday, Aug. 18. We are giving away complimentary tickets to the show. For a chance to enter to win, email us at
[email protected]
with "Ed Sheeran" in the subject line and tell us why you would like to go.