Q&A with Stewart Barnett of Headquarters LA
Headquarters LA is available to book film, TV or photoshoots, as well as special events.
During our photoshoot at Headquarters LA with artist Actually we had a moment to talk to space co-owner Stewart Barnett about the creative space in the heart of Los Angeles that is a hub for artists and production companies to utilize for projects. To find out more about the history of the spot and how to inquire about renting it, Barnett fills us in.
Living Out Loud – Los Angeles: What kind of projects does Headquarters LA usually undertake?
Stewart Barnett: We do a lot of things here: set builds, photo and video production, events, pretty much whatever people want. We're pretty versatile and try to accommodate to people's needs as much as possible.
LOL-LA: Tell us more about your background and how the space came about.
S.B.: I've been working in construction for 12 to 13 years. My roommate and business partner, Nathan Rothstein, has been in the movie industry, TV prop house building and set design for years. He has a lot of great experience with that, and I don't. I just build cool things. We joined forces, and when we moved in here, it was pretty much just the bathroom without a shower. We have come very far, but we're not quite there yet. We're almost there, though.
LOL-LA: What has been some of the most interesting or unique projects you've hosted here?
S.B.: Life channel for Life Hacks – it's like a craft show. When we first moved in we had 'American Ninja Warrior' do all their set builds here. We've had some fun events. The most memorable or weirdest was Chanchella. It was a Jackie Chan/Coachella-themed party. They actually bought a Jackie Chan (meme) stamp to stamp hands for the door. We've had some cool miniatures, a Mattel commercial.
LOL-LA: The space is super collaborative. Do you also make use of it as an artist or just rent it out?
S.B.: Nathan and I are both musicians as well. Our whole plan is to renovate this place and rent it out as much as possible so we can focus on that more. We have shows here, usually they are combined with the events. We have a guy, Samuel Cortez, who rents it out for his variety shows which are like these comedy plays. They have bands play and then a DJ party at the end.
Headquarter LA's space provides a 2200 square-foot photo/film production studio with a 20-foot x 14-foot double-curve cyc wall, 200 amp/3-phase power, set shop, and they also host events. For more information, visit facebook.com/headquartersla.
Video Slider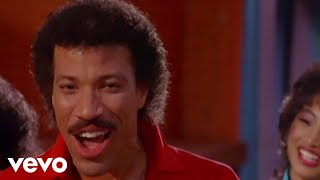 Win Tickets to See Lionel Richie at Hollywood Bowl
Lionel Richie is performing with very special guest Mariah Carey on the All the Hits Tour, and your chance to see them is at the Hollywood Bowl on Monday, July 31.