Q&A with Spanish Rock Band El Gran Silencio
Rock band El Gran Silencio, natives of Mexico, perform tonight at The Conga Room. (Facebook/El Gran Silencio)
The popular rock band El Gran Silencio formed in the early 1990s, and they've managed to remain prominent in the music industry ever since.
Their fusions of Spanish rock, reggae, cumbia, rap, and dancehall, among other genres, have served as substantial musical aspects that have successfully differentiated them from others.
Comprised of Cano Hernández (vocals and guitar), Tony Hernández (vocals and guitar), Isaac "Campa" Valdéz (accordion), Julian "Moco" Villarreal (bass guitar), and Ezequiel Alvarado (drums), El Gran Silencio has released numerous studio albums. They're famously known for their hit track "Chuntaro Style," an up-tempo song sporting a blend of cumbia, rock, vallenato, and rap, among other things.
El Gran Silencio return to the state of California for one show, taking place tonight at The Conga Room in downtown. It's part of their U.S. tour, in which they'll also utilize to continue the promotion of their 2010 independent album Revolusound Contra Systema.
Despite a busy schedule, Tony Hernández spoke with Living Out Loud to talk about the upcoming tour, what fans can expect and, of course, music, among other topics of conversation.
Living Out Loud: Tell us about this U.S. tour.
Tony Hernández: This is scheduled to be a short tour. We will be in Chicago, Denver, Los Angeles; we are going to be in Tijuana and we'll also perform in the U.S. cities that we had forgotten from two years ago.
LOL: What can the crowd expect from the shows?
TH: We are going to be presenting all the songs out of Revolusound Contra Systema, which is our last disc. We are doing somewhat of a remembrance concert just to recall our 21 years in this music career. Classic hits, which have been the favorites of our fans, will be performed. It's going to be a very dynamic show, but more than a concert it'll be a very energetic party.
LOL: How has the public reacted to Revolusound Contra Systema?
TH: It's gone well. In Mexico, the albums have been completely sold out. It only can be found through social media, as well as through music portals. The album is very important to us because it talks about the current situations in Mexico. The album has a revolutionary idea behind it, to revolutionize with ideas, and to say what we are thinking.
LOL: This album contains many social themes, as other albums in your repertoire.
TH: Our last disc has two or three songs that speak of much social content, and that is why it is called Revolusound Contra Systema. It is a mixture of the sound and the revolution, more than anything as one can be activated to form part of certain social groups – as to lead a movement to keep alive the concern of the revolution. There are also themes with a very strong criticism toward the media in Mexico, I think that it's more of a guerrilla-type disc toward the social claim. Also, the music is heavier in this album, with much distortion and with more force in the themes. It's achieving something interesting and people like it.
LOL: Yet, the album has other themes.
TH: Yes. Songs like "Mándame" criticizes social media and its closure with sex topics. In a few words, it talks about how people take those sexual themes to social media. The song titled "Despierta Sin Temor" featuring Mizra Maldonado and Pato Machete carries a different theme. We would love to do an unplugged version of this album in Los Angeles some time soon.
LOL: What's the group's philosophy in this profession?
TH: It's very simple: whatever we think is correct, we try to say and show it. The revolution goes day-by-day, and it's different everyday. The revolution has to be your own life, to always have an idea and where to go with it. We need respect everyone and not be so selfish.
LOL: How do you view the current image of rock? Has it lost value?
TH: It's moved through circles over time. It's had its stages from the classic rock era from the 1950s to the 1980s, and where it is now. Many interesting things have taken place. I believe we are at a point where the Mexican rock has become very frivolous, synthetic, pretentious, circus-like and very rare, since there are no interesting proposals.
LOL: What's El Gran Silencio's biggest satisfaction thus far in their career?
TH: The biggest satisfaction we have is our 21-year career. Fortunately, we have followers throughout the world, not just in Mexico and the U.S. We've been able to perform in countries such as the Czech Republic and Russia, and that brings a lot of joy.
Video Slider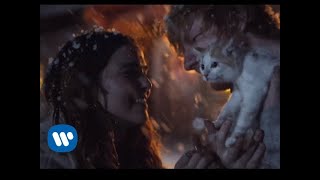 Win Tickets to See Ed Sheeran at the Rose Bowl
Ed Sheeran is back in Los Angeles, and your chance to see him perform is at the Rose Bowl in Pasadena on Saturday, Aug. 18. We are giving away complimentary tickets to the show. For a chance to enter to win, email us at
[email protected]
with "Ed Sheeran" in the subject line and tell us why you would like to go.