Q+A with Shaila Dúrcal
Spanish singer / songwriter Shaila Dúrcal (Courtesy photo)
Latin superstar, Shaila Dúrcal is kicking off her U.S. tour beginning in August.
Fans of the musician can catch her live on Aug. 24 at The Novo by Microsoft.
Born to music royalty, the star is the daughter of singers, Rocío Dúrcal and Antonio "Junior" Morales. But despite being born into it, Dúrcal has created a name for herself and has earned success on her own.
Along with kicking off the tour, Dúrcal will also be releasing her single "Que Importa" with mariachi.
The song was co-written with Dorio Ferreira and will be part of her new record, which is to be released at a later date.
It's also been recorded in a pop version and banda (Regional Mexicano) version.
Since the release of her debut album, Shaila in 2004, the diva has collaborated with artists including Tony Bennett, Andrea Bocelli, Juan Luis Guerra, Juan Gabriel, Charles Aznavour, A.B. Quintanilla and more.
Fans can expect a night full of wonderful music when attending the concert at The Novo, but in the meantime, below is an interview with Dúrcal.
Tickets are on sale now and range from $25-$45 and can be purchased at www.axs.com.
The show kicks off at 8 p.m. and is open to all ages.
Q: What does the city of L.A. mean to you?
A: I used to live there. It's a part of my life! It's always has and always will be. I come from a Mexican background so it's like having the best of both worlds. I have family and friends that live there and the diversity is great! Especially the music, so it's really nice to start my tour there.
Q: What do you like the most out of this city? And how long were you living here for?
A: I was living there for 2-3 years but I've always traveled a lot to California as a child. Like I said, I have family and friends out there so I speak English thanks to a lot of those teachers out there. I always dreamed about going to college in California, I never got that chance but I get a bigger chance by singing for them.
Q: When did you first realize music was the way to go?
A: I was actually 4 years old, I didn't understand it at that time but my mother, she would always sing and I always had that chance to be in the studio. I just loved the mic and how loud it would sound, of course I was way out of tune when I was 4, so my dad never thought I would sing. But as I got older I was exposed to more and more things in the industry and I told my mom, "I want to do this! I want to feel that energy!" so I started very young, and thanks to God I have been in this career for more than 15 years.
Q: What's the biggest advice your mom, the legend Rocio Durcal, ever gave you regarding your profession?
A: Patience. She always wanted me to be me and to have fun with it, because there's a fun side and a business side. Thanks to my father I learned the business side, now I have my husband, he's my producer and manager, he's my musician and we do all our shows together. So I learned a lot and I love growing and learning every day.
Q: What advice would you give the old you from 15 years ago?
A: I would say, to slow down and enjoy the ride because it's a beautiful ride and I always go back to what my mom said, "Patience" because sometimes you want your music to get released so fast when things are moving slow, or vice versa. So it's a beautiful ride, I just had my new single released with my own record label so it's great.
Q: Your husband, Dorio Ferreira, is involved in all your musical aspects. Can that be challenging?
A: Oh, for sure! You have to learn how to separate business from home. Even though we work from home and we spend a lot of time in the studio, we're just like any other couple and it's challenging but you learn a lot.
Q: Tell us a little bit about the lyrics of "Que Importa" (Who Cares).
A: There's 3 versions of the song, there's the Mariachi side, and which is my Mexican region side that my mom left me. Then there's a Banda version, it's very fun and very moving! Then we also have the Pop version as well, which has that European flavor and that fun! I have such a wide diversity of fans, I have little kids and then people that followed my mom! But I love to spice things up.
Q: You have 3 shows in California this August; you'll start in San Jose then L.A., then SD. What can we expect from those performances?
A: It's great! It's very emotional and fun, we have a tribute for my mom, Rocío Dúrcal. The fans love it because it brings back memories as it does for me. So it's nice having that, but you can't miss it! It's going to be great!
Q: How was it being part of Mexico's Teleton?
A: I love working with kids, they're our future, so being there, even if it was just for a while it was great! I just love being there and being part of different Telethons, I love giving my time and energy. I just enjoy it.
Q: Do you have future collaborations in mind?
A: Collaborations are the best because I get to hang out with talented people, I just love it, I've had the opportunity to collaborate with different generations and I never say no! If I have a chance I'll always do it.
Q: Where can we find to you on social media?
A: Facebook, Instagram and Twitter: @shailadurcal
Q: What do you like to do during your free time?
A: Watch movies, TV shows, I hope in the future I work on more movies because I love the entire aspect of it and acting.
Q: What advice would you give to those that would like to follow in you footsteps?
A: It's a lot of business, it's a dream but mostly business and to always stay true to yourself and to be patient and to keep going if you're up for it, but mainly to be patient.
Video Slider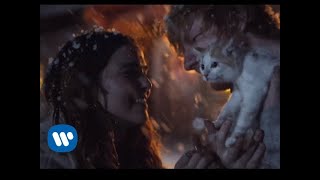 Win Tickets to See Ed Sheeran at the Rose Bowl
Ed Sheeran is back in Los Angeles, and your chance to see him perform is at the Rose Bowl in Pasadena on Saturday, Aug. 18. We are giving away complimentary tickets to the show. For a chance to enter to win, email us at
[email protected]
with "Ed Sheeran" in the subject line and tell us why you would like to go.