Q&A with Pedro Ramos, Founder of LA's La Feria de los Moles
Over the years, LA's La Feria de los Moles has had an increase in attendance. (Courtesy of Eddie Sakaki/Feria de Los Moles)
Oh, the richest of Mexican food come our way once again!
The 6th Annual La Feria de los Moles, which takes place on Sunday, October 6 at La Placita Olvera from 10 a.m. until 7 p.m., has witnessed a significant increase in attendance each year since 2008.
In an interview for Living Out Loud, festival founder and organizer Pedro Ramos talked about the initial concept behind the mole festival, attendance over the years, the significance of mole, and this year's expectations, among other things.
Living Out Loud: How did the idea come about to have a mole festival here in Los Angeles?
Pedro Ramos: This came about from a meeting of Mexican civic leaders. The idea was to find a way to uplift our traditions. I've always been a supporter of Oaxacan folklore and culture, which has many beautiful traditions like the Guelaguetza game. In Puebla, we have mole poblano, which originated in Oaxaca but we perfected it in Puebla. So we were comparing moles and just decided to have a fair here in Los Angeles.
LOL: How has the response from the public been thus far?
PR: The first fair was in 2008, and while we only had a few booths, about 10,000 people came out for it, which took us by surprise. The second year, we had 15,000 people, the third year we had 20,000, the fourth year we had 25,000 and now on our fifth year, we had between 30,000-35,000 people.
LOL: Where does your affinity to mole come from?
PR: Well, I'm from Puebla, and in the town I was born in, my grandmother was very well-known and people would hire her to cook mole. So we all grew up with the smells, the stir-fries, the peanuts, the cookie and all the other ingredients that mole has. Later, I went on to study at the University of Puebla. Around the city, I would see flyers for mole cooking contests, and I would say that I would take my grandmother. But, at that time, it wasn't to be, until finally we were able to put this fair together here in Los Angeles.
LOL: How many different kinds of mole are there and what Mexican states will be participating?
PR: Well, there's a great variety. Everyone says that their grandmothers' mole is the best and everyone thinks their recipe is the true recipe. But I believe it is that variety that makes the state of Puebla unique when it comes to mole. And the same goes for Oaxaca, which can also count on that gastronomic variety. So those are the two states primarily represented. This time around, the states of Guerrero and Tlaxcala will be represented.
LOL: What can we expect to see at this fair and what makes it so interesting?
PR: This fair has characteristically been full of art, and it's where our grandmothers' mole is showcased, and the recipes of our ancestors. These are recipes that come directly from the community – most often from the provinces towards the capital cities. But more than anything, it's our essence. Another facet of the fair is to help preserve the traditions and culture for our children. Since many of them can't travel to Mexico, the fair serves as a sort of family gathering, where moms, grandmas and children get together and are united through food that gives way for a union between the different Mexican states. At the fair, there are kiosks and restaurants where people can enjoy this exquisite dish. A mole dish will cost you between $8-$10, and you can choose which mole you want to try.
LOL: What requirements do the mole experts and restaurateurs need to participate in the fair?
PR: First off, you need to be invited from the organization that sets up the fair. In Los Angeles, since there are not many specialized mole restaurants, we allow any restaurant to try out. Anyone can submit moles, and we try them all and thus decide who gets to be part of the festival.
LOL: Can anyone be part of the festival, and are the spaces and costs the same for everyone?
PR: The only thing we require is that the mole is 100% artisan, but yes, everyone can participate. Each space is 10×10 meters, and the costs are the same for every participant. If participants have large equipment, we do our best to try and accommodate everyone.
LOL: Are there any other foods for sale at the fair or is it just mole?
PR: Every year, we will feature a special guest, and it's usually been 'chiles en nogada'. Besides that, we exclusively feature mole dishes and its derivatives, as well as a vegetarian mole. We feature all sorts of moles. This time around, we have the black mole from Oaxaca, which is a bit sweet, the red mole from Puebla, which is a bit spicy, and the 'pepianes colorados' and green moles. The main ingredients are chile mulato, chile ancho, and chile colorado, as well as ajonjoli as a garnish.
LOL: Have you thought about taking this fair to other parts of the U.S.?
PR: Well, these fairs generally exist in Puebla, and Mexico in general. But in the U.S., this one in Los Angeles is the only one. We've been thinking about taking it to New York, Texas and Chicago. Mole is the most representative dish from Mexico, and it's even recognized by UNESCO. It represents the entire nation, not just Oaxaca and Puebla.
*****************************
La Feria de los Moles
La Placita Olvera (www.feriadelosmoles.com)
Sunday, Oct. 26, 2013 at 10 a.m. – 7 p.m.
Price: Free admission
*****************************
Video Slider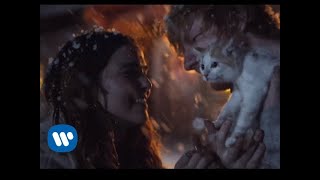 Win Tickets to See Ed Sheeran at the Rose Bowl
Ed Sheeran is back in Los Angeles, and your chance to see him perform is at the Rose Bowl in Pasadena on Saturday, Aug. 18. We are giving away complimentary tickets to the show. For a chance to enter to win, email us at
[email protected]
with "Ed Sheeran" in the subject line and tell us why you would like to go.