Q+A with Founder of Okiboru House of Tsukemen
Okiboru House of Tsukemen is located at 635 N. Broadway in
Los Angeles. (Courtesy photo)
Foodies get your appetites ready and head on over to the new Okiboru House of Tsukemen located in the heart of Chinatown.
The grand opening of the restaurant took place this month and brings traditional Japanese dripping ramen to Los Angeles.
For those unfamiliar with tsukemen, unlike traditional noodles, they're actually thicker and are served on the side and are referred to as "dipping ramen" as a result.
The founders (Justin Lim, Bobby Jung, and Hyun Park) of Okiboru trained in Japan to master the craft of tsukemen and believe in providing their customers with amazing food.
Guests can expect their noodles to be made on-site from scratch with a unique Okiboru recipe.
Along with the perfect noodles, the broth will make any ramen lover delighted thanks to its dipping ready consistency.
Unlike the standard ramen broth, it's left to simmer for a much longer period of time.
Whether choosing from the signature tsukemen bowl, The Okiboru ("The Big Bowl") served with pork ribs, seasoned soft boiled egg, pickled radish, scallion, bamboo shoots, and nori ($17) or the Chashu-boru with pork chashu, seasoned soft boiled egg, pickled radish, and scallion ($16), customers will surely leave full and happy.
In an effort to accommodate to the needs of everyone, vegan-friendly options are also available as are gluten-free noodles.
From lunch to dinner, the newly opened Okiboru House of Tsukemen makes for a great spot to eat.
Drop by and bring along some friends and family to enjoy the new location and try some new food made with all natural ingredients.
Okiboru is located at 635 N. Broadway, Los Angeles.
For those interested in seeing the full menu and hours of business, visit www.okiboru.com.
Below is a Q&A with Lim, in which he discusses everything from the inspiration behind the restaurant to recipes.
Q: How long have you been in the business?

A: We opened in early July 2018 (a few weeks ago) but we've been ideating for the past few years.
Q: How long did the process take for you to start the restaurant?

A: We fell in love with tsukemen in 2016. Going to Japan and eating my first tsukemen at Mennoya in Osaka, I knew that people in the US would love this type of food. Ramen was already establishing itself as s popular item, but tsukemen was virtually unknown. Then in 2017, we committed to spending a few months in Tokyo to explore the Tsukemen scene there, and to refine our concept for what is now Okiboru House of Tsukemen.
Q: What has been the greatest challenge you've encountered so far? How have you overcome those challenges?

A: Getting the perfect combination of great broth and noodles has been our greatest challenge. Tsukemen broth, when compared to ramen broth, takes much more effort in terms of both preparation and simmering time to achieve the perfect thickness. In addition, the noodles were extremely difficult to get right. For tsukemen, it's mostly about the noodles. Since we make our own noodles from scratch on site, we are able to achieve the exact thickness, length, chewiness, etc. that we think customers would like. We tried hundreds of variations until we were satisfied.
Q: What inspired you to open a restaurant?

A: We fell in love with tsukemen during our travels in Japan in 2016. When we returned stateside, we saw how ramen was becoming popular but didn't see any good tsukemen places. We saw this as our opportunity to introduce tsukemen to a broader audience of eaters outside of Japan.
Q: What restaurants do you look up to for success?
A: Tsujita and Tatsu are some restaurants we looked up to as models for success. They operated successfully and sustainably for years. Most importantly, their customers are happy and keep coming back.
Q: What motivates you to continue with your restaurant?
A: Obviously, we want more people to try and fall in love with tsukemen. Not so obvious, but just as important to the founders, is the desire to provide meaningful and gainful employment to our co-workers. Ultimately, we want our restaurants to become a positive influence on the surrounding communities.
Q: Do you own other restaurants? If not, do plan too in the future?
A: One of the founders continues to own Blue Dream Curry House in Asheville, NC. Okiboru plans on expanding to other locations… creating a tsukemen tsunami across the country!
Q: What is the biggest reward for you in this business?
A: We feel most satisfied when customers come back with new friends and/or family. For us, this means not only did they love the food, but they're helping to spread the tsukemen love!
Q: The food itself was amazing and flavorful, are they homemade recipes? Are they passed down?
A: The recipe was developed for many years through trial and error. We learned the basics of tsukemen broth in Japan, but created a unique recipe that we think caters to the American palate while staying true to traditional tsukemen taste. For example, in Japan, tsukemen has a unique fish flavor, but we tried to balance out the fish flavor to be more smoky and subtle. Our noodle recipe and techniques were passed down from our sensei in Japan. Our flour comes from Nippn Flour. Nippn Flour was founded in 1896 and is the first industrial flour milling company in Japan to introduce western-style machinery. The flour we get from Nippn to make the noodles comes from Canada.
Q: Where do you see yourself and your business in 10 years?
A: Within 10 years, tsukemen will be as well known to the general public as ramen is today. And by that time, we want to have a presence in all the major metropolitan cities. Hopefully, our next stop is NYC. Until then, we'll be working hard to build the Okiboru brand and to create more delicious dishes for our customers.
Joelly Vazquez contributed to this story.
Video Slider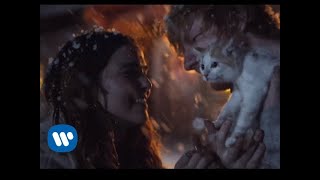 Win Tickets to See Ed Sheeran at the Rose Bowl
Ed Sheeran is back in Los Angeles, and your chance to see him perform is at the Rose Bowl in Pasadena on Saturday, Aug. 18. We are giving away complimentary tickets to the show. For a chance to enter to win, email us at
[email protected]
with "Ed Sheeran" in the subject line and tell us why you would like to go.