Q&A with Actress, Model, and Humanitarian Sarodj Bertin
Sarodj Bertin won Miss Haiti 2010; she's now a model, actress and humanitarian.
Sarodj Bertin studied law and became a lawyer, but she placed that aside to follow another dream.
Bertin, 27, is a beautiful and articulate 5-fee, 9-inch tall Haitian woman who won Miss Haiti in 2010 before going on to compete in Miss Universe. She's now a retired lawyer who speaks five languages: English, Spanish, French, Creole, and Mandarin. She's currently an actress, model and humanitarian.
Her 2014 calendar showcases another side of Haiti. People can order it for free online and donate as they see fit. All profits go to building an orphanage in Haiti through her charity "Sarodj for a Purpose."
All of the pictures in the calendar were taken in Haiti.
While doing promo for her 2014 calendar in Los Angeles, Bertin spoke to Living Out Loud exclusively about her calendar photo shoot, giving back to Haiti, work relationship with acclaimed actor Sean Penn, acting, and the passing of her mother, among many other things.
Living Out Loud: How long did it take to shoot the calendar?
Sarodj Bertin: To shoot the pictures, it took between 5 and 6 days. For all the costumes and stylish things and to find locations to shoot, we spent 2 months. After that, for post-production of the calendar, and choosing and editing the pictures, we spent another 2 months. So overall, a calendar is a 6-month job. It's very pretty, but it's a tough job.
LOL: You're promoting your country of Haiti. What does that mean to you and why are you doing it?
SB: I've always wanted to help my country in one way or another. Since I was very young, I would always look at the Miss Universe pageant. I thought those women were beautiful, but Haiti wasn't there. We are a Caribbean country and we have very beautiful women here, why were we not participating? I said one day, I would like to be the one. It was a dream, though. I did ask many people about it, and no one knew what to tell me. I thought I had to quit my dream, so I finished my law degree, graduated, and went to work as a lawyer for 3 years until they called me and said they were doing Miss Haiti. I decided to quit my job, I participated, and my life changed.
LOL: Is there anything you miss about law?
SB: Yes. I'm very passionate about everything that I do. When I decided I wanted to study law, it was a passion. I was so into law, studying all the time, and I enjoyed it. I really liked it, and I think it helped me become the person I am today. It was very important in shaping my personality, and my mind. Also, I believe that one day, I can go back to it. Right now, I'm acting, modeling, but this is something I'm doing for the moment and what I'm passionate about now. Hopefully in the future, I can do everything together. When I won Miss Haiti, it was another big dream for me. Then I went on to participate in Miss Universe. I didn't win, but it opened a lot of doors for me. The press was always interviewing me, and people identified with my story, which helped me a lot. After that, I'm always being invited to events, traveling all over the world – like I was Miss Universe, I just didn't win.
LOL: When your name was called and you won Miss Haiti, what was going through your mind?
SB: The only thing I could say was, "I made it!" It's not easy to go out and fight for your dream. But it's something you have to do if you want to be someone. If you want to make your dreams come true, you have to take risks. I was young, 23 years old when I became a lawyer. I was doing well, and my father would always tell me, "Why do you want to leave law? Forget about it." But I said no. If the opportunity arrives while I'm still young, I have to do it. It's a signal. I believe in life you have to take chances. Miss Universe changed my life. After that, I participated in the Miss Pan-American beauty contest and I won it. This was also great because it was the first international crown for Haiti. Haiti was very proud of me and that made me feel good. So what I've done is use the image I created in Latin America and my country for 2 reasons: 1) to promote Haiti. Yes, we have a lot of problems, but we also have beautiful things. People think Haiti is a desert and that's not true. I want people to look at Haiti with different eyes and see the beauty of Haiti. 2) I use my image and the calendar to accrue funds for my foundation, Sarodj for Purpose. I created it in 2011, but I've been working with kids since 2002. I've been helping with other foundations in the Dominican Republic and Haiti. It's not something I think I have to do, it's something I want to do. It makes me feel complete. I believe you have to do what you feel comfortable with in life. Not everyone is made to do things for others. Even though we should try to, it does not come from the heart of most people.
LOL: You're very involved in entertainment, but you're also giving back to your country. How do you balance that?
SB: It's not easy. I spend a lot of time traveling. It's a lot of hard work. Right now, I'm helping over 100 children. I would love to do more, but I can't yet. I've been helping these children for 3 1/2 years now. I pay their school, clothing, food, everything. These kids are part of my life now, and then when I go to Haiti the first thing I do is visit them. It's as if they were my kids. The reason I created the foundation was for orphans. My concern is that working with kids, I've discovered that in our countries, orphanages make the kids leave after they turn 16-17 years old. They are very ill-prepared and denied the chance of a good education. So I started the foundation to raise funds to build a school. It will be a technical professional school. I cannot give them a university education, but we can teach them how to work and make things. We have to help them shape their future.
LOL: What can we expect from your foundation in years to come?
SB: Growth. I want my foundation to grow with me. I have the land now to build the school. We're working on the paperwork and in Haiti that takes a while. As soon as we have the paperwork sorted, I want to start building. Eventually I would love to start working in other countries. I aspire to helping all kids, not just the ones in Haiti.
LOL: You have a working relationship with Sean Penn, how is that?
SB: I met Sean Penn in Haiti through his work there. He is a Goodwill ambassador to Haiti, and I am too. We have supported the government in many reforms in education. The work that Sean Penn is doing in my country is amazing. I admire him. Besides being a great guy, he has a great heart. He went to Haiti and fell in love. He really cares about us. He doesn't just go there for the pictures. I've been in his room, I know where he sleeps, in Haiti. He doesn't sleep in a luxury hotel; he sleeps with everyone else. I have proof that he's a great human being and what he's doing for Haiti is real.
LOL: Being a beauty queen is not as simple as many would think. What can you tell us about the preparation of a beauty queen?
SB: People used to think beauty queens had nothing in their heads, but that's starting to change. We're seeing beauty queens now do far more than just being pretty. To win a beauty contest, you have to be more than just beautiful. A beauty queen has to be intelligent, have character, and know how to walk, how to talk, how to sit, and how to eat. Beauty queens allude to the image of perfection. She's an ideal, and needs to have a global culture. When I was preparing for Miss Universe, I started taking acting classes. And that's when I discovered I liked the acting. I never dreamed of being an actress before, but right now, it's my passion. I've been acting for 2 years now. After Miss Universe, I did my first movie. It was a documentary from director Angelo Rizzo. He gave me my first chance. He liked my look, and so he cast me for the role. The movie never came out, but I had an amazing experience and while filming the movie I fell in love with it. I became more interested and so I hired an acting coach. I started seeing movies from a different perspective so I can learn. Last year, I really started to act and did 3 movies. I did one for Sci-Fi Channel titled Octopus 2, and independent film titled Everyone Cheats, and my latest film titled One Night in Vegas, an African production. I had the chance to work with great actors, and the more I worked with them, the more I learned. They opened doors for me and gave me valuable advice.
LOL: What does fashion mean to you? What can you tell us about what you're using in the calendar?
SB: This calendar is like my baby. This is my third calendar. Every time, it's hard work, but when I see the result, and how people receive it and what the critics say, it's nice and makes me feel proud. Fashion has always been important to me. I admire fashion and I love it. It's something nice, and I believe everyone has fashion inside them. It's beauty; it's art. That's how I see fashion. This year's calendar is totally different than previous years. We've done very rustic spreads in previous years, so this year, it's a little more pin-up. We made it into the Caribbean pin-up girl. One of my favorite pictures is from March. I think it's so cute because it's sexy, but it's not showing too much. I like the image of me being from the country, like a country girl. All these pictures, they are telling you a story, it's not only a pose. I think that makes it very interesting and funny. The calendar also has lot of colors as well. For me, the sexiest picture is the month of June. It has a dress made of feathers, and it has a savage look. I also have the Haitian colors in most of the pictures.
LOL: Is this your first time in Los Angeles?
SB: No it isn't.
LOL: What do you like most about this city?
SB: I like the people in LA; everyone is very nice. I also like the way people dress; everyone has a unique style. The weather is nice, and LA is a beautiful city with beautiful people. This is the film industry city, where a lot of people would like to be, pursuing their dreams. I admire young people pursuing their dreams. I've met a lot of people here, who have two jobs, but still want to be an actor or a singer. They may not have people who support them, but they're still out here, trying.
LOL: How did the passing of your mother change you and how you look at things?
SB: I was 8 years old when my mom was murdered. I had to run from Haiti with my family. We went into exile to the Dominican Republic. It was hard, because I never wanted to leave my country. My father was a very tough man, and despite many relatives telling him he should not keep his children together, he kept us together and we fought, and made it. We moved to the Dominican Republic, we started with nothing, but he worked very hard and gave us all a great education. I am very united with my family. I think the reason I'm the way I am today is because of my dad and my mom, and what I have learned. I had to be more mature at a young age, and had to help raise my sister and cook. I was 9, but all those things made me understand life differently, and made me be grateful. Even though I've suffered a lot, I always believe that when you're knocked down, something better is waiting for you.
LOL: What do you like to do in your free time?
SB: I love watching a nice movie, having coffee with my friends, enjoying the sun and visiting the beach, walking my dog – normal things. I also love reading, but for the past 3 years I've been enjoying the movies more. When I was pursuing law, I was more interested in reading, but now I'm more interested in looking at the movies. Every time I see a movie, I learn something. It's like I'm preparing myself.
LOL: What's your definition of beauty?
SB: I think that beauty is very subjective. It's true that beauty is inside you, but of course there are standards of physical beauty. There are different types of beauty, and I believe I'm a person who knows how to appreciate them all. I can see their eyes, their feelings, their mouths – something others might not appreciate because it doesn't fall into their standard.
LOL: If you had an opportunity to change something in your country to improve living standards, what would it be?
SB: I believe my country has a lot of issues that need attention, but the main thing would be our laws. We have a lot of laws that have not been modified in 20, 30 years, and this is keeping us from growing. Building roads is also important, as is the work I do and what other people like Sean Penn are doing, but we can't forget about the basic things that keep a country from developing like law and infrastructure. They may seem minor and many people don't think about them, but they make a big difference.
LOL: What's in your agenda for the coming weeks?
SB: I'll be going to a fundraising event for the Super Bowl in New York, and then to a fundraising even for the Haiti Medical Association. For the rest of the year, I'll have a tough agenda, but I expect that. I'm never tired and I love having things to do. I need to feel important, and that what I do is meaningful.
LOL: What is your biggest satisfaction at the moment?
SB: That even though I have been so busy and away from my family, I am closer to them than ever. When I do see them, those moments are only for us. The time I get to spend with my family now, I appreciate a whole lot more. I think that families are the center of society.
LOL: Where do you see yourself in 5 years?
SB: In all aspects of my life, in 5 years, I should be at least 90% closer to have what I want. I want to show the world the kind of movie star I am, I want my foundation to grow, I want to build my school and use it as a model to build more schools around Haiti and maybe even other countries. After I get where I want to get, I know I'll find 10 more things I want to get. You have to have goals and go after what you want; otherwise you will never appreciate your own life.
Edison Millan contributed to this story.
Video Slider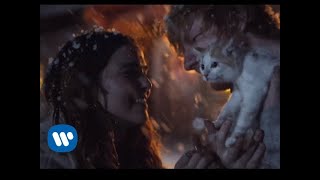 Win Tickets to See Ed Sheeran at the Rose Bowl
Ed Sheeran is back in Los Angeles, and your chance to see him perform is at the Rose Bowl in Pasadena on Saturday, Aug. 18. We are giving away complimentary tickets to the show. For a chance to enter to win, email us at
[email protected]
with "Ed Sheeran" in the subject line and tell us why you would like to go.