Paul Rudd, Evangeline Lilly Discuss Ant-Man and the Wasp
Evangeline Lilly as Hope van Dyne / Wasp in Ant-Man and the Wasp. (Marvel / Disney)
Paul Rudd plays the role of Scott Lang for the third time in Ant-Man and the Wasp, and after the carnage that decimated the Avengers last month in Infinity War, the Marvel Universe returns to the lighter tone that marks the jokier, more family-friendly part of the franchise. Despite the abilities that Scott's ant suit gives him, Rudd believes Scott is the most relatable of the Marvel superheroes, since he is one of the few characters to have a life and a family distinct from his job saving the world. "The theme of parents and children runs throughout the film," Rudd explains. "Whether or not we have children of our own, we all have parents, and I'm playing a character who doesn't have innate super abilities. It's a way in, and I want the character to be relatable. I have a daughter roughly the same age as Scott's in the film, and I know what it's like to spend the evening playing with Barbie dolls. That's the glue and the soul of it. Parents need their kids, and kids need their parents, and we wanted to build a funny movie for all ages that families and kids can see that still has all of the Marvel elements that will wow all ages." Rudd does joke that his daughter might identify too much with Scott's daughter in the film. "I know for a fact that she'll want me to build her a slide like the one in the movie, but that's a little hard to do in a New York apartment."
Rudd is once again joined by Michael Douglas, who plays the inventor Hank van Dym who designed Scott's super suit in the first film. Once again, Marvel includes flashbacks that de-age a character, this time making Douglas and his on-screen wife Michelle Pfeiffer appear just as they did thirty years ago. "I looked pretty good, didn't I?" Douglas muses about seeing himself looking like he did in the Wall Street era. "That was one of the nice parts. When I discovered that Michelle Pfeiffer was going to be my wife, I've been a tremendous fan of hers but never had the chance to work with her, I was totally ecstatic. And when I learned that Michele and I got to be thirty years younger, it made it all that much better."
While Douglas got to see himself and Pfeiffer looking as they did during the height of their stardom, Rudd had an additional challenge with the newly-added Pfeiffer. In one scene, Rudd had to channel Pfeiffer and share a tender scene with Douglas. When asked what it was like to channel Pfeiffer, Rudd jokes "I feel like I've been doing that for years. We kept referring to it as the All of Me sequence, and we had many conversations where we said this felt like a really big swing. As an actor, you have to buy into the scenario and play the truth of the moment, but at the same time, with me being me and Michael being Michael with my hand placed tenderly on his cheek, we did laugh a couple of times." Pfeiffer never actually got to see Rudd playing her on set, though, since as he admits "I never would have been able to do it" if she were there.
Also returning to the Marvel Universe is Evangeline Lilly , who plays the titular Wasp, and thus now has the honor of being the first female superhero to have title billing in a Marvel movie. The sequel was supposed to be the third time Lilly played the role of Hope van Dym after the first Ant-Man and a role in Captain America: Civil War, but cutting her from the 2016 film had surprising benefits. "Originally Wasp was going to be introduced in Civil War, and I was secretly disappointed that she wasn't getting an origins film, but I'm just stoked to be here and am happy just to put on the suit. Then I got a call telling me that they decided not to put me in Civil War, and there was that moment when the feeling was 'don't be offended,' and then they said what I really hoped they'd say, '….because we really want to dedicate a film to introducing Wasp, and we don't want her to be a side note.' I still didn't know then I would get equal billing, and that was a surprise that I learned when I got a screen cap of the title."
Lilly also sees Ant-Man and the Wasp as a family film, and wants to use it as a teachable moment to the children to which the movie has obvious appeal. "I have a seven year old, and he loves violent movies. He likes to taunt me by telling me how much he loves violence. And when he talks about good guys and bad guys in the movies, I tell him 'Honey, you know there's no such thing as a bad guy, right? There are only good guys who have made so many bad choices that they've forgotten how to make good ones.' A true hero's job is to remind them of their goodness, not just to annihilate them or kill them. It's to help them redeem themselves. I think that's true to life. Superhero stories are fun, but what I think is cool is to have redeemable villains, because it teaches children that if you encounter someone with a different opinion, that doesn't make them a villain. If they have a different objective, you shouldn't attack them, you should first try to understand them."
This may only be Evangeline Lilly's second appearance in a Marvel film, but she hopes that the Wasp will return and that she will get the chance to interact with more characters from the Marvel Cinematic Universe. "I personally have an enormous crush on Okoye, and I would love the chance to work with Danita Gurai," Lilly says about the Black Panther scene-stealer, and she pushes for what she hopes one day becomes a reality now that Marvel has finally given female heroes title roles. "I would like to keep the rumors of an all-female Avengers film going!"
Video Slider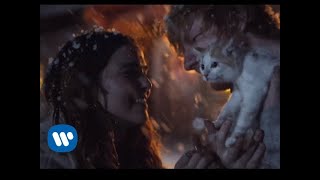 Win Tickets to See Ed Sheeran at the Rose Bowl
Ed Sheeran is back in Los Angeles, and your chance to see him perform is at the Rose Bowl in Pasadena on Saturday, Aug. 18. We are giving away complimentary tickets to the show. For a chance to enter to win, email us at
[email protected]
with "Ed Sheeran" in the subject line and tell us why you would like to go.