Pacific Opera Project's Viva la mamma! Has Audiences Rolling with Laughter
You'll love the relaxed ambiance, high level of talent and the affordable ticket prices of POP's Viva la mamma!.
The scrappy, underdog opera company Pacific Opera Project (POP) is back at its old stomping grounds at the Highland Park Ebell Club, ending their very successful and acclaimed 2014-2015 season with the underperformed opera Le convenienze ed inconvenienze teatrali, also known as Viva la mamma!, by Italian composer Gaetano Donizetti.
Characterized as a "dramma giocoso" (comedy or farce), this opera brings back some of POP's most popular singers, some of whom have been a part of the company since its beginning over four years ago as well as new faces/voices that we'll hopefully see more of in the future.
The things that make POP's production so memorable were all there on Thursday's opening night. There was the cabaret-style seating with food and wine at the tables, the relaxed ambiance, the high level of talent and production and, of course, the affordable ticket prices that bring so many of their fans back for more.
Headed by the multi-talented Artistic Director/set designer and builder Josh Shaw, this production had many of POP's trademark elements such as a creative re-staging (in this case, Los Angeles during the 1980s), irreverent incursions onto the subtitles and nods to popular culture. With creative costumes by Maggie Green and live music performed by some of Los Angeles' finest musicians all under the direction of Music Director Stephen Karr (one of the founding members of POP), for many in the audience it was like seeing old friends again.
Clocking in under two hours (including a 15-minute intermission), Viva la mamma! told the story of a mediocre opera troupe that is set to showcase the serious work Romulus ed Ersilia based on Roman mythology. We first met our diva, the very talented Daria Garbinati (soprano Katherine Giaquinto) and her husband Don Procolo (baritone Carl King) who arrived to rehearse along with the other singers who are seated in a row behind Daria munching noisily on bags of snacks. As the rehearsal continued, the hilarious Procolo kept popping Binaca sprays into his wife's throat as he floated around the stage like a butterfly even though he was quite portly physically.
A POP favorite, Giaquinto was not only a great singer but had excellent comedic timing as she hit the audience's funny bone as well as some very high, fast coloratura notes during several segments. Not to be outdone was the excellent voice of Pippetto (Yilin Hsu Wendtlandt), who joined her for a duet that began to show some of the tensions and ego clashes between the players and the star.
Dressed in a red Michael Jackson-style outfit and listening to his walkman was the Tenor – played by what else but a tenor, Kyle Patterson – who was having some trouble mastering his part. Possessing a nice soft, timbre in his voice, Patterson did some excellent MJ moves, including the famous Moonwalk as part of his over-the-top role. Here we saw the hand of director Shaw who has a knack for infusing many colorful and funny bits of popular culture into his productions as well as adding complementing funny texts onto the subtitles.
Trying to keep these characters from each other's throats but not doing a very good job was the Impresario (bass-baritone Phil Meyer) and Cesare Salzapariglia (Matthew Ian Welch). Although having two minor roles, both provided some very funny moments and strong singing, especially the always-brilliant Meyer whose character had to take up drinking in order to deal with all of the out-of-control egos.
The lovely Luiga Castragati (soprano Amy Lawrence), who was the second-most important singer in this opera within an opera had a secret weapon to help her career, and that was her mother, Mamma Agatha (played by the incredibly talented and very tall baritone Ryan Thorn).
Since seeing Thorn for the first time on stage as the Roman god Jupiter (Giove) in the hilarious POP production of the baroque opera La calisto, I had become a huge fan. This time instead of the womanizing, testosterone filled Olympus god, he portrayed in drag, the obnoxious, overbearing Mamma with intensity, detail and that thunderous, powerful voice. Just think of a cross between Tim Curry's Dr. Frank-N-Furter and Tyler Perry's signature "momma" Madea.
When Mamma, the stage mother from hell, muscled into the production in order to get her daughter's role rewritten, she not only caused the Tenor to storm off but "serendipitously" got herself cast in a role. The Tenor role was then taken over with great joy by Don Procolo who now had to play the macho, Roman figure of Romulus with a helmet that kepts on malfunctioning as it flipped shut over his face as he sang. There were some great comical moments between Thorn and Scott Levine's Biscroma Strappaviscere as Momma rehearses for her role in the opera. These were some of the highlights of the production which hearkened back to their work together in La calisto.
The hilarious cast was supported admirably by the fantastic, small orchestra headed by Karr and included Boryana Popova and Leila Nassar-Fredell on violins, Alison Spieth on viola, Virginia Figueiredo on clarinet, Eve Banuelos on flute, Hillary Smith on cello and Ben Pendergrass on bass with Karr doing some great segments on the harpsichord.
With only four years on the L.A. entertainment scene, Pacific Opera Project has become one of the highlights in local opera by carving itself a unique niche of creative, and re-imagined productions of up to the standard of not only opera war horses like La Boheme, Tosca and recently Falstaff but lesser-known works as well. So let's put together our wine glasses and toast to Viva la mamma! and viva POP! May you live long and prosper.
Viva la mamma! is performed at 8 p.m. Nov. 14, 17 and 19 at the Ebell Club of Highland Park (131 S. Avenue 57, Los Angeles). For tickets and more information, visit pacificoperaproject.com.
Video Slider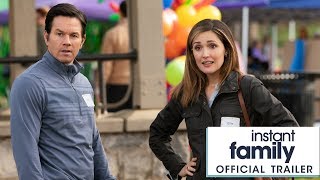 Win a Blu-ray + DVD + Digital Copy of Instant Family
Everyone everywhere can now enjoy Instant Family on Digital and on Blu-ray™ Combo Pack, and DVD on March 5 from Paramount Home Media Distribution. For a chance to enter to win at random, please email us at
[email protected]
with "Instant Family\" in the subject line and let us know why you\'d like to win a copy. This contest ends March 25, 2019.