Our Top 10 Favorite Events of October 2015 in Greater L.A.
Pepe Aguilar on Oct. 17 at the Forum in Inglewood
L Festival on Oct. 24 and 25 at OC Fair & Event Center in Costa Mesa
Daddy Yankee on Oct. 17 at Staples Center in downtown L.A.
Dia de los Muertos on Oct. 24 at Hollywood Forever Cemetery in Hollywood
J Balvin on Oct. 22 at Shrine Expo Hall in South Los Angeles
Marc Anthony (Luis Polanco/LOL-LA)
Carlos Vives performs on Friday, Oct. 23 at Microsoft Theater in Los Angeles. (Luis Polanco / Living Out Loud LA)
It's obvious: Los Angeles is the place to be for any type of entertainment. This month we witnessed some of the best the city has hosted to date, and one thing we know for sure is Los Angeles will always have a place for all types of music genres and cultural scenes.
Below we rank our top 10 favorite events that took place in the greater Los Angeles area this October 2015.
10) Los Tigres del Norte on Oct. 1 at Valley Performing Arts Center in Northridge
Since 1968, the norteño music band Los Tigres del Norte have pleased crowds in numerous geographic areas. In Los Angeles, the quintet has a strong following for their oftentimes endearing and empowering lyrics, as well as a knack of turning real-life experiences into hit songs. LTDN remain near the top of the regional Mexican music ticket sales; the San Jose natives are beloved because of their classic tracks "Contrabando y Traición" (1974), "La Puerta Negra" (1986) and "La Camioneta Gris" (1989), among several others. They sang those and more at the packed show.
9) Pepe Aguilar on Oct. 17 at the Forum in Inglewood
The four-time Grammy and four-time Latin Grammy winner Pepe Aguilar has by far one of the best voices in Latin music. It's especially true when the 47-year-old sings his rancheras with mariachi such as in the romantic "Por Mujeres Como Tu," the touching "Directo al Corazón," the smooth "Perdoname" and the lively "Por Una Mujer Bonita." The Calabasas resident also blends lots of Latin pop into his music, like in "Prometiste." Aguilar also brought Marisoul from local band La Santa Cecilia and his daughter, Ángela Aguilar, on stage with him during the show.
8) L Festival on Oct. 24 and 25 at OC Fair & Event Center in Costa Mesa
Global pop superstar Enrique Iglesias, Latin pop music and mariachi singing legend Juan Gabriel and regional Mexican music stud Julion Alvarez highlighted this inaugural two-day festival. According to festival organizers, Universal Music Latin Entertainment, the event hosted nearly 35,000 fans while they experienced premiere live performances, yummy food and a wide range of Latin culture. La Arrolladora Banda El Limón, Gloria Trevi, David Bisbal, Los Angeles Azules and Zion & Lennox provided lengthy sets, respectively.
7) Young Thug on Oct. 13 at Club Nokia in downtown L.A.
"Halftime," "2 Bitches" and "With That" made for a ridiculously entertaining night at Young Thug's sold-out concert, which featured special guests A$AP Rocky and Ty Dolla $ign. To be honest, the 24-year-old rapper could be classified as odd for his extravagant-looking attire and on-stage demeanor, but this cat has legit charisma, controls the crowd wisely and bounces everywhere on stage, which makes him a captivating individual. His music has that "bounce" that makes fans react naturally in terms of body movement. While he's got a solid catalog of music right now, there's also room for growth. Young Thug is fairly original with his catchy lyrics and dope beats.
6) Daddy Yankee on Oct. 17 at Staples Center in downtown L.A.
Born Ramón Luis Ayala Rodríguez, Puerto Rican reggaeton pioneer Daddy Yankee continues to be a force to reckoned with. On top of serving as a prime artistic example of continuing to "evolutionize" the genre, King Daddy remains atop of all type of sales: albums, digital single releases and concerts. On this night, we witnessed that first hand when he and his friends (Plan B, Yandel, Prince Royce, Natalia Jimenez, Arcángel and J Alvarez) ignited roars and thrilled for two-and-a-half hours. This unique concert, produced by Cárdenas Marketing Network in association with Pina Records and AEG Live, was a success musically with performances of "Rompe," "Gasolina," "Limbo," "Pose" and "Lovumba," amongst others.
5) Burbank Beer Festival on Oct. 17 in downtown Burbank
The inaugural Burbank Beer Festival on the streets of downtown Burbank featured two sessions of craft beer sampling: noon to 3 p.m. and 4 p.m. to 7 p.m. No obscene incidents were ever reported, and that's probably due to the effective and efficient organizational planning of California Beer Festival, who have put together such festivals in Ventura, Marin, Santa Cruz and San Dimas. The music played during each session was solid. The small crowd behaved and enjoyed its three hours of nothing less than tasty and pure craft beer, including tastings of over 85 craft beers on tap from scores of different breweries including Absolution Brewing Co., Angel City Brewery, Figueroa Mountain Brewing, Saint Archer Brewery, Portland Cider Company, Eagle Rock Brewery, Karl Strauss Brewing Company, MacLeod Ale Brewing Co., Island Brewing Company, the Bloody Cure, Ballast Point, Stone Brewing Co., Firestone Walker Brewing Co. and others. Unarguably, the Bloody Cure's 3oz. sample was the best. For the $40 each person paid, this was worth the investment.
4) Dia de los Muertos on Oct. 24 at Hollywood Forever Cemetery in Hollywood
This is by far one of the best events each year in Los Angeles. Not only does it boast enlightening musical acts and exquisite food, but its culture scene is just so darn good that it is almost indescribable. This year was no exception, as the thousands in attendance saw Lila Downs bring down the house on stage and Huichol Musical add a spark with its distinctive flavor of music and culture. Says one festival-goer, "I never miss this event. It's my favorite culturally." Touché! It's truly a time for reflection when it comes down to this event.
3) J Balvin on Oct. 22 at Shrine Expo Hall in South Los Angeles
Get this, he sings and writes reggaeton songs, is at the top of this provocative genre and he is not Puerto Rican. J Balvin, 30 and looking better than ever (and we indeed mean that), hails from Medellin, Colombia. The young stud has revolutionized the way we feel about and look at reggaeton in general with tracks such as the juicy "Yo Te Lo Dije," the edgy "Tranquila," the infectious "Ay Vamos," the convivial "6 AM"and the futuristic "Ginza." When we thought reggaeton was at an all-time low and in trouble, J Balvin burst onto the scene and gained total control of the charts in Latin America and in the United States. His live performances are a must see, given that he's the hottest reggaeton act out there right now.
2) Kygo on Oct. 17 at the Greek Theatre in Griffith Park
At just 24, Norwegian EDM DJ Kygo is rising and doing so extremely fast within the industry. Not only did he sell out every spot in the 5,870-seat filled Greek Theatre, Kygo did so in grand style with his tropical, house-infused beats. Look at, for example, "Firestone" – which on this particular cool summer-like night exploded in everyone's ears. The show's visuals, particularly the LED lights, can easily be categorized as insanely entertaining from beginning to end. But for sure the unexpected moment and highlight of the performance came when John Legend appeared for Marvin Gaye's "Sexual Healing"; that there, without a doubt, was a genius move. Drugged or not, the audience very much enjoyed that. Way to go, Kygo!
1) Carlos Vives and Marc Anthony on Oct. 23 and 24 at Microsoft Theater in downtown L.A.
Planning a nationwide tour with two different singers is, to say the least, beyond difficult. But perhaps not when it involves Colombian pop/vallenato singer-songwriter Carlos Vives and Puerto Rico's own salsa/pop singer Marc Anthony who sold out AEG Live's Microsoft Theater twice.
Anthony's set included the popular "Valio La Pena," "Y Hubo Alguien," "Tu Amor Me Hace Bien" and "Vivir Mi Vida." But his bread and butter was put on display when Cuban reggaeton duo Gente de Zona jumped in for "La Gozadera," this summer's most infectious Latin music tune. On the other hand, Vives provided a taste of his nation's folklore and musical niche with "La Gota Fria," "Fruta Fresca" and others. Not only did he bring Anthony back for a duet of "Cuando Nos Volvamos a Encontrar," Vives rendered an energetic and festive version of "Nota de Amor." Despite the absence of Daddy Yankee and Wisin, Vives' backup vocalists did justice to the track. It. Was. Marvelously. Pleasant. Musically.
Both Carlos Vives and Marc Anthony admire and respect each other a lot. Musically, they always please. We notice that. We love that. And that's what it is all about in the music industry: pleasing fans.
Staff writers Cory Ortiz, Oliver Nowlin, Jose Flores and Teresa Delgado contributed to this story.
Video Slider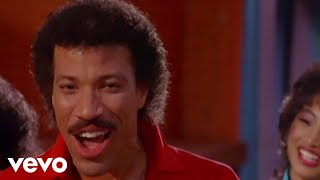 Win Tickets to See Lionel Richie at Hollywood Bowl
Lionel Richie is performing with very special guest Mariah Carey on the All the Hits Tour, and your chance to see them is at the Hollywood Bowl on Monday, July 31.