Our Five Favorite Things at The Queen Mary's Dark Harbor
Our fave performers on the main stage at Dark Harbor: the fire dancers. (Sabina Ibarra/LOL-LA)
Living Out Loud – Los Angeles had the chance to attend the opening night of Dark Harbor over at the Queen Mary. The waterfront haunt attraction expanded its entertainment experience to not only include mazes but many added sights and things to do this year.
Here are the top five things to not miss out on:
Mazes – Even with the Fast Fright lane, the wait times are still very long, and the event fills up quick. We strongly suggest compiling a list of must-see mazes. Our faves from this year include Lullaby where you get invited to play with the Queen Mary's resident child ghost in her demented games through real creepy parts of the ship. This maze's performers capture a creepily playful spirit. In Soulmate, you get to learn the story of Gale and her search for a love to dance with for all eternity. We really like the 'if she couldn't find a man, she would build one' aspect and how it played out in the maze. The grizzly scenes of gore and cut-up limbs contrast well with the hauntingly graceful final scenes.
Sideshow/Rides – In the Freaks and Oddities section of Dark Harbor, you can experience an array of spooky fun. There are funny tricks and delicious treats. The Absinthe Potions are an interesting, acquired taste but come in a collectible skull mug. Our favorite offering in this area is the fortune teller who, if you like having your cards read, you will enjoy speaking with. The particular lady we chatted with is really good! This year, for a ride there were fun sinister swings that with the red lighting dizzied and disoriented you enough to make you prime bait for the performers in the maze – so much fun!
Creepy Cabanas – Surrounding the sinister swings are creepy cabanas that offer Halloween bottle service-like amenities. No, really, you could order service for you and your friends that include things like spooky snacks such as candy-coated apples, brownies and pretzels, or food like pizza and yes, lots of drinks. This is definitely a great option to just take in the sights and rest if the maze lines get too intense. You have a dedicated server and the perfect view of street performers and the stage.
Performers – Speaking of the street performers, there are awesome troupes of sparky sliders who have awesome moves. Don't get too trusting, though. They can also be tricksters and scare you as well. The wandering magicians are also amazing assets to the ambiance. Their skills and timing are really honed and make for a great distraction from the bunches of people around. Our fave performers on the main stage, though, are the fire dancers. They illuminate and defy danger with how they've mastered their element. Their performances are outstanding.
Paintball – This year, Dark Harbor introduces a paintball attraction where you can shoot mummies in a tomb. Think of a carnival-gun shooting game but amped up. You're armed with paintball guns mounted in a row. You can aim and fire at targets, but beware the moving ones, some of the dead don't stay dead. This game has some minor setbacks since it's in its first year. Make sure you listen to the haunt organizer while handling the weaponry, and wait for the countdown before beginning for safe time.
The Queen Mary's Dark Harbor runs through Nov. 1. Tickets start at $20 and are available at queenmary.com.
Video Slider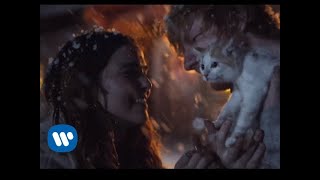 Win Tickets to See Ed Sheeran at the Rose Bowl
Ed Sheeran is back in Los Angeles, and your chance to see him perform is at the Rose Bowl in Pasadena on Saturday, Aug. 18. We are giving away complimentary tickets to the show. For a chance to enter to win, email us at
[email protected]
with "Ed Sheeran" in the subject line and tell us why you would like to go.